Kelly Hoerst '13
Kelly Hoerst '13 always knew she wanted to be a scientist, but the looming question was how and where to begin. About coming to DePauw in the fall of 2009, she explains, "The Science Research Fellows program was a deciding factor in my college-choosing process. It was the most obvious place to start for me."
The SRF program kick starts science research by providing First Year students with two semesters and one summer of experience. Hoerst spent her first semester in the lab with Dr. Lynn Bedard in the Biology Department working on isolating and amplifying genomic DNA from bacterial samples taken from various high traffic locations on campus.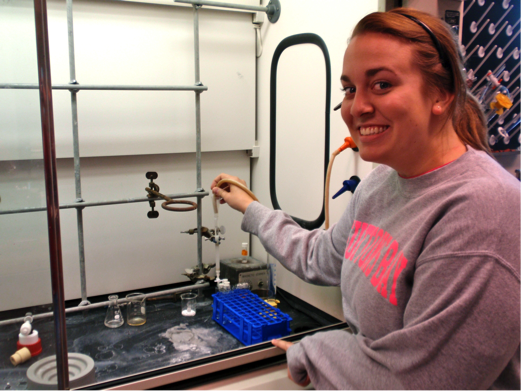 "It was a learning experience to design and perform our own experiment. We quickly learned that not all projects go as planned, but we were able to redirect the analysis to soil samples in the nature park, which yielded better results. Utilizing and understanding the entire spectrum of the scientific method was a great place to start from," says Hoerst about her project.
From these humble beginnings, Hoerst moved on to spend her first summer on campus working with Dr. Jeff Hansen in the Chemistry Department, researching the reactivity of epoxides. Her project focused on the ring opening of the epoxide to form cyclic or acyclic amino alcohols. Hoerst, along with the rest of her research group, was able to present her findings at an ACS National meeting in the spring of 2011.
Through this experience she was able to dive into organic synthesis and gain a lot of expertise on different instruments and methods. But this experience also provided a new perspective. Hoerst explains, "This research also helped to initiate my interest in the pharmaceutical industry. I was working with these drug intermediates and wanted to know more. I kept wondering 'How could this molecule be used in a disease model?'"
The following summer for her external internship, Hoerst got to answer the question herself, working at Johnson & Johnson Pharmaceutical Research and Development in San Diego, California under the supervision of Jeffery Cowden ('02). "It was nice to get a change of scenery from the Midwest, and working for a previous DePauw graduate was a lot of fun," she says about her experience. Throughout the summer, she had the chance to observe and study disease models in mice, ranging from rheumatoid arthritis to asthma, and also took serum blood samples to analyze via ELISA.
She explains, "It was one of those projects where you realize 'Hey, no one has ever looked at this before, I bet it could yield some cool results,' and that was where my research stemmed from." Hoerst spent the summer observing in vivo murine work, and quantifying IgG isotypes in different drug responses.
Through this internship and ones to follow, Hoerst realized that she would best fit in the pharmaceutical industry. "I've really enjoyed having the chance to explore different facets of both academia and industry. I think that it has allowed me to be unbiased when making important decisions that will affect my future," she says. She is looking forward to seeing the direct application of her work through medications that increase patients' health across the world.
Hoerst was also able to study science through non-traditional means by taking related Winter Term courses. She studied the science of cooking in Dr. Hansen's class titled "Sweet and Savory Science." In this course students not only learn about food science, but also apply their knowledge directly by daily cooking competitions.
In January 2013, Hoerst will be traveling with a group of students to London and Paris to get a hands-on knowledge of the scientific revolution. "I couldn't be more excited to have the opportunity to put science in a historical context, while having the chance to travel abroad," she states. "I think it will be a great way to summarize different aspects of science that I have learned throughout my four years at DePauw."