Rachel Gearinger '13
Going into DePauw as a freshman, senior Biochemistry and English Writing double major Rachel Gearinger had some research experience under her belt. Her senior year of high school, she was fortunate enough to do research at Nationwide Children's Hospital in Columbus, Ohio in a Microbial Pathogenesis lab through a program at her high school. There, she was exposed to the world of research and given an independent project. The research she did there during high school and winter term her sophomore year resulted in her first publication in the journal Frontiers in Cellular and Infection Microbiology.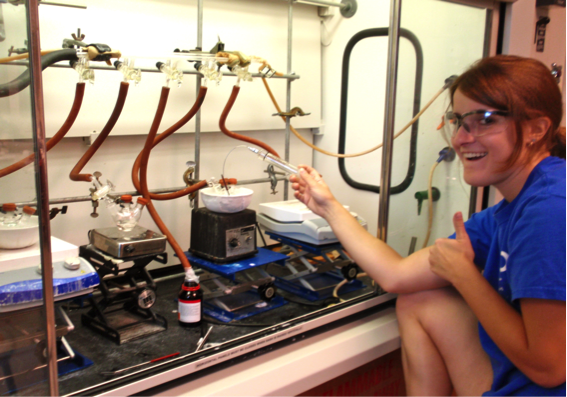 "I loved the freedom I was given to discover science on my own. I am very fortunate for the independence I have been given from the very beginning of my research career. People have told me from the beginning how lucky I am to already have these experiences under my belt."
Rachel loved her experience in this lab so much she planned to go to graduate school after DePauw and become a principal investigator of her own lab. Entering the Science Research Fellows program was a no brainer for her. She loved the excitement of being on the forefront of new scientific understanding. Through SRF and the DePauw Chemistry department, she was able to work for a year in chemistry professor Jeff Hansen's lab optimizing an organic chemistry reaction. Although her main interests in research have always lied in biological based sciences, she loved being involved in the evolution of her project.
"As I spent more and more time in the lab, I acquired enough general knowledge to begin to interpret the data on my own and come up with possible directions to take. I gained a really strong understanding of what it was like to be personally invested in a project. We had our fair share of disappointing data and that taught me how to troubleshoot."
She had the pleasure of going with several other DePauw students to the American Chemical Society national meeting in Anaheim, California where she presented a poster. Being exposed to new research from all around the world gave Rachel a context for what she was doing back in Greencastle.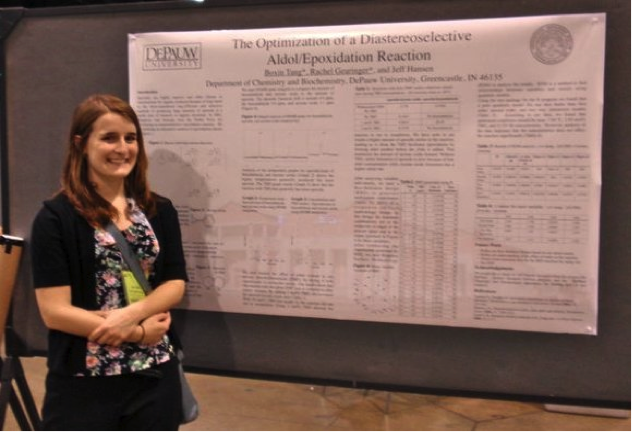 During her sophomore year at DePauw she took a creative writing class. She found writing provided a break from her often information intensive science classes and complemented the education she already had.
"I still loved science and was excited by the prospect of having a career in science, but my love for writing was growing too. I kept thinking about all the stories I used to write as a kid before I even learned to spell and I figured why couldn't I do both? That's what a liberal arts education is all about."
After taking that one writing class, she realized she didn't want to stop writing. She declared an English Writing major in addition to her Biochemistry major.
Rachel, originally from Columbus, Ohio, decided to stay in Indiana all three summers. In addition to being in Science Research Fellows, she owns a horse that lives close to Greencastle. Year-round she trains for competitions she goes to in the summer.
"Owning a horse is almost like having a child. I am the only person responsible for his care. I couldn't just leave him in Indiana and travel somewhere else to do an internship."
She applied for a summer program at the Wells Center for Pediatric Research in Indianapolis. There, she did research for two consecutive summers on a rare, juvenile leukemia.
"This research was really cool. I had my own cloning project, but I was also involved in helping other researchers with their projects. I gained experience working with a mouse model, which is something I had never dealt with before."
Although she enjoyed this experience, she began to wonder more and more whether she wanted to only work with science in the lab. She was intrigued by many types of science including cancer, neuroscience, and environmental studies.
"I began to think more and more about ways I could blend my two majors. I wasn't satisfied with just being involved in the research. I think a big pitfall of research is the fact that it usually ends with the educated scientist. The public has very little interaction with what people are discovering in labs until it affects them. I'd like to be able to excite people's interest in science."
Right now she is looking into a career in science writing and will likely be getting a Masters degree in a related field, although she is open to different directions. She believes her experience in research will give her a strong science background for whatever she does.