Schuyler Cook '13
Schuyler Cook is a senior from Fort Wayne, IN, doubling majoring in Biochemistry and Biology. She entered the Science Research Fellows (SRF) as an incoming freshman. During her college search she explored research programs at other schools, but the SRF program at DePauw seemed like a perfect fit. The SRF program ended up being the main factor in her college choice.
Right out of the gate at DePauw, SRF students are assigned to a research project for their first semester. Schuyler worked in a small group for Pat Babington, Ph.D. in the Kinesiology department. The project focused on post-exercise potentiation. Cook said, "Initially I was hesitant when I learned my assignment. I was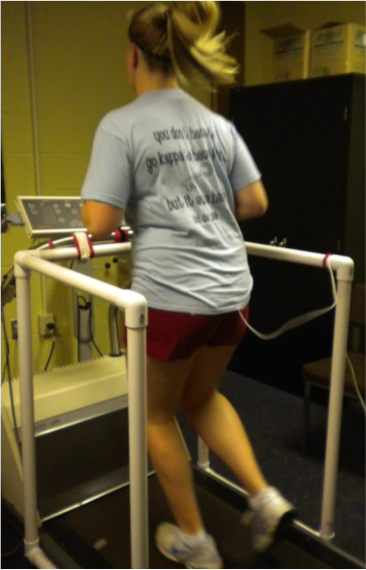 committed to a pre-med route and Biochemistry major."
She went on to explain, "The experience was like none other and I am glad I was assigned to that project. Kinesiology was a field of science I knew very little about at the time. Dr. Babington had to teach us a lot of background material. I loved learning and exploring the field of Kinesiology and am thankful for my experience."
SRF students begin another project their second semester at DePauw which continues into a 10 week internship during the summer. Schuyler continued to work with Dr. Babington for her second project, which focused on optimal running patterns. "The fun part about the Kinesiology projects was using each other as guinea pigs for the initial groundwork for future testing. In the process we learned how to use all different kinds of equipment, as well as the joys of data processing."
After these two projects, Schuyler switched gears and started working on a chemistry project with Dr. Jeff Hansen. "Dr. Hansen and I had been discussing his project since I took his introductory Organic Chemistry course the fall of my freshman year. He initially would put the project into context with class, but we didn't discuss my place in the lab until sophomore year. It is funny to reflect and think about how the project that changed my life was right in front of me even during my first few weeks at DePauw." Schuyler has worked on the enantioselectivity of an aldol/epoxidation reaction each semester and the two summers since her sophomore year.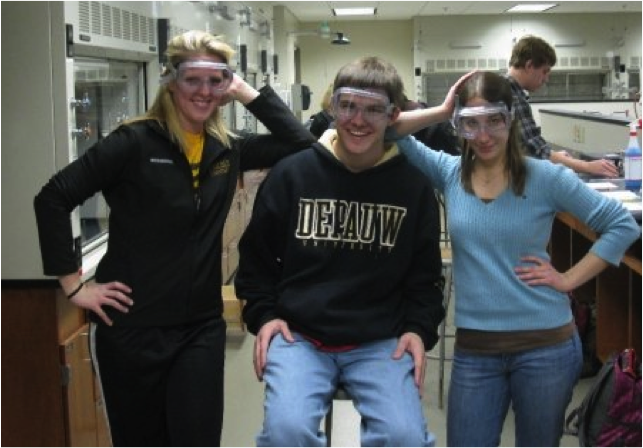 She explained "This project has helped me grow as a scientist in so many ways. My laboratory techniques feel second nature, as does presenting and explaining my research to a variety of audiences. The biggest challenge usually isn't in the lab itself, but instead explaining the advanced chemistry to a non-chemistry or even non-science audience."
Cook continued, "Working with Dr. Hansen confirmed that I wanted to pursue research after DePauw. I love working in a lab, even though there are many times one has to be patient, but I wouldn't trade it for the world and cannot imagine my life without research. I have SRF to thank for that!"
Research is a big part of Schuyler's life but she has many other passions. After being certified as an EMT-B during her sophomore year Winter Term, she began working at Operation Life. Initially working as a volunteer, after a few months she switched to a part-time position. She said, "Working as an EMT is one of the other DePauw experiences that changed my life. It has provided me with a close connection to the Putnam County community. It affirmed my choice to pursue medicine as a career. It helped me grow as a mature young woman. Like I said with research, I cannot imagine what my life would be without it." She went on to explain how working in the community led her to become a volunteer firefighter as well.
Schuyler asserted that she didn't want her beloved sorority to be overlooked on her journey at DePauw. "Kappa (Kappa Gamma) kept me motivated this entire time. The girls create such a strong support network." She served a term as Risk Management Chair and was the student council representative for a short time.
Reflecting back on the entirety of her DePauw experience Schuyler stated, "It is so hard to describe my DePauw experience in just a few words. I could talk about it for hours! It goes to show that coming to DePauw and being a part of SRF was the best decision of my life."