Diversity on Campus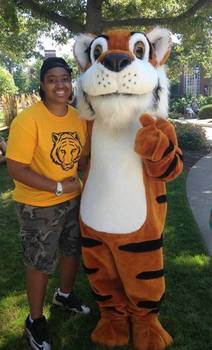 A Student Perspective of Diversity on Campus
Name: Kya Simmons
Major: Communications
Class Standing: Sophmore
Hometown: New York City
Fondest childhood memory: My two month summer trip to Hawaii when I was 9 years old. It taught me that no matter where I go, I can make friends. I remember that the kukui (nut) wars that I would have with my twin sister other kids was the best part.
Favorite book: It is so hard to choose just one book. My favorite series is the Alex Cross series by James Patterson
Favorite ice cream flavor: Mint Chocolate Chip
Reason why you chose DePauw: As a Posse Scholar, I would say that DePauw chose me. The reason DePauw was a school that I liked, is that the dynamics were similar to that of my high school. There are small classes and you are able to have personal relationships with your professors... and the Communications department is just simply amazing here.
Campus Involvement: I am a First-Year Resident Assistant, President of Ladies and Allies for Cross-Cultural Education (L.A.C.E), TV floor production manager for a D3TV show called "The Chronicles," and this semester I have been writing news stories to be reported on WGRE.
What do you appreciate about the diversity on campus? I appreciate that DePauw creates an environment where if a person feels unwelcome, isolated, or alone, there are plenty of clubs, groups and offices that you can become a part of.
How have you been an ally to others? I am an ally to others by expressing myself and showing others how I'm comfortable in my skin. It is a lead-by-example model. Also, by talking to different people and being approachable, this allows others to feel comfortable coming to me. I also try to give advice only when I feel capable.
How have you grown during your time at DePauw? Since being at DePauw I have learned how to be a better listener. Previous to my experience here, I was the person who wanted to take charge and talk and run everything, but now I am the person who is more into hearing out other people and their experiences.
Is there any part of campus that is particularly dear to your heart? I love DePauw all together. But the places on campus I enjoy the most are the Women's Center and the PCCM building. It is in those places that I feel most comfortable.
What would you tell future DePauw students? I know it sounds cliché, but be yourself and even if you are finding yourself, that is okay too. Just try not to be moved from your convictions and beliefs.