Diversity on Campus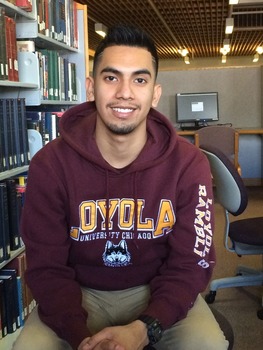 A Student Perspective of Diversity on Campus
Name: Michael Chavez
Major: Education Studies, minor in Psychology
Class Standing: Rising Junior!
Hometown: Uptown, Chicago, Illinois
Fondest childhood memory: I was with two of my friends, Jayjay and Corey, biking around the city and we were headed towards Montrose beach. We were riding on the sidewalk when suddenly we were halted by a flock of seagulls just chilling. Jayjay and I thought it was best if we picked up our bikes and walk around them- they deserve space too, but honestly we didn't want to risk getting pooped on. Before we had the chance to get off our bike, we watched courageous Corey shout, "Man, these are my creatures!" as he rode to greet his buddies. Apparently they greeted him back with a warm drop of "hello." Jayjay and I fell off of our bikes laughing at his certainty that we would get through with their permission.
Favorite book: Pedagogy of the oppressed by Paolo Freire. It was truly liberating and inspirational!
Favorite ice cream flavor: I have to keep it classy: vanilla.
Reason why you chose DePauw: Honestly, I was in my second round interview for the Posse scholarship and they wanted us to choose three colleges stating our reason why they were ranked in a certain order. DePauw was my first choice and luckily they felt it was the best fit for me, but I chose this university because it was closest to my family, specifically my little sister Elizabeth. I wanted to enjoy the independency yet knowing that my family could visit me in dire times.
Campus Involvement: I am currently a Bonner Scholar and a member of the Diversity and Equity Committee (DEC), Intervarsity, Connections Mentor, Committee for Latino Concerns (CLC), Multicultural Student Services (MSS), and The Movement.
What do you appreciate about the diversity on campus? I appreciate the various forms of diversity. There are students representing multiple forms of identity coming from different cities (rural and urban, international and domestic), socioeconomic status, race, ethnicity, lived experiences, and therefore, a beautiful way of seeing the world. I appreciate the opportunity to experience human difference because my neighborhood and surroundings were the same but DePauw is a micro version of the larger society, including the issues and experiences we have and will endure. However, what I truly appreciate most about the diversity on campus is the presence of international students. I admire their courage to travel abroad, strong sense of community, different ways of understanding the world and people, and their willingness to engage in sincere and meaningful dialogue with domestic students. I am growing because of the friends I have from various countries, and I will always be grateful for the experience they are blessing me with.
How have you been an ally to others? I generally join organizations working towards community building and social inclusion because despite the issues students and I experience, I want the campus to be a place where all students consider DePauw another "home." I work with faculty and staff to offer a voice for the general student body, but also students of "color." However, I also listen to what the faculty and staff express because they offer a perspective that students may not understand or have not taken into consideration. I also speak to students individually to build friendships and share each other's life stories. I attempt to understand who they are because misunderstanding leads to conflict. However, if there is any way I can act then I will take action because that is one way of building community. Introducing students to one another is important to me because that moment of interaction can ultimately transform their world.
How have you grown during your time at DePauw? I cannot fully explain the ways I have grown at DePauw, but one thing I can tell you is that I have been brought down mentally, emotionally, and spiritually before I was able to grow. I understood that any form of challenge, whether in the fitness room or classroom, sparked a growing moment. Paolo Freire encourages us to "read the word and the world," and I am reading, critiquing, and analyzing to understand to world. I have grown to acknowledge and take pride in my identity and my background, because that separates me from others which allow me to teach and learn from others as well. When a professor or peer provides an insightful perspective, I slip the piece of knowledge in my mental folder. I have grown to understand that if we acknowledge each other's voice we become more humanized.
Is there any part of campus that is particularly dear to your heart? The place that is dear to my definitely my posse mentor's office (or wherever we meet for our one-on-one) because she, Tavy Aherne, is like a mother away from home. It's not that I cannot speak to others wholeheartedly, but she is one of the few who I know will care for me unconditionally and not judge who I am. I have cried and laughed with her, and her wisdom keeps me full of hope. She naturally goes the extra mile for us because she authentically cares and I know that I have support on campus. I also think the first floor library is dear to my heart now because I continue to build friendships there and of course get my work done!
What would you tell future DePauw students? I would tell future DePauw students to let go. I'm not referring to the movie Frozen in any kind of way, but I advise you to let go of your fears, uncertainties, and even expectations when you arrive on campus. Yes, it natural for us to experience high emotions before going to college, but don't let any of your emotions or expectations hinder you from saying hello to another domestic or international student, speaking about your experience in the classroom, feeling challenged and accepting another perspective that is different from yours, or moving from home and making autonomous decisions that will have either negative or positive consequences. College is a growing process, but I encourage you to be conscious of your words and actions because only you can water the seed of wisdom and knowledge that others will plant. Remember why you are attending DePauw, whether it be for a stable career or for your loved ones, and use that as a source of hope.