Presidential Ambassadors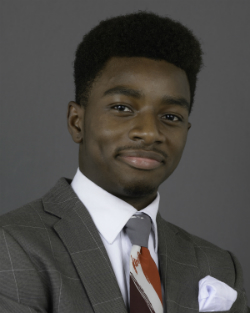 Queens, NY, native Eleazar Adjehoun·is both a Posse and a Bonner Scholar majoring in psychology with a minor in conflict studies. He currently serves as a senior Bonner intern at the Putnam County Hospital emergency room, working on hospital policy as well as providing non-medical patient care. Eleazar continues to pursue his high school passion for community outreach and civic engagement, a calling which blossomed when he was the student coordinator for the New York Cares program. The first extracurricular activity he joined at DePauw was Men of Excellence, an organization primarily composed of young African American men passionate about civic engagement who seek to bridge social gaps between students of color on campus, members of the Greencastle community, and the University community at large. Eleazar has also worked on campus as a Restorative Justice Peer Mediator, as well as a Mentor for Kids at Ridpath Elementary. In harmony with his love of and fascination for psychology, childcare, and adventure, his summer as a rising senior was spent first at the APS Chicago Psychology Conference and then working as an Outdoor Experiential Educator at the Princeton Blairstown Center in Blairstown, NJ. After graduation, Eleazar plans on working with children, particularly child soldiers who suffered violent traumas, along with future plans of attending graduate school.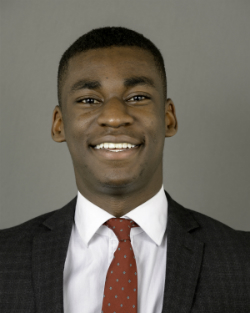 Felix Amankwah is a senior computer science major from Brooklyn, NY. He is a first-generation college student whose parents are from Ghana. On campus, Felix has been involved in many organizations. As a sophomore, he has served as social chair of the Association of African American Student, and interned for the Office of Intercultural Life as an Intercultural Connections Advocate where he mentored several first-year students of color. As a junior, Felix served as a class senator and participated in multiple volunteer opportunities including Oxfam (a global movement of people working together to end the injustice of poverty) and Relay For Life raising money for the American Cancer Society. Felix spent his last summer teaching computer programming to middle and high school students for ID Tech, a computer science campus, on New York University's campus. He plans on pursuing a career in the tech industry, specifically in consulting and software development.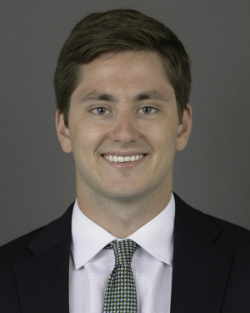 Christopher "Chris" Dickow was born and raised in Grand Rapids, MI. He is majoring in economics and minoring in Spanish and international business and is an active member of the Management Fellows program. He has completed a semester-long finance internship at Eli Lilly in Indianapolis, IN and followed that experience with a summer internship at West Monroe Partners in Chicago, IL. Outside of the classroom and workplace, Chris took advantage of Winter Term by taking trips to Spain and Breckenridge, CO during his sophomore and junior years. On campus, Chris has held leadership positions within his fraternity and recently founded the Ice Hockey Club that will launch in February 2017. One of his favorite facets of DePauw is the ease in which students can get involved in leadership roles and student organizations at any point in their college careers. In his spare time, Chris loves to play golf and hockey and travel with his family. He looks forward to serving as a Presidential Ambassador during Dr. McCoy's first year in office. After graduation, Chris will pursue a full-time job from either Eli Lilly as a financial analyst or West Monroe Partners as a consultant.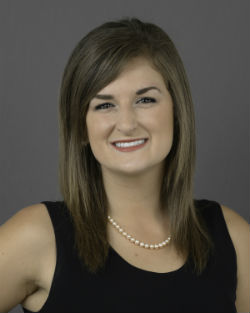 Perrin Clore Duncan is an economics and studio art double major and Spanish minor from Edmond, OK. A member of Alpha Phi Fraternity and Alpha Phi's Little 5 team, she is also a Program Specialist for the First-Year Mentor Program, an Office of Admission Ambassador, and a member of the Advertising and Mobilization committee for DePauw Dialogue, as well as a member of the DePauw Cycling Team, a DJ for WGRE, and a member of the Student Philanthropy Council. During her first two years at DePauw, Perrin served as a student senator for her class including work on a white paper which became a multicultural requirement for all entering DePauw students known as the Power, Privilege, and Diversity Requirement. As a junior, Perrin served as the DePauw Student Government Vice President for Academic Life, working closely with the Vice President for Academic Affairs as a member of the Curriculum and Planning Committee. She also served as one of two students on DePauw's Presidential Search Committee, helping to interview and select current President D. Mark McCoy. During her Winter Terms at DePauw, she helped rebuild an elementary school and road in rural El Salvador, served as a Reflections Leader in the Amazon basin of Ecuador with Timmy Global Health, and taught English to a public elementary school in Kerala, India. During her college summers, she interned at the Oklahoma City National Memorial and Museum, where she edited interviews of bombing victims, investigators, and law enforcement officials for the 20th anniversary renovations to the museum; studied post modem Spanish literature, Spanish art history, and the history of the European Union while staying with a host family in Segovia, Spain; and she interned with IPG Mediabrands at BPN in Chicago as a media-planning resident. After graduation, Perrin hopes to work, and eventually attend graduate school, in higher education.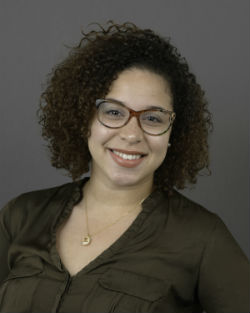 Ranyerlis "Ranyi" Galvez hails from New York City, New York where she graduated from the NYC iSchool and continues to be a member of the Sponsors for Educational Opportunity, Scholars program. Ranyi is a peace and conflict studies major, with a women's gender and sexuality studies minor. She has been a first-year mentor in the First-Year Experience program for the past two years and continues to mentor first-year students through the Connections Mentor Program in Multicultural Student Services. Ranyi serves as an assistant to the Campus Life department by managing space and adhering to the needs of all students organizations. She is the co-founder and vice president of the new La Fuerza Latina Latin Dance Group. This past summer Ranyi served as a School Operations intern at the Harlem Village Academies charter school network. After graduation, Ranyi plans to attend graduate school in the field of higher education, specializing in student administration/affairs.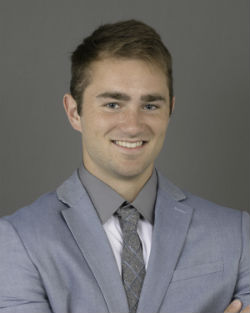 Ian Good is double majoring in communications and religious studies from Brownsburg, IN and a starting receiver for the DePauw Football Team. From 2015-2016 Ian served as DePauw's SAAC (Student Athlete Advisory Committee) President, and currently holds the position of NCAC (North Coast Athletic Conference) SAAC President. As a proud member of Delta Tau Delta Fraternity, he served as Chapter President. Ian's calling for entrepreneurship led him to become a co-founder of Tiger Takeout LLC, which delivers food from any Greencastle restaurant to students. Working as a part-time intern in DePauw's Athletic Department throughout his time here, he has developed a passion for athletics admissions. He spent the summer interning in the events department at Indiana Sports Corporation. After graduation, Ian hopes to pursue a career in athletics admission, events operations, or business.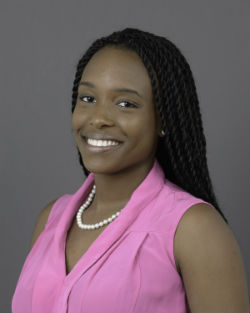 An Indianapolis native and a Center for Leadership and Development Scholar Devyn L. Hayes was a member of the National Honor Society, captain of the gymnastics team, Senior Class vice president, and Salutatorian of the class of 2013 at Charles A. Tindley Accelerated School. She is majoring in public health and minoring in Spanish and serves as the president of the Pi Lambda Chapter of Alpha Kappa Alpha Sorority, Incorporated and a member of the National Pan-Hellenic Council. Devyn is a member of the Association of African American Students, a First-Year Mentor and has been the captain of the DePauw cheer squad. For her 2015 Winter Term, she worked as an intern for the Director of Physical Therapy and Sports Medicine at Community Health Networks in Central Indiana; spent the 2016 Winter Term abroad in Chontapunta, Ecuador with Timmy Global Health hosting primary care clinics for eight different towns in the Amazon Jungle; and hopes to become a certified EMT during the 2017 Winter Term. After graduation, Devyn plans to attend optometry school to help others like her who struggle with the detrimental side effects of having juvenile diabetes.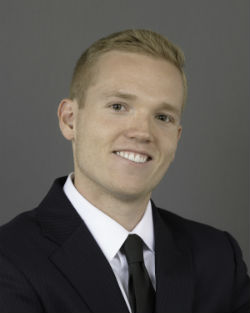 John P. Jessup is an English writing major and Media Fellow from South Bend, Indiana. He currently serves as a peer mentor for the Mentor Program and president of the Student Philanthropy Council. With a strong passion for education, John seeks positions that allow him to promote campus-wide knowledge of DePauw and further DePauw as a welcoming campus. As a Holton Scholar, John aspires to be a leader within the campus community via involvement with philanthropies and student organizations. John is a proud member of Order of Omega Greek Honor Society where he represents his fraternity, Sigma Chi. In previous years, John has volunteered with Best Buddies, served as a student senator with DePauw Student Government, and earned his EMT state license through Putnam County Operation Life ambulance service. For the past nine years, John has been going on rigorous wilderness canoe trips throughout Canada with the Camping and Education Foundation and has served as a wilderness guide for three summers. John is pursuing a career in K-12 education and administration where he hopes to help students reach their full potential.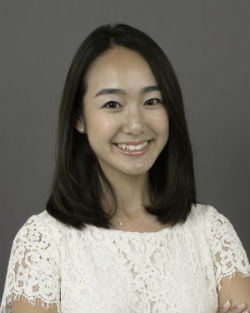 Yuka Kitajima is a peace and conflict studies major from Osaka, Japan with a double minor in business administration and Asian studies. She is an Honor Scholar and a member of Alpha Chi Omega, Order of Omega, and Mortar Board. This year, Yuka is an intern at the International Student Services Office and also serves as a Hillman Intern at The Janet Prindle Institute for Ethics. This is her third year as a Coquillette Peer Consultant at the Hubbard Center for Student Engagement and a Liaison at the Office of International Admission. As a senior international student, Yuka feels strongly responsible for empowering international students by helping bring a variety of University offices together to build a more inclusive community. After graduation, Yuka hopes to work at a higher education institution as a student affairs professional in the U.S. and later pursue a master's degree in educational administration.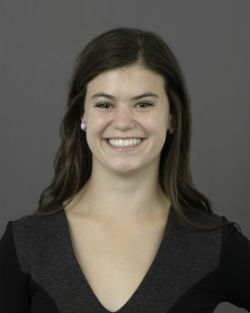 Megan Mullin is an economics major with a computer science minor from Phoenix, Arizona. Megan currently serves as a peer mentor in the First-Year Mentor Program that promotes intellectual, social, and personal development among first-year students outside of the classroom. She serves as the Vice President of Scholarship on the Executive Board for Panhellenic Association, and is planning a biannual Scholarship Dinner for students and faculty to discuss academic interests in a casual setting. Megan is also an intern in the Economics Department and spent her summer teaching computer science to high school students at Northwestern University in Chicago. When Megan is not busy with her extracurricular programs, she enjoys biking in preparation for DePauw's Little Five bike race. She also enjoys hiking, spending a May Term in Northern Michigan at Isle Royale backpacking in the wilderness. Megan spent her most recent Winter Term in Kerala, India learning traditional yoga and teaching English at local schools. After college, Megan plans to enter the corporate world, with future plans of attending graduate school.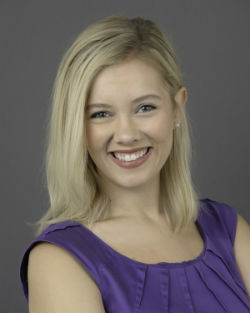 Sarah Pistorius is a senior vocal performance major from Granite City, IL who is very active in DePauw's School of music, performing leading roles in operas and musicals such as Little Women, La Finta Giardiniera, L'incoronazione di Poppea, and Company. She's also performed for guest artists such as Jason Robert Brown, Adam Guettel, Laura Osnes, Roberto Sierra, Gabriela Lena Frank, and Mark Adamo. As a member of the DePauw Chamber Singers, she has had the pleasure of singing in Mexico, France, and the White House. Outside of DePauw, Sarah has sung at the Halifax Summer Opera Festival and joined Opera in the Ozarks as a studio artist, performing opera outreach shows for under-served families in northwestern Arkansas. Sarah also sings for three local churches in the Greencastle area, works in the costume shop for the theater department, and is a music history tutor. Outside of music, Sarah loves to act and has recently been in the student-run production of Melancholy Play by Sarah Ruhl. Sarah is a member of Kappa Kappa Gamma Women's Fraternity and Phi Kappa Lambda Music Honors Society. After graduation she hopes to continue singing and pursue a master's degree in vocal performance.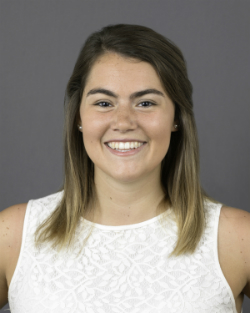 Ellen Tinder hails from Muncie, IN where she graduated from Muncie Central High School. Ellen is a political science major and business administration minor with a passion for learning and leadership. On campus Ellen is a Civic Fellow, First-Year Mentor, Coquillette Peer Consultant, member of the Student Philanthropy Council and co-chair of DePauw's Little 5 Steering Committee. She is also a member of the Greek honor society, Order of Omega, and Pi Sigma Alpha, which recognizes academic excellence in political science. Ellen is an active member of her sorority, the Alpha Chapter of Alpha Chi Omega, where she serves as the Chapter President. Ellen participated in the inaugural class of the DePauw Management Accelerated Program at Indiana University's Kelley School of Business, a course designed for liberal arts students with an interest in business. In January 2016, Ellen had the privilege of traveling to South Africa to study the political and social implications of Apartheid on a faculty-led trip. Ellen has interned with IU Health, the Indiana State Fair Commission, and Cripe Architecture. Following graduation, Ellen plans to pursue a career in human resources management with the goal of eventually obtaining her MBA.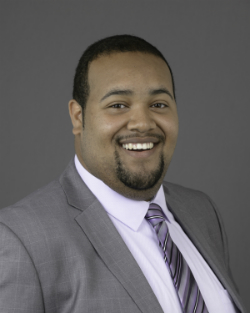 A senior vocal performance major at DePauw, Derrick D. Truby Jr. has been in several musical theatre productions including Parade, Spamalot, and Company along with operas such as La Finta Giardinera, L'Incoronazione di Poppea, and Little Women. Derrick has also been a member of the production teams of many shows such as Achilles and Achilles Son, Title of Show, and currently within the production of The Good Person of Szechwan. Derrick also serves as a member of many groups on campus including the School of Music Dean's Cabinet, Misfits, School of Music's Storytellers Series, and Delta Upsilon Fraternity. On the weekends, Derrick organizes and leads a children's choir at Greencastle Presbyterian Church and composes music with friends on campus. In his free time, Derrick enjoys listening to several genres of music, watching classic movies, and meeting new people. After DePauw, he hopes to foster a career performing live theatre of all kinds: musicals, plays, operettas, and operas. Derrick is very excited to serve as a Presidential Ambassador and hopes to continue building connections with students, faculty, and DePauw alumni.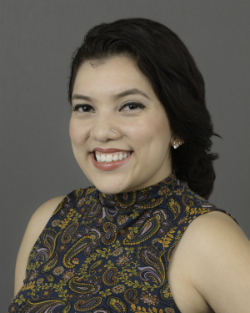 Gesenia Viviescas is a religious studies major and double minor in Asian studies and women's studies from Chicago where she attended Carl Schurz High School. She is a member of Sigma Lambda Gamma National Sorority, Inc. where she serves as Chapter President and National Collegiate Representative for the Central Region. She is also a member of the Theta Alpha Kappa Chapter National Honor Society of Religious Studies and Theology and in Order of Omega. As a student who is passionate about social justice and diversity, Gesenia has taken on many leadership roles on campus including internships with the Intercultural Life office as well as the Compton Center for Peace & Justice. For the past three years she has served as the coordinator for the Global Partners Program for the Intercultural Life Office, an International Ambassador and a Mentor. Gesenia's passions led her to serve as the student representative on the Faculty Committee on Academic Planning and Policy which helped lead to implementing the Power, Privilege, and Diversity Requirement. Gesenia also served on the executive board for DePauw Student Government as Vice President of Community Relations, was the student representative for the Faculty Committee for the Hartman House, and an Intercultural Community Conversation Facilitator for first-year students in resident halls. Building on her passion for creating inclusive and open spaces for all, she attended the National Conference of Race & Ethnicity and interned with the non-profit Chicago Coalition for the Homeless. After graduation, Gesenia aspires to continue her education with International Diplomacy and continue making a change for her community.