Presidential Ambassadors
Kevin E. Bugielski is an English writing major and education minor from Oak Park, IL. He currently serves as the peer mentor program specialist for the Mentor Program, a senior intern for the Office of Admission, and co-chairman of the Senior Gift Drive. With an entrepreneurial spirit, Kevin successfully co-founded two campus-wide initiatives, alongside President Brian W. Casey: the Student Philanthropy Council and the GOLD Alumni Speaker Series. As a Men's Hall Scholar, Kevin has significantly promoted equality on campus with regard to race, religion, sexual orientation, and economic or social status. He served as a committee member for DePauw Dialogue, and is currently in the process of launching Green Dot, an organization designed to eliminate power-based violence. In his free time, Kevin loves to participate in community service and to sing. He is co-president of DePauwCappella, vice president of Civic Fellows, and volunteers with College Mentors for Kids. Kevin is a proud member of Order of Omega Greek Honor Society where he represents his fraternity, Sigma Chi. This past summer, he completed his third internship working for The Ellen DeGeneres Show as a digital media intern. As an aspiring marketer, Kevin hopes to attain a job where he can continue doing what he loves.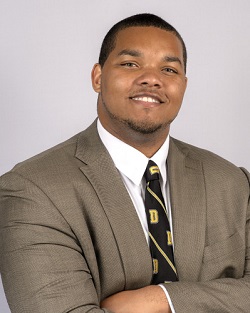 Craig R. Carter is a biology major with history and chemistry double minors from Chicago, IL. He attended Perspectives IIT Math and Science Academy, where he served as a student ambassador, communicating with donors, political figures and community leaders about how the impact of attending a math and science academy prompted his passion for medical administration. In his time at DePauw, Craig's heart has sparked for community service and topics of diversity and equity. To support creating a more inclusive campus at DePauw, he joined Men of Excellence as a first-year student; this service group, composed of African American men, focuses upon bridging the social gaps between students at DePauw and members of the Greencastle community. As a first-year resident assistant for two years, Craig educated students about the importance of bettering one's community though service and dialogue. He is currently the DePauw student body president and hopes to improve unity among the student body through topics of diversity and equity. Craig plans to enter the health care administration field after graduation, and then to continue his education by obtaining a joint Global MBA/ Master of Public Health.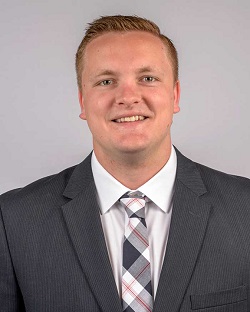 Christopher J. "CJ" Cazee is currently a political science major who hails from Martinsville, Indiana where he graduated from Martinsville High School. CJ is the president of the Interfraternity Council (IFC) and served as vice president of communication during 2014. As a proud member of Sigma Chi Fraternity, CJ has served as vice president and as a member of the recruitment committee. Dedicated to the development and improvement of the First-Year Experience, CJ has had the privilege of serving for two years as a peer mentor for the Mentor Program. In his first year, CJ started Student Friend at Fillmore Elementary (which continues to grow since its inception) where he still volunteers weekly. In his final year at DePauw, CJ is in the process of launching a campus-wide "It's On Us" campaign to help prevent sexual assaults on campus, and is serving on the committee to launch Green Dot, a student initiative that trains peers on how to properly intervene in situations of power-based violence. CJ has interned at NUVO Magazine in Indianapolis, for St. Jude Children's Research Hospital both as a field operations intern and this summer was in Memphis as a strategic partnership intern. CJ hopes to pursue a career in Healthcare Administration.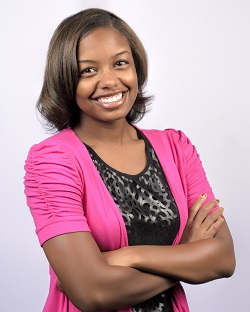 Ariel J. Cheatham is from Indianapolis, IN where she was a member of the National Honor Society, Dance Team, Freshmen Mentor and Student Ambassador Programs at Pike High School and a Center for Leadership Development Scholar. Ariel is currently double majoring in kinesiology and religious studies. She serves as the secretary of the Pi Lambda Chapter of Alpha Kappa Alpha Sorority, Incorporated and the vice president of the National Pan-Hellenic Council. Ariel is the secretary for the Association of African American Students, an admissions ambassador, and is serving in her third year on the student leader staff as a community resident assistant. This past summer she interned at the Rehabilitation Hospital of Indiana and ATI Physical Therapy. After graduation, Ariel plans to attend graduate school for physical therapy.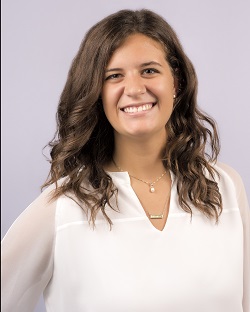 Amanda B. B. "Nettie" Finn is an English writing major from Bardstown, KY. Nettie is an Honor Scholar and a member of Pi Beta Phi Fraternity for Women who is currently serving as vice president of member development. Also a Media Fellow, Nettie spent the fall semester of her junior year in Manhattan working as an intern at Pegasus Books, LLC. She has pursued her dual loves of reading and writing through her involvement at The DePauw, Indiana's oldest college newspaper, where she has worked as a section editor, managing editor and editor-in-chief; she is currently the chief copy editor. Nettie works as a W-Center Tutor, has been a DJ for WGRE, and is a member of the Order of Omega. She has spent her past two summers working for the Duke Talent Identification Program for gifted high school students, once as a residential counselor and most recently as a teaching assistant for English literature. After graduation, Nettie will pursue a career in the publishing industry.
John P. "Jack" Forde V is from Western Springs, IL and is an economics major with a political science minor. He is a member of the Management Fellows program and currently serves as president of Phi Delta Theta Fraternity where he has also served as alumni relations chair, secretary, and a significant role in recruitment. He played baseball for two years at DePauw. This year, Jack is a first-year mentor and looks forward to guiding students through new challenges on a college campus. He interned for JA Benefits in Bedford, IN and Cushman & Wakefield in Chicago. Following graduation, he hopes to work in the consulting industry for a few years before earning an MBA. One day, Jack would like to open and operate a business and become involved in local politics.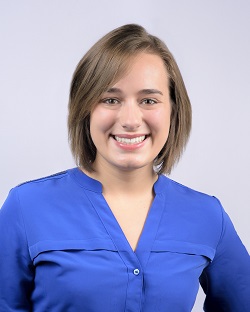 Anna B. Gawlik is a sociology major and education studies minor from Chicago. As a Posse Scholar, she has taken on many leadership roles on campus including vice president of chapter relations and standards for the Alpha Chapter of Alpha Chi Omega, the Real Talk coordinator for the Multicultural and Intercultural Life Office, and serving DePauw as a first year mentor. In her senior year, Anna is the vice president of Student Life for DePauw Student Government, a peer mentor for the mentor program, and a Coquillette peer consultant for the Hubbard Center. Anna's passions focus mostly on serving as an ally for others, and she has been able to foster that by attending conferences such as the White Privilege Conference and the Social Justice Training Institute representing DePauw University. With the hope of one day becoming a lawyer, Anna has interned with the Prosecutor's Office in Putnam County and participated in the IU McKinney Law School Summer Law and Leadership Academy as a member of the inaugural class. After graduation from DePauw, Anna hopes to attend law school with a plan to pursue a career in human rights law while engaging in the corporate sphere by working with tax-exempt organizations.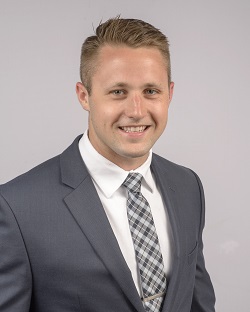 Jacob A. "Jake" Hemrick is an economics major from Franklin, IN where he attended Franklin Community High School. An avid entrepreneur, and licensed real estate broker, Jake owned a lawn care and landscaping company for three years and has just founded Hemrick Property Group Inc., which engages in real estate sales and investments. While at DePauw, Jake has been a member of the DePauw Tigers football team, an admissions ambassador, and a member of Chapter Assisting Trained Students. He has been a volunteer coach for Greencastle Parks and Recreation youth sports and president of his fraternity, Delta Tau Delta. Jake's passion for real estate grew from an internship with Carpenter Realtors during his sophomore year. His post graduate plan is to grow his corporation and to pursue a dual degree in real estate law and an MBA with a concentration in real estate. Jake believes that with great success comes great responsibility and he hopes that one day he can give back to his community all and more than he has gained.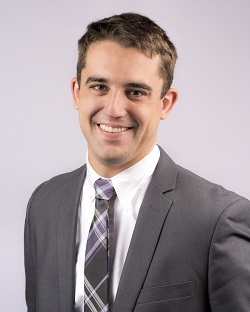 J.J. Holtfreter is an economics major and English literature minor from Nashville, TN. A Management Fellow and a member of Delta Upsilon fraternity, J.J. served two consecutive semesters as the chapter's vice‐president. He helped found Bagos, a student‐run coffee shop where he is the marketing director. J.J. has served as a writing consultant in the academic resource center since his sophomore year. He has interned with BrandEra Marketing in Fort Worth, TX, as the product launch intern for Caskey Achievement Strategies in Indianapolis, and most recently as a strategic marketing intern in Batesville, IN with Hill‐Rom, a global leader in the healthcare industry. J.J. is continuing his duties at Hill‐Rom in a part‐time capacity while finishing his senior year at DePauw. After he graduates, J.J. plans to pursue his passion for marketing.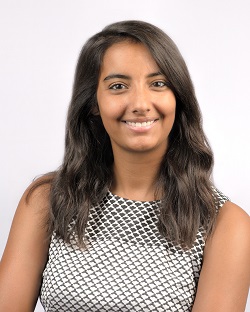 Susheela Jayaraman, from Vernon Hills, IL, is a biology major with minors in chemistry and philosophy. Susheela is a member of Alpha Phi Fraternity where she has served as both vice president of risk management and the director of WatchCare. She is currently a tutor in the Speaking and Listening Center, a member of the Multicultural Student Services Advisory Board, as well as a research assistant in the Biology Department with a focus on genetics. Susheela is passionate about the DePauw Student Friend program, and has been a dedicated volunteer for this organization since her freshman year. She has been playing for two years on the lacrosse team, studying evolution and island ecology with the Winter Term trip to the Galapagos Islands, and working as a mentor in the First-Year Mentor Program. This upcoming Winter Term, Susheela will be the reflections leader for the WTIS to Havana, Cuba. This most recent summer, she was the leadership director at Camp Jorn YMCA in Manitowish Waters, Wisconsin. After graduation, Susheela plans to earn her masters in genetic counseling and bioethics.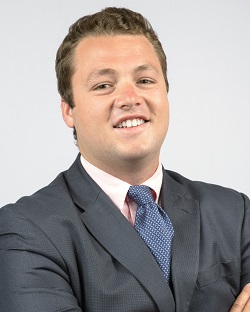 Duncan T. MacMillan is from Bay Village, OH, a western suburb of Cleveland, where he attended Bay High School. He is pursuing a major in political science with a minor in classical civilization, and was recently inducted into the Pi Sigma Alpha National Political Science Honor Society. Duncan is a member of the Management Fellows Program and the DePauw men's swim team, the two programs that initially drew him to the school. He is a member of Beta Theta Pi Fraternity where he serves as social chairman. Pursuing his passion for travel and exploration, Duncan spent a summer backpacking around Europe, worked on a Tuscan vineyard following his May Term trip to Italy and has also spent two summers on mission trips to Nicaragua. He enjoys political campaigns, and is involved with various groups on campus. After graduation, Duncan plans to pursue a career in lobbying or international relations.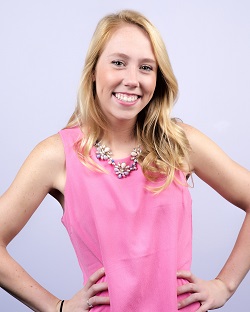 Erin C. Mann is a communication major and political science and history double minor from Rocky River, OH. She currently serves as the director of public relations for DePauw Student Government, a housing assistant through the Campus Living and Community Development Office, and the campus correspondent and editor-in-chief for Her Campus DePauw. Erin has a passion for people and service, which is reflected in her DePauw experience. She began tutoring through the Reading Improvement Center at Gobin during her second week of college and intends to continue through her last semester. Erin served as a news director at WGRE 91.5FM for two semesters, covered President Obama's visit to Indianapolis, interviewed three Ubben Lecturers, and has been a DJ for the radio station for six semesters. She is highly devoted to safety and equality on campus, and is currently in the process of launching Green Dot, a program committed to stopping power-based personal violence through bystander intervention. Erin is a proud member of Pi Kappa Delta Forensic Honorary Society for her work on the DePauw Debate Team and the student representative on the Honorary Degrees and Occasions Committee. This past summer, she completed a media-marketing internship with the Cleveland Leadership Center. Upon graduation, Erin plans to pursue a career in the marketing and public relations industries.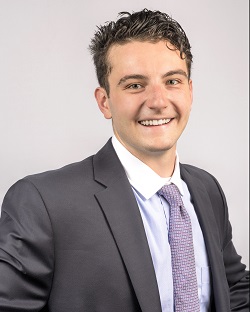 William C. "Connor" McAndrew, from St Louis, MO spent three years attending the American School of Barcelona in Spain before graduating from Lafayette High School, where he was captain of the Water Polo team and a Bright Flight Scholar. He is a Management Fellow pursuing a double major in economics and English writing and a member of Phi Delta Theta Fraternity. A passion for critical inquiry led him to serve as a 2015 Hillman Intern at the Prindle Institute for Ethics. His junior year, Connor spent five months in Pune, India as a marketing intern for Cummins India Ltd. He spent a winter term paddling the 99 miles of the wilderness waterway in the Florida Everglades and served as a mentor for College Mentors for Kids at Ridpath Elementary. He is passionate about conservation and economic solutions to public problems. Connor enjoys rock climbing and skiing and hopes to pursue a business career with international scope.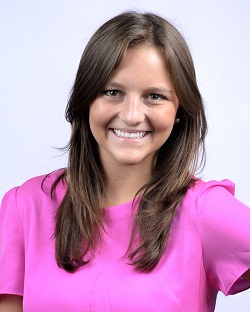 Rebecca A. "Becky" Sear attended Eden Prairie High School(MN) but now lives in Atlanta, Georgia. As a member of the Management Fellows program, she is pursuing a degree in economics and minoring in communication. Becky is an active member of Kappa Alpha Theta Fraternity and a member of Women in Economics and Business. During her time at DePauw, Becky traveled to Costa Rica for Winter Term 2014 where she helped construct a new bank building foundation while learning about environmental impacts on the economy. That summer, she attended the London School of Economics followed by a semester-long internship at Eli Lilly as a global marketing intern in the Oncology Business Unit. While in Indianapolis, Becky volunteered as the assistant coach of the Brebeuf Jesuit boy's varsity ice hockey team. This past summer, she worked at The Home Depot on the merchandising execution team researching new night shift structures. After graduation, Becky plans to pursue a career in marketing, sales, or consulting.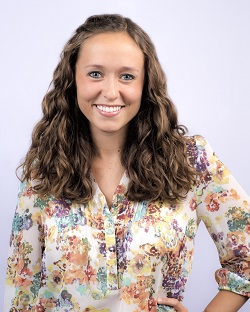 Julie A. Strauser is a vocal performance major from Carmel, IN. She is very active in the School of Music, performing leading roles in operas and musicals and performing for guest composers such as Jason Robert Brown, Adam Guettel, Roberto Sierra, Libby Larsen, and John Corigliano. Julie has also won the DPU Concerto Competition the past two years, giving her the honor to perform as a soloist with the orchestra. As a member of the DePauw Chamber Singers, she has had the wonderful privilege to sing in Mexico, France, and at the White House. Outside of the School of Music, Julie regularly performs with Intimate Opera of Indianapolis, participated in the Bay View Summer Music Festival, and joined Opera in the Ozarks as a studio artist this past summer. Apart from performing, Julie serves on the Dean's Student Cabinet as a representative for the School of Music student body and is a senior intern for 21CM, an initiative that gives young musicians the tools to shape their careers as entrepreneurs. On the weekends, she can be found writing and creating performances for the Indiana State Museum as the performing arts intern. Julie is a member of Kappa Kappa Gamma Women's Fraternity and Duzer Du Alpha Psi Omega. After graduation, she hopes to continue singing and to pursue a master's degree in vocal performance.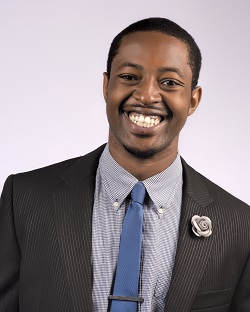 Motolani A."Tolani" Verissimo was born in Lagos, Nigeria but grew up in Staten Island, NY where he attended Monsignor Farrell High School. Both a Posse and a Bonner Scholar, Tolani is a computer science major and sociology minor. During his first year at DePauw, he was an Office of Spiritual Life intern, an office assistant for the Intercultural Life Office, an advisory board member for Multicultural Student Services, and a WGRE DJ. He became an intern at the Compton Center for Peace and Justice later that year. Tolani has been working in the Greencastle community as the tech and program developer and the network & IT devices intern for the Putnam County Public Library (PCPL). He has spent time as the multi-media marketing and web developer for both the DePauw Hubbard Center and the Putnam County Soil & Water Conservation District (SWCD). Tolani has been on the executive council of the Indiana Delta Chapter of Sigma Alpha Epsilon Fraternity and was the vice president during his junior year, and that same year served as a junior senator for DePauw Student Government. After college, Tolani plans to enter the corporate world focusing upon IT and human resources, with future plans of attending graduate school.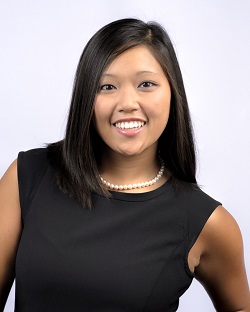 Ashley J. Wong is from Bedford, IN, where she graduated as the valedictorian of her senior class and was the Lilly Scholar of Lawrence County. She is a mathematics and economics double major. During her time at DePauw, Ashley has been involved in numerous activities all around campus. As a member of Pi Beta Phi Fraternity for Women, Ashley served as the vice president of housing and currently is the chapter president. Ashley is a senior intern for the Office of Admission, Q center tutor, a member of Order of Omega Greek Honors Society, and Mortar Board Senior Honors Society. Ashley has worked as an Office of Admissions ambassador introducing prospective students and their families to the DePauw experience. She has also been on the executive board of Union Board for the past two years and assisted in planning events for Family and Old Gold Weekends. Ashley was a first year mentor, on the executive council for Chapter Assisting Trained Students, and a member of Women in Economics and Business. She traveled to London and Paris for Winter Term 2014, where she studied various scientists and scientific methods from those regions. During summer 2014, Ashley interned with NSWC Crane in Crane, IN as a mathematics and operations analyst. This past summer Ashley interned at Eli Lilly in their finance department. Following graduation, Ashley hopes to pursue a career in finance or analytical mathematics.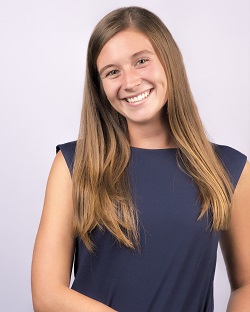 Caroline Zadina is a psychology major, with minors in both communication and philosophy. She is a member of Alpha Phi Fraternity and was honored to be inducted into Phi Beta Kappa her junior year and also won the Charles and Frances (Wylie) Condit Science Scholarship that same year. But her true passion rests on the soccer field, where she is the co-captain of the DePauw Women's Varsity Soccer Team and serves on both the Student Athlete Advisory Committee and the Athletic Board. Caroline was happy to represent DePauw on the Soccer and Education trip in Italy this past winter term (2015), where she was thrilled with the opportunity to play several professional teams and practice in the Italian National Team's training arena. When not studying or playing soccer, Caroline spends time at the Janet Prindle Institute for Ethics where she earned best conference presentation in the 2014 Undergraduate Ethics Symposium and a place as a Hillman Student Intern the following academic year. The combination of psychology, soccer and Prindle are preparing Caroline to pursue her dream of bringing sports psychology to improve the world of college athletics.