Prospective Students
20 students are selected for the incoming freshman Bonner class. Prospective students who have demonstrated a commitment to service and community are recommended to the program by their DePauw admissions counselor.
Service-Based - During the academic year Bonner Scholars complete 8 hours of community service each week, plus 2 hours of training and enrichment activities. Bonner Scholars also must complete 2 summer internships during their 4 years at DePauw.
4-Year Scholarship- Experience changes and evolves with individual; additional funding is available for juniors and seniors; loan reduction stipend is awarded to Bonner alums.
Need-Based - Student must be financially eligible based on Estimated Family Contribution.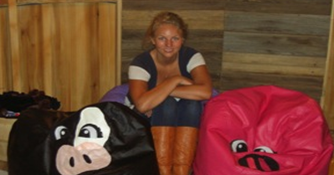 Elizabeth Bjordal, Bonner Scholar, Class of '13
Read More