Career & Internship Fair
---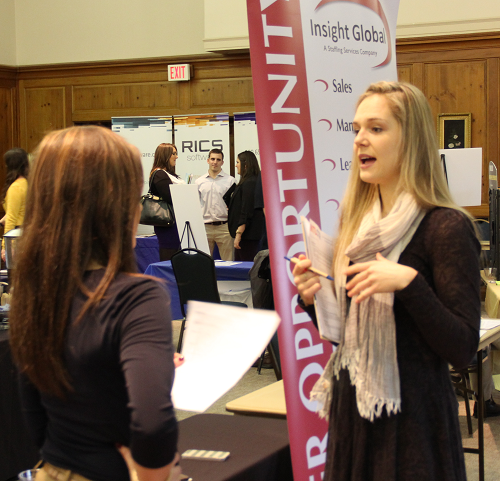 Each semester the Hubbard Center for Student Engagement hosts employers from diverse locations and industries on campus to meet and network with you and other DePauw students. You have an opportunity to meet directly with professional recruiters, who can answer your questions about work in their particular career field, along with internships and full-time opportunities available with their respective organizations.
---
Fall 2016 Career & Internship Fair
Thursday, October 6, 2016, 2 p.m. – 6 p.m.
Memorial Student Union Building, Ballroom & Lobby

An outstanding opportunity to tell DePauw students about your organization/company and occupation. Also, answer students' questions about breaking into the field and discuss with them employment opportunities you anticipate having open in the next 12 months.
RSVP & Registration: if you would like to RSVP as a attendee or register as a participant for the fair please visit this link.
---
List of Participation, to be continually updated
84.51
Aegis Worldwide
Alpha Gamma Delta Fraternity
Animal Health International, Inc. - AHII
Aon
Appirio
Brooksource
CHARGE
Crew Carwash
Cummins, Inc.
Down Syndrome Indiana
Eli Lilly & Company, Financial Services
Eli Lilly and Company
Eli Lilly and Company, Human Resources
enFocus
Exodus Refugee
Federal Home Loan Bank of Chicago
Finish Line
First Internet Bank of Indiana
Fund Evaluation Group, INC.
Hendricks Regional Health
Indiana INTERNnet
Indiana State Senate
Insight Global
LaSalle Network
Marian University with St. Vincent
MassMutual Midwest/WestPoint Financial Group
Mavenly
Modern Woodmen Fraternal Financial
Mutual of Omaha
Probo Medical
Putnam County Public Library
Putnam County Visitors Bureau
Roche Diagnostics
South Central Indiana REMC
Spot, Inc.
Start the Heart
Stego Industries
SVM
Teach for America
Technology Services Group
Umbaugh
Valeo Financial Advisors
Walgreens
Welch Packaging Group
Wilcox Environmental Engineering