Sophomore Institute
---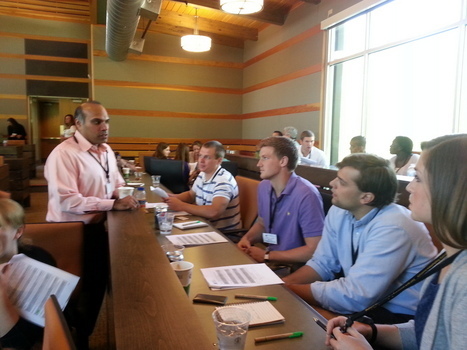 The Sophomore Institute is designed to promote excitement and engage students' concerns about making the significant decisions that will shape their time at DePauw. It gives sophomores an opportunity to learn about the resources and opportunities available to help them fulfill their lifelong personal and professional goals. Through unique programs and with participation by DePauw faculty, staff, students and even alumni, sophomores gain a greater sense of the opportunities that await them, and how the University can help make their goals a reality.
The Sophomore Institute is made possible annually through generous support by the Coquillette Family. This year's event will take place on August 25, 2014. To register, visit the event page on TigerTracks and click the RSVP button at the bottom of the page (login to TigerTracks is required).
---
Sophomore Institute Schedule Example
@HubbardCenter on Twitter
---
TODAY is the 1st Real World event! Come to the Ballroom @ 6pm for an alumni panel sharing their strategies to plan for life after graduation
2 days ago
Visit http://t.co/du8SDxMHF3 to learn about IU's MSW program. Priority deadline for is Jan. 30. Final deadline May 1, 2015.
2 days ago
SENIORS: Come to the Real World event TOMORROW 6pm in the Ballroom for an alumni panel sharing strategies to plan for life after graduation!
3 days ago
44 years ago
44 years ago
44 years ago
44 years ago
44 years ago
44 years ago
44 years ago
44 years ago
44 years ago