Student Resources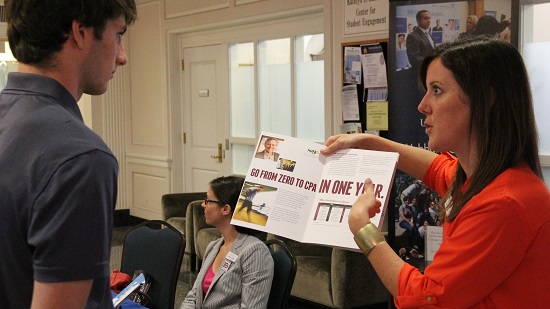 Regardless of whether you are considering graduate school for the first time, or preparing to take an entrance exam of for an interview, the Hubbard Center is here to help you prepare! The process from application to acceptance to a post-graduate program can be long (in some cases more than a year from when you first decide to pursue graduate school), so you are encouraged to start planning as soon as you know you want to pursue a post-graduate program.
We have listed below some of our resources to help you get started. You also are encouraged to schedule an appointment with a Hubbard Center adviser, who can help you prepare further for the graduate school application process.
---
Resources to Help Your Graduate School Application Process
Graduate & Professional Program Resources
Writing Your Personal Statement
Medical & Allied Health Program Resources
@HubbardCenter on Twitter
---
Jenniffer Behrens '11, current student at IU Medical School, will be at the Advising Bar tomorrow from 3-5 to answer questions!!
3 days ago
TODAY is the 1st Real World event! Come to the Ballroom @ 6pm for an alumni panel sharing their strategies to plan for life after graduation
4 days ago
Visit http://t.co/du8SDxMHF3 to learn about IU's MSW program. Priority deadline for is Jan. 30. Final deadline May 1, 2015.
4 days ago
SENIORS: Come to the Real World event TOMORROW 6pm in the Ballroom for an alumni panel sharing strategies to plan for life after graduation!
5 days ago
RT @DePauwPrindle: #DearDePauw: What's it All About? http://t.co/U0xMZ1X42x
11 days ago
MBAs from IU, Notre Dame & Purdue rank among Businessweek's top 8 in nation for return on investment. http://t.co/GnGGUGjrcP
11 days ago
44 years ago
44 years ago
44 years ago
44 years ago
44 years ago
44 years ago
44 years ago
44 years ago
44 years ago