Westerman Fellows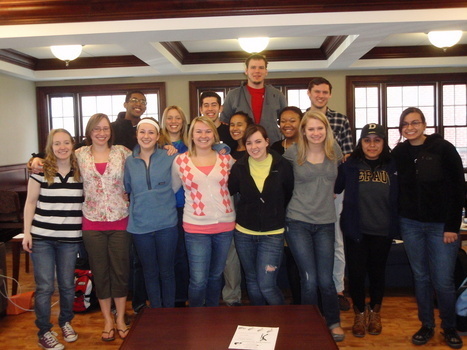 ---
DePauw Community Service programs function due to the efforts of student leaders who manage meaningful and effective programs in the surrounding Greencastle/Putnam County community. Coordinators are expected to maintain a successfully functioning program that both serves the target population as it offers DePauw student volunteers opportunities to grow through service.
This year-long Hartman Engaged Leaders Program (HELP) position serves as the primary liaison between DePauw student volunteers and the served agency/program. Please contact dcs@depauw.edu with additional questions or concerns.
Additional responsibilities:
Participate in a HELP/DCS Coordinator Orientation at the beginning of the academic year.

Recruit sufficient numbers of quality volunteers to satisfy needs of partner.

Participate in the fall and spring semester recruitment fairs.

Host and/or lead an orientation session each semester as needed.

Conduct an end of semester reflection session each semester for all volunteers.

Attend monthly all-coordinator meetings (Fridays 11:40-12:20).

Volunteer in your agency/program.

Meet bi-weekly with the Coordinator of Community Service and Outreach.

Manage staffing of volunteer needs at agency.

Communicate regularly with your agency/program director and volunteers.

Keep an accurate program attendance/hours sheet to be submitted at the end of each semester.

Encourage and recognize volunteers who put forth extra effort.

Write an evaluation at the end of the semester.
---
Contact the Coordinator of Community Service Matt Cummings, with interest at: matthewcummings@depauw.edu
@HubbardCenter on Twitter
---
Think you have it tough the Monday after spring forward? http://t.co/To1j4VcUZ9
yesterday
What is the Hubbard Center? Let Raj Bellani quickly inform you. #HCSE #RajBellani http://t.co/jLtEP30ECu
4 days ago
Fulbright Workshop #1: Prepare to apply and learn how to begin to write the personal statement. 4/4 3pm, HH 101
5 days ago
Fulbright Info Session: learn about options & how to apply. All welcome. Juniors and Seniors encouraged to attend. 3/10, 11:30, UB 232
5 days ago
Fulbright Info Session: come learn about your options & how to apply. All welcome. Juniors and Seniors are especially encouraged to attend.
6 days ago
@_PizzaDude_ profiled by Get Busy Media as start-up on campus. Will definitely be trying some soon. http://t.co/k1UtbL0tWW
7 days ago
Gentlemen, take these tips for tying a tie in order to look great for your next interview. http://t.co/j9zhmBTvIB
7 days ago
Sara Scully talks about the Hubbard Center, resumes, and cover letters. Learn more by visiting the Hubbard Center! http://t.co/sa64lDBRwc
8 days ago
One really cool tip that can make your interview great! http://t.co/doaCJ4NQRJ
12 days ago
44 years ago
44 years ago
44 years ago
44 years ago
44 years ago
44 years ago
44 years ago
44 years ago
44 years ago