Faculty Resources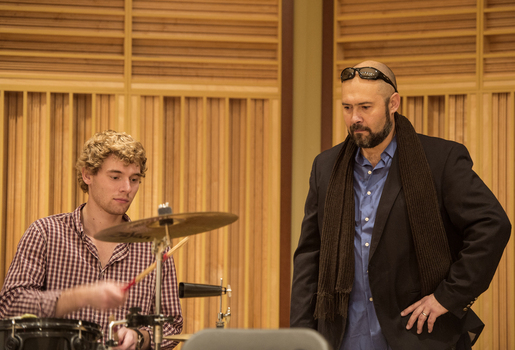 ---
Jump to a Section
Teach a Winter Term Course Advising Students for Winter Term
---
On Campus Courses
On-campus Winter Term allows both faculty members and students to experiment and explore in new ways and innovative topics. Members of the faculty have frequently taught successful Winter Term courses outside their primary areas of scholarly expertise, and it is not uncommon for Winter Term course offerings to be developed into First-Year Seminars.
Off-Campus Faculty-Led Programs
Winter Term off-campus study and service Programs give students and faculty members the opportunity to explore something that cannot be accomplished by classroom learning alone. Programs can take many different shapes and forms and should all be dedicated toward these general goals and objectives:
Provide direct exposure to new ideas, contrasting systems, practicing of skills (language, performance, craftsmanship, leadership)

Develop a sense of responsibility and involvement with pressing issues

Reflection on the position of the U.S. on the international stage

Viewing international diversity as a resource

Understanding the fundamental principles of intercultural understanding and communication

Using diverse cultural frames of reference and alternate perspectives to think critically and solve problems

Integrating new knowledge and ideas into one's current perceptions

Ability to be in the position of a learner when encountering others

Direct contact and interaction with individuals from other nations

Reflecting constructively on a new experience
externships
Faculty externship sponsors work with students and hosts to enhance professional hands-on learning experiences. While students are responsible for securing their own externships, they are assigned to faculty who will support them in establishing goals and making the most of their opportunities. As a sponsor, you will build relationships and maintain contact with students to help them incorporate academic learning objectives through preparation, assignments and reflection. You will also be in contact with hosts to collaborate on student feedback and evaluation.
Independent Study Supervisors
Faculty supervisors will significantly influence your student's acquisition of skills and resources necessary to complete the proposed project. Furthermore, the development of the project as a learning experience for the student will depend largely on your guidance. As the project sponsor, you are the principal contact for which the student reports the result of the project for evaluation.
---
Teach a Winter Term Course
Proposal Process
The Committee on Experiential Learning (CEL) invites faculty members who are interested in teaching courses during Winter Term to submit a proposal following the detailed guidelines set forth in the proposal forms. Proposals for the following Winter Term are typically due in early February.
Winter Term allows both faculty members and students to experiment and explore in new ways and innovative topics in their learning. Members of the faculty have frequently taught successful Winter Term courses outside their primary areas of scholarly expertise. We encourage proposals related to standard or experimental courses and that link a Winter Term with a fall or spring semester course in order to provide opportunity for direct and intentional links between in-class and out-of-class experiences.
Off Campus Programs
Leaders may be of any academic background and experience in designing and delivering a short term off campus programs. Proposals must be initiated by faculty and submitted to the Committee on Experiential Learning for approval.
Prior to submitting a proposal for an off campus program, please review the Short Term Faculty Leader Description for a description of the roles leaders play, a list of on campus resources, and expectations for risk management while off campus.
DePauw University Staff and Community Members
DePauw University staff and community members are welcome to submit on campus course proposals and are asked to include with your proposal a description of your credentials as they are relevant to your proposed course. Priority is given to faculty with obligations to teach for the given Winter Term. Community members without access to the online application form should email their proposals to the Registrar's Office.
---
Advising Students for Winter Term
Course Listings
Courses for the following Winter Term are announced prior to the spring registration period. Faculty advisers are encouraged to discuss Winter Term plans with students in relation to their academic semester planning. Current course offerings can be found on the Schedule of Courses.
Registration Period
Each Winter Term program has its own registration time frame. Please reference the information below for when students should submit applications to the following Winter Term programs. Applications are available online.
| | |
| --- | --- |
| On Campus Courses | mid-November through December |
| Faculty Led Off campus study | Applications Available in April & September |
| Internships | Late September |
| Independent Study Projects | Late September |
| Study At Another School | Late September |
@HubbardCenter on Twitter
---
Are you missing out? Come visit an OCS adviser today http://t.co/OOa9DwYTQl
2 days ago
Last OCS deadline for 2014-2015 year is February 21st. Talk to one of our advisers to learn how you can study abroad today!...
2 days ago
With all the turkey and shopping it's time to give back http://t.co/ik6sLur4mu #givingTuesday
4 days ago
A lot of job openings that are filled are never advertised, go for it!
10 days ago
RT @DPU_StudentGov: It's that time! Take advantage of the resume reviews & career advising offered @hubbardcenter! http://t.co/V7rr77r2VK
11 days ago
What does Katie Meyer say about how she got her job? Check out this latest video in our Successful Senior series. http://t.co/FmVUXdLIH0
11 days ago
43 years ago
43 years ago
43 years ago
43 years ago
43 years ago
43 years ago
43 years ago
43 years ago
43 years ago