Notable Recent Events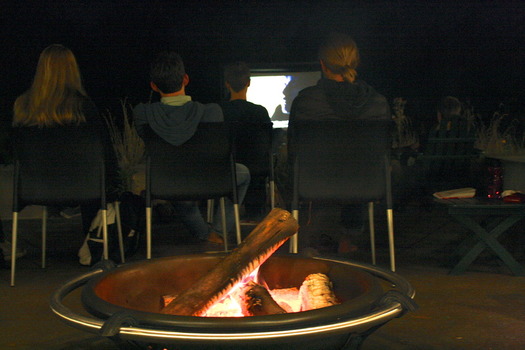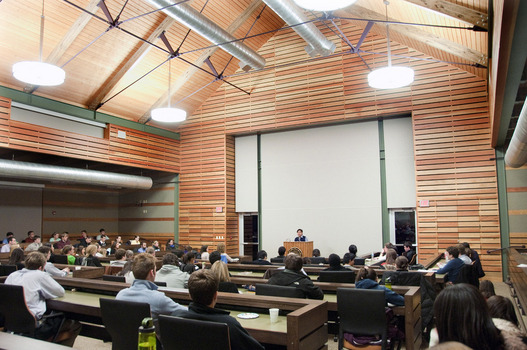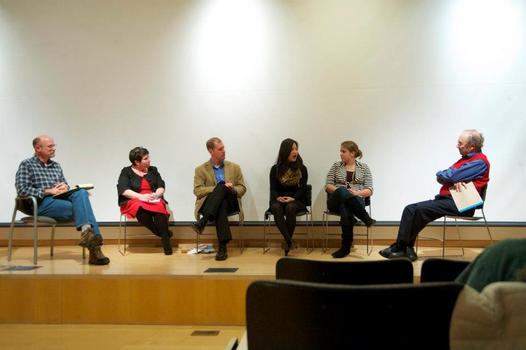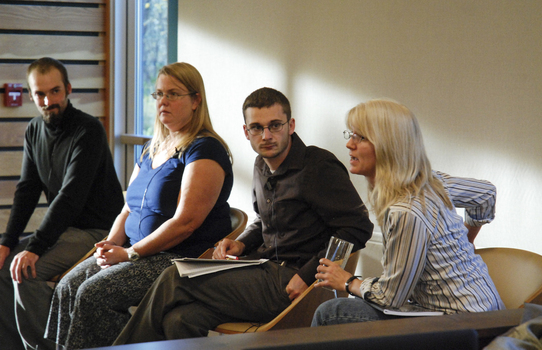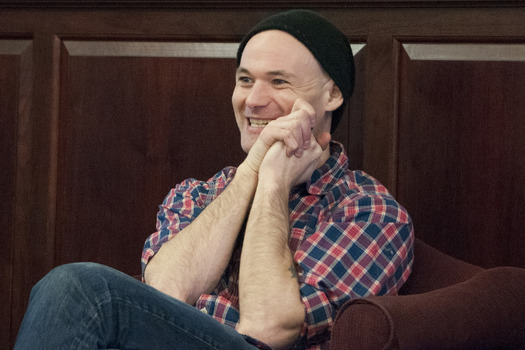 Prindle Film Series: Dirty Wars (September 17, 2013)
Since the September 11th attacks of Al-Qaeda militants on U.S. soil, President George W. Bush and Barack Obama have authorized covert military operations to combat the War on Terror. Director and journalist Jeremy Scahill has spent the last 12 years following these operations and uncovering the ethically questionable attacks on civilians and potential terrorists across the globe. His new film, Dirty Wars documents the stories of those directly impacted by these secret attacks, and makes viewers question the legality of American military presence in non-war zones.
Mass Shootings: How a Journalist Ethically Covered Columbine and Aurora (September 15, 2013)
CBS4-Denver Reporter Suzanne McCarroll is a seasoned journalist who has worked in broadcast journalism for over 30 years. this event focuses on Suzanne's live coverage of the Columbine High School shooting and the Aurora Theater massacre. In covering such tragedies, Suzanne has the difficult job of balancing her values and ethics as a mother and compassionate citizen, with the competitive nature of being a broadcast journalist and getting the story first.
Fertility Tourism and the Ethics of Intercountry Surrogacy: Renting Wombs in the Global Marketplace (March 6, 2013)
Professor Molly Shanley examines some of the theoretical and practical challenges that the globalization of assisted reproductive technologies (ART)—specifically surrogacy—pose to feminists and bioethicists concerned with reproductive justice. Shanley argues that intercountry surrogacy can perpetuate economic exploitation, patriarchal domination, and colonial attitudes. She contends that there is a pressing need for engagement with inter-country surrogacy (and other aspects of ART) in the legal, medical, and political fields. There is an urgent need for feminist theorists and activists to envision surrogacy as entailing far more than medical treatment and individual rights, and instead recognize—and persuade policy makers—that at its core, surrogacy is about the creation of novel and complex family relationships.
Sean Graney
PUBLIC LECTURE DATES AND TIMES
On February 27 at 11:30-12:30 (Watson Forum) and on April 18 at 6:30pm (Prindle) - Campus Presentations/Readings by Sean Graney

On March 2 at 4:15pm (Prindle) and on April 19 at 4:15pm (Kerr Theater), Sean Graney is facilitating public staged readings of the play-in-progress.
BIOGRAPHY
Sean Graney, Chicago Playwright and Director, will discuss his current work with DePauw students, which is to develop an original script of seven ancient Greek plays which address the Trojan War. We intend to create a micro-society, where we can discuss ethical issues raised in the play; which, because of the script's length, spans a wide spectrum of human ethical issues. These topics include, but are not limited to, the role of leadership, the value of life, respect for the dead, the nature of war, and responsibility to family.
Sean Graney is the Founding Director of The Hypocrites, a company where he was the Artistic Director for 14 years. He has written and adapted several plays, most recently Sophocles: Seven Sicknesses, an adaptation of all seven surviving texts of Sophocles, which had successful runs in both NY and Chicago.
Sean Graney is a Nancy Schaenen Endowed Visiting Scholar at the Janet Prindle Institute for Ethics, with additional support from the Amy Broddock Fund, the Kairos Fund, the Grannon Fund, and from the Departments of Classical Studies, English, and Communication and Theatre.
Dr. Sundiata K. Cha-Jua (February 4-8, 2013)
Black Studies is pleased to announce the appointment of Dr. Sundiata K. Cha-Jua, Associate Professor of History, and Associate Professor of African American Studies, University of Illinois, Champaign-Urbana as a Nancy Schaenen Endowed Visiting Scholar at the Janet Prindle Institute for Ethics, February 4 - 8, 2013. Dr. Cha-Jua is also the current President of the National Council of Black Studies (NCBS), the leading academic organization for the study of Black/Africana Studies in the U.S.. Organized by the Black Studies department and the Association of African American Students, Dr. Cha-Jua's visit will be co-sponsored by the Office of the Vice-President for Academic Affairs, the History department, the English department, the Religious Studies department, among others. Dr. Cha-Jua's visit coincides with Black History Month 2013 whose national theme is, "At the Crossroads of Freedom and Equality: the Emancipation Proclamation and the March on Washington." The overall goal of the program is to highlight the ethical and interdisciplinary nature of Black/Africana Studies in the contemporary Liberal Arts curriculum.During his visit to DePauw, Dr. Cha-Jua will deliver a public lecture,"Resurrecting Ghosts of the Past: Building Black Studies on its Radical Intellectual Tradition," on Wednesday, February 6 at the Watson Forum, at 4 pm, and lead a reading group at the Prindle Institute for Ethics on Thursday, February 7 from 6:30-9:30 pm. He is also scheduled to visit classes, meet with students at the AAAS House. Plans are also afoot for him to hold a mini-workshop seminar on the ethical dimensions in the teaching Black/Africana Studies.
Volunteer Vacations: The Ethical Implications of Service Work (November 15, 2012)
Doug Cutchins, director of Community Engagement at Grinnell College and co-author of Volunteer Vacations will be speaking on the importance of community empowerment and self sustainability in service projects. Joining a discussion to follow will be Doug Harms, Sarah Ryan, and two DePauw students, Kelley Reeves and Koko Lee, who will provide insight from their first hand experiences volunteering and living abroad. The discussion will be monitored by Dr. Bob Steele. This discussion will present some very important ethical questions, such as the meaning of the phrase 'make a difference,' providing students with the opportunity to gain perspective and think critically before embarking upon their service and travel pursuits. Following the discussion will be time for open discussion and questions.
Tough Decisions: A Multiple Perspectives Approach for Returning Athletes Back to Play (November 13-14, 2012)
Dr. Kimberly Peer, Associate Professor and Athletic Training Education Program Coordinator at Kent State University, will present her research and lead a discussion regarding return to play decisions involving athletes and sports participation. While the talk can pertain to all injuries, a highlight will be on the current trend of head injury in sport. Related issues to be addressed will be levels of sport participation (youth, high school, college, and professional), communication between parents, athletes, coaches, and medical personnel, and the role of the greater community in addressing safe athletic participation.
Sunday Cinema: Granito: How to Nail a Dictator (November 11, 2012)
"In a stunning milestone for justice in Central America, a Guatemalan court recently charged former dictator Efraín Rios Montt with genocide for his brutal war against the country's Mayan people in the 1980s — and Pamela Yates' 1983 documentary, When the Mountains Tremble, provided key evidence for bringing the indictment. Granito: How to Nail a Dictator tells the extraordinary story of how a film, aiding a new generation of human rights activists, became a granito — a tiny grain of sand — that helped tip the scales of justice. An Official Selection of the 2011 Sundance Film Festival." (PBS.org)
Jonathan Coleman: The Art and Responsibility of Creative Nonfiction (November 7, 2012)
Jonathan Coleman's newest book is a collaboration with NBA legend Jerry West, the silhouetted figure of the NBA logo, on his autobiography. West by West: My Charmed, Tormented Life was featured in Sports Illustrated and became a New York Times bestseller. An author of nonfiction for 30 years, Coleman will explore the complex ethical waters of the writer-subject relationship and discuss how he goes about crafting stories that are both honest and fair.
"The Unforgiving Minute": A Soldier's Education at West Point, Oxford, and the Battlefields of Afghanistan (October 2, 2012)
Craig Mullaney tells a compelling story in his memoir "The Unforgiving Minute." He takes us through his grueling training at West Point and his experiences as a Rhodes Scholar at Oxford, then to his leadership of an infantry platoon trapped in a deadly firefight in Afghanistan. He came back from the war to teach at the US Naval Academy and then work in the Obama administration. Mullaney's memoir is about his personal life as well as his experiences as a soldier at war. He writes of the pain of betrayal when his father abandons the family and about the joy of falling in love and trying to keep the relationship alive while he goes off to war. Craig Mullaney's
Craig Mullaney's book has been praised by writers and military leaders, including General David Petraeus, who commanded the military efforts in both Afghanistan and Iraq. "The Unforgiving Minute is a wonderful, beautifully written story of the education and development of a young soldier-scholar, the coming-of-age of an infantry officer, and the exercise of a small unit leader's responsibilities in a tough, complex, and frustrating situation in Afghanistan. It captures particularly eloquently and movingly the relationships among those who walk point for our nation as part of that most elite of fraternities, the brotherhood of the close fight."
From Death Row to Freedom: One Man's Story of Wrongful Conviction, the Death Penalty, and American Justice (September 11, 2012)
"Delbert was born in what he describes as Apartheid Mississippi, before the coming of "the King and Mrs. Parks". He moved to Chicago at the age of twelve with his widowed mother. He attended Southeast City College and Chicago Theological Seminary.
"After dropping out in 1972, Delbert began what he has described as his "Wilderness Experience", walking around the U.S.A. That experience jumped to another dimension when Delbert was arrested and charged with rape and murder in Florida. Although Delbert vehemently denied the charges, and although the state was never able to produce any evidence against him, he was tried and found guilty by an all-white jury (the victims, too, were white) and sentenced to death. A mass movement was organized to fight for his life, spearheaded by his friends and family. His case became a cause celebre. Angela Davis and many other outstanding freedom fighters entered the fray. The Florida Supreme Court overturned the conviction but did not order the lower court to cease and desist prosecution. The case went all the way to the Supreme Court. After many legal perambulations, until 1982, The state's Attorney in Lee County, Fl. dropped the case as he stated that his witnesses' s credibility would be questionable to a jury.
"Delbert began writing seriously and publishing during his "wilderness experience", and continues to do so. He has published several books of poetry, the most recent being "Song Singing Songs" and "Selected Poems and Other word/Works".
"The story of Delbert's clash with the criminal in-justice system has been powerfully told in the play "The Exonerated", by Jessica Blank and Eric Jensen. His story is also graphically and artistically told in the mixed media presentation "Barred from Life", by David Popalisky."
Sunday Cinema: If a Tree Falls: A Story from the Earth Liberation Front (September 9, 2012)
"A rare behind-the-curtain look at the Earth Liberation Front, the radical environmental group that the FBI calls America's 'number one domestic terrorist threat'." (IMDB)
A Series of conversations with DePauw alumni and other notable individuals who are excellent leaders in their respective professional fields. The conversations will be with:
Reverend Tom Brunkow '61. United Methodist Minister, Mentor, and National Champion Tennis Player (February 20, 2012)

Keith Woods, Vice President for Diversity in News and Operations at NPR (National Public Radio) (March 6, 2012)

Luke Beasley '10, Teach For America High School English Teacher in Jacksonville, FL (March 20, 2012)

Pablo Boada, founder of the nonprofit Quito Eterno in Quito, Equador (April 4, 2012)

Margaret Low Smith, Acting Senior Vice President for News at NPR and formerly NPR Vice President, Programming (April 5, 2012)

Judy Edstrom '70 an International Consultant in social development and poverty reduction and Mary Leonard '70, deputy managing editor at the Pittsburgh Post-Gazette overseeing the multimedia and digital and social media (April 12, 2012)

Craig M. Mullaney, West Point Graduate and Author of "The Unforgiving Minute: A Soldier's Education" (October 1, 2012)

Kimberly Peer, Associate Professor and Athletic Training Education Program Coordinator at Kent State University (November 13-14, 2012)
Two-day event on issues of embodied knowledge and oral history.
The first event is a panel of DePauw professors who will discuss manifestations of embodied knowledge in their disciplines and research spheres. Four panelists have been selected: Alejandro Puga, Angela Castaneda, Heather Sloan, Soledad Forcadell, and Christy Holmes.
In the second event Alicia Partnoy who was imprisoned during the dirty war in Argentina will testify to her experience and provide an example of the embodied/performative version of history that contrasts with documented accounts.
The event, Does every American have a right to healthcare?, will explore ethical implications of whether healthcare is a right for every citizen in the United States. The event will be structured as a discussion or debate between DePauw's Professor Kerry Pannell, representing the side of privatized healthcare, and IU's Dr. Robert Stone, representing the single-payer government-run national healthcare system. A moderator will facilitate the discussion with questions probing the ethical implications of both sides.
The event will be an in-depth discussion exploring the array of ethical issues and choices that coaches and players face on an everyday basis. The event will be moderated by Clark Power, professor at Notre Dame and an expert in the field of 'Sports and Character Education' and will include a panel consisting of DePauw Varsity coaches. Some of the issues we hope to tackle will be the fine-line of Coach and player relationships, difficult decision-making processes when the consequences may hurt the team, and dealing with off-court issues on a case-by-case basis. The panel will last about one hour, and will allow time for questions from the audience at the end. The panel consists of men's swimming coach Adam Cohen, men's soccer coach Brad Hauter, women's basketball coach Kris Huffman, and DePauw's new Athletic Director Stevie Baker-Watson.
Lecture by Mr. Boada, director of Quito Eterno nonprofit in Ecuador, will be speaking about his impressions of leadership in the U.S. and Ecuador. He will focus on similarities and differences he has viewed in leadership style, transparency, and the relative importance of individual and collaborative leadership styles in different cultures. His talk will also touch on issues of racism in Ecuadorian society.
Nancy Davis and Rob Robinson will talk about their forthcoming book, CLAIMING SOCIETY FOR GOD: RELIGIOUS MOVEMENTS AND SOCIAL WELFARE IN EGYPT, ISRAEL, ITALY, AND THE UNITED STATES. The book chronicles how religiously orthodox, "fundamentalist," movements of Christians, Jews and Muslims around the world have converged on a common strategy to install their religion at the center of society.
Three day event exploring the ethics of the death penalty. The first day will be a public showing of the movie Green Mile. The second day will be a panel with Dr. Tracey Salisbury, Laura Paul, and Denise Robinson. The final day will be a reflection led by Reverend Bill Breeden.
A Series of conversations with four writers who will speak on how they navigate the issues of ethics and life writing. Speakers include Ian Frazier, Keith Woods, Patricia Raybon, and John Eakin.