Luke Beasley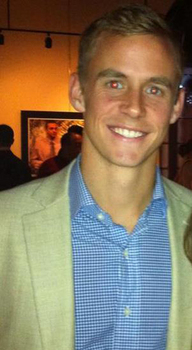 Luke Beasley graduated summa cum laude from DePauw University in 2010 as a history major and as a Media Fellow. Luke was active in student and community organizations during his DePauw years. He was a member of Phi Gamma Delta fraternity, and after graduation he served one year as the resident house dad for the Delta Upsilon fraternity.
Luke was the varsity coach of the Greencastle High School boy's and girl's swimming teams for four years. He also served a postgraduate internship with the Greencastle/Putnam County Development Center, and he was a freelance writer for the Greencastle Banner-Graphic.
Luke was accepted into the Teach for America program in 2011, and he currently teaches English at William Marion Raines High School in Jacksonville, Florida, where he also coaches swimming and soccer teams.