Cool Talk about a Hot Topic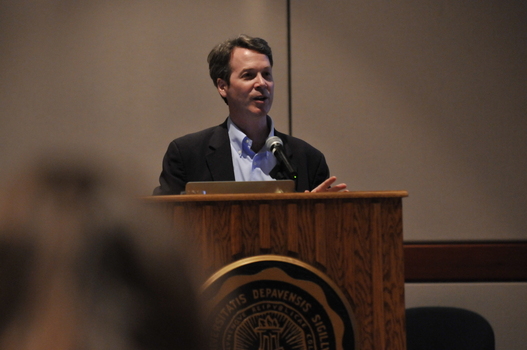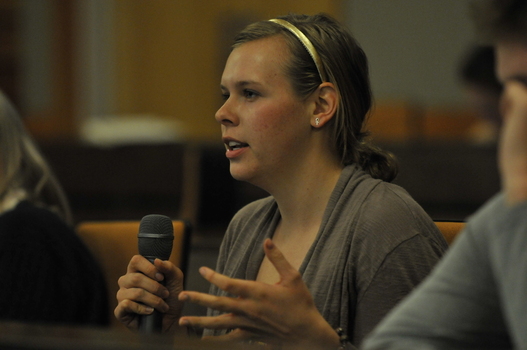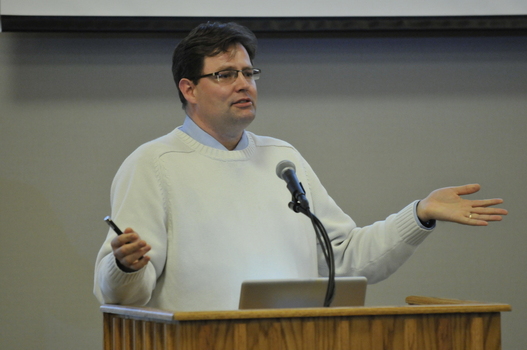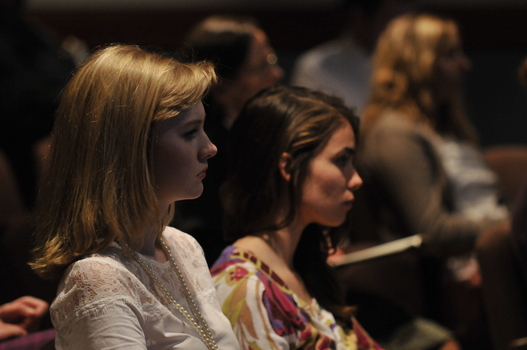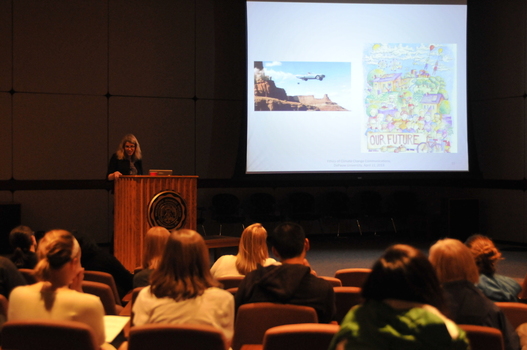 Cool Talk about a Hot Topic: The Ethics of Communicating about Climate Change
DePauw University
April 8-11, 2013
OVERVIEW
What's behind intractable disagreement and paralyzing stalemates about climate policy? Why do opinions about climate change vary so much and so fast? Who controls how such opinions are formed, and for what ends? Are news media improperly motivated by ratings rather than public interest? Has scientific discussion become wrongly politicized? Are political leaders culpably afraid to tackle unpopular and divisive issues? And are we as citizens and consumers acting unethically if we close our eyes and ears to long-term risks to our planet because of our pursuit of short-term economic gains?
These are not only empirical but also ethical questions. This symposium will explore how scientific climate change findings are reaching the public, how policy uncertainties are driven by the changes in mass and elite perceptions of climate problems, and most of all, the ethical question of how we should try to talk to one another about this urgent, but arguably overlooked and misunderstood, issue for our time. Has there been something wrong with past efforts to communicate about climate change and climate policy? If so, what's the remedy? Is there really no problem, or is there a communication problem, a political problem, a scientific problem – or an ethical problem? The Prindle Institute Symposium "Cool Talk about a Hot Topic: The Ethics of Communicating about Climate Change," coming in April 2013, will bring leading scholars with an interest in these questions together at DePauw.
FEATURED SPEAKERS
Anthony Leiserowitz, who holds a Ph.D. from the University of Oregon, is Director of the Yale Project on Climate Change Communication and a Research Scientist at the School of Forestry and Environmental Studies at Yale University. He is a widely recognized expert on American and international public opinion on global warming, including public perception of climate change risks, support and opposition for climate policies, and willingness to make individual behavioral change. His research investigates the psychological, cultural, political, and geographic factors that drive public environmental perception and behavior. He has served as a consultant to the John F. Kennedy School of Government (Harvard University), the United Nations Development Program, the Gallup World Poll, the Global Roundtable on Climate Change at the Earth Institute (Columbia University), and the World Economic Forum.
Barry R. Bickmore, who holds a Ph.D. from Virginia Tech, is a professor in the Department of Geological Sciences at Brigham Young University, where he focuses his research on low temperature geochemistry and geoscience education. An active Mormon and Republican, he is the administrator for the blog "Climate Asylum" (formerly known as "Anti-Climate Change Extremism in Utah") that examines and exposes the spread of climate change misinformation.
Kari Norgaard (Ph.D. Sociology, University of Oregon), is Associate Professor of Sociology and Environmental Studies at University of Oregon. She has published and taught in the areas of environmental sociology, gender and environment, race and environment, climate change, sociology of culture, social movements and sociology of emotions. Her current work focuses on the social organization of denial (especially regarding climate change) and environmental justice work with Native American Tribes on the Klamath River. Her book, Living in Denial: Climate Change, Emotions, and Everyday Life, was published by MIT Press in 2011.
Stephen M. Gardiner earned a B.A. in philosophy, politics, and economics from Oxford University, an M.A. in philosophy from the University of Colorado at Boulder, and a Ph.D. doctorate from Cornell University. He is a professor in the Department of Philosophy and the Program on Values in Society at the University of Washington in Seattle, where he specializes in ethics, political philosophy, and environmental ethics; he has also held visiting fellowships at Princeton University, Oxford University, the Netherlands Institute for Advanced Study, and the University of Melbourne. Gardiner is the author of A Perfect Moral Storm: The Ethical Tragedy of Climate Change, published by Oxford University Press in 2011.
Sarah Pralle is Associate Professor of Political Science at the Maxwell School of Syracuse University and Senior Research Associate at the Campbell Public Affairs Institute. Pralle, who holds a Ph.D. from the University of Washington, conducts research on U.S. public policy, environmental politics and policy, energy policy, and interest groups, with a recent focus on agenda setting and climate change. She also is the author of Branching Out, Digging In: Environmental Advocacy and Agenda Setting, published by Georgetown University Press in 2006.
Chris Cuomo holds a Ph.D. in philosophy from the University of Wisconsin, Madison. In addition to being a professor of Philosophy and Women's Studies, she is also an affiliate faculty member of the Environmental Ethics Certificate Program and the Institute for African-American Studies. She is the author of Feminism and Ecological Communities: An Ethic of Flourishing (Routledge) and The Philosopher Queen: Feminist Essays on War, Love & Knowledge (Rowman & Littlefield), which was nominated for a Lambda Literary Award and an American Philosophical Association Book Award. She is the co-editor of The Feminist Philosophy Reader (McGraw-Hill). Cuomo's research focuses on ethics, feminist philosophies, race, sexuality, environmental ethics and art. She is currently working on a project on indigenous knowledge concerning climate change in Northern Alaska.
To view lectures from the Cool Talk About a Hot Topic symposium, click here.
SCHEDULE
OPENING KEYNOTE, Tuesday, April 9, 4:15 p.m. Watson Forum
ANTHONY LEISEROWITZ
"CLIMATE CHANGE IN THE AMERICAN MIND"
This presentation will describe and explain recent trends in public opinion on climate change and the psychological, cultural and political factors that influence public responses. It will also include a discussion of Global Warming's Six Americas - six different audiences within the public that respond to the issue in unique ways and required tailored education and communication strategies.
Tuesday, April 9, 7:00 p.m., Prindle Institute
KARI NORGAARD
"LIVING IN DENIAL: CLIMATE CHANGE, EMOTIONS AND EVERYDAY LIFE"
Global warming is the most significant environmental issue of our time, yet public response in Western nations has been meager. Why have so few taken any action?
I draw interviews and ethnographic data from a community western Norway, during the unusually warm winter of 2000-2001 to describe how knowledge of climate change is experienced in everyday life. That winter the first snowfall came to "Bygdaby" two months later than usual; ice fishing was impossible; and the ski industry had to invest substantially in artificial snow-making. Stories in local and national newspapers linked the warm winter explicitly to global warming. Yet residents did not write letters to the editor, pressure politicians, or cut down on use of fossil fuels. I describe the disturbing emotions of guilt, helplessness and fear of the future that arise when people were confronted with the idea of climate change. I then build a model of socially organized denial to describe how people normalized these disturbing emotions through deployment of conversation norms and discourses that served as "tools of social order."
Most studies of public response to climate change have focused on information deficit approaches. Many in the general public or environmental community have also presumed that the failure to engage is a function of lack of concern about climate change. Instead, this research describes how for the highly educated and politically savvy residents of "Bygdaby," global warming was both common knowledge and unimaginable. Using literature from sociology of emotions, environmental sociology and sociology of culture, I describe "the social organization of climate denial" through multiple levels, from emotions to cultural norms to political economy. The primary research from Norway is supplemented by comparisons to the United States, telling a larger story behind the public paralysis in the face of today's alarming predictions from climate scientists. I describe the lack of response as an active process which I call "socially organized denial." As a result, information about climate science is known in the abstract but disconnected from political, social, and private life, and sees this as emblematic of how citizens of industrialized countries are responding to global warming.
Wednesday, April 10, 4:15 p.m. Watson Forum
"JANE AUSTEN VS. CLIMATE ECONOMICS"
STEPHEN GARDINER
Climate change is a "perfect moral storm", an intersection of three prominent challenges to ethical action (global, intergenerational and theoretical) that are difficult to overcome. One consequence of this is that we are likely to be attracted to weak or deceptive arguments that appear on the surface to license such behavior, and so to give such arguments less scrutiny that we ought. A particularly deep way of doing this is through the corruption of the very terms of the debate, moral and otherwise. Hence, we must beware of arguments that work to subvert our understanding of what is at stake.
Unfortunately, addressing corruption of the understanding is not easy. Not only are the motivational forces that support it powerful, but in its most sophisticated forms it seeks to co-opt important values (such as moral and epistemic values) that otherwise ought to be respected. This is part of the genius of such corruption, and combating it requires serious effort. Fortunately, we are broadly familiar with the phenomenon. In this paper, I try to illustrate it by comparing some of the recent debate about climate policy with a classic reconstruction of morally corrupt reasoning put forward by Jane Austen. My main aim is to point out the strong resemblances between Austen's story and our own. If we accept that Austen's case is one of moral corruption – and it is, after all, designed to be such – then these resemblances should give us pause. Morally serious agents would not want to be portrayed as Austen portrays her subjects.
Wednesday, April 10, 7:00 p.m. Prindle Institute
"CLIMATE CHANGE AND THE OPEN MIND"
BARRY BICKMORE
Advocates of climate change action should realize that we don't necessarily need to convince the most entrenched anti-environmental ideologues. We merely need a solid majority, which can be gained by reaching two groups--1) those who are capable of being persuaded by evidence, and 2) those who are intellectually lazy, but want to appear reasonable and "open-minded." I will draw upon my experiences as both a climate change contrarian and later an advocate of climate action to explain how people in the second group convince themselves that willful ignorance is the same thing as open-mindedness. I will then present some ideas about how to crack the unconquerably "open mind."
Thursday, April 11, 4:15 p.m. Watson Forum
SARAH PRALLE
"TALKING TRADE-OFFS IN THE CLIMATE CHANGE DEBATE"
If governments intend to tackle the problem of climate change, they—and their citizens—will need to make hard choices. The public and political discussions around climate change, though, often obscure these choices and thereby weaken our ability to embrace solutions to climate change. Moreover, the U.S. political system exacerbates the problem by failing to present citizens with meaningful choices, by presenting them with false choices, and by denying citizens the power (and responsibility) to voice and vote for alternatives. If our politics and policies encouraged communications and decision-making structures that emphasized trade-offs, we would be in a better position to tackle the most serious environmental issue of our time.
Closing Keynote, Thursday, April 11, 7:30 p.m. Prindle Institute
CHRIS CUOMO
"CONSCIOUSNESS AND MORAL ACTION: CONSIDERING CLIMATE CHANGE"
It is often taken as given that general publics must be "convinced" that global warming and climate change are real, or really caused by pollution and deforestation, before relevant political and corporate decision-makers will carry out necessary and sufficient greenhouse gas mitigation efforts. I agree that all general publics should be educated about the causes and impacts of climate change, and that various government and independent agencies should take on the challenge of nurturing greater general environmental understanding and awareness. However, I suggest that the primary agenda of such projects should be not to convince, but rather to cultivate emotional intelligence about the realities of our embeddedness in various systems of energy, exploitation, and innovation. I recommend a tentative re-reading of concepts such as virtue, affection and sacrifice to frame discussions of collective responsibilities and the pressing need for decisive action on the part of powerful corporate actors.