Opportunities for Interns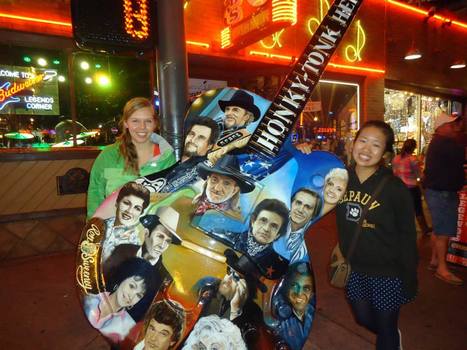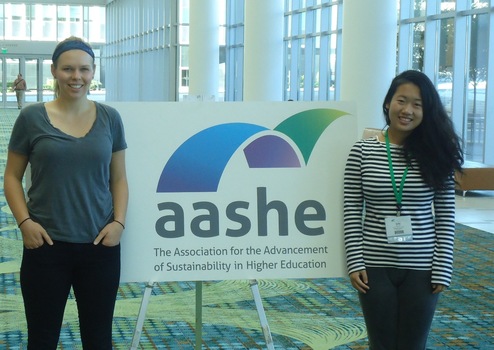 In fall 2013, two Prindle Hillman Interns, Jacquelyn Stephens '14 and Sally Qiu '14 attended the Association for the Advancement of Sustainability in Higher Education (AASHE) Conference in Nashville, Tennessee. Upon their return, they were asked to share their experience with the Prindle community.
What intrigued you about attending this conference?
Jacquelyn Stephen:
I learned that it's the largest conference on sustainability in North America, meaning that the people attending this conference are on the forefront of what it means to live in a more ecologically conscious world. The sheer passion and optimism displayed by all of the participants was so inspiring.
Sally Qiu:
At DePauw, I am history major and a member of the Environmental Fellows program. I have always been interested in learning and exploring how a sustainable natural environment and a sustainable social and cultural environment influence each other. Attending the 2013 AASHE Conference was a great opportunity for me to meet and exchange ideas with people from diverse academic backgrounds who have their own unique understanding of sustainability. Through discussions and communications with those people, I gained holistic insights and a broader view on the inter-disciplinary connections between environmental sustainability and other aspects of human society.
The conference lasted for three days from Oct 6th-8th and there were four seminar sessions everyday. The seminars were divided into five different categories: academic, administration and planning, change management, student engagement, and facility operations. The wide range of topics for the seminars allowed me to explore sustainability issues from multiple dimensions and gave me a lot of options and freedom in exploring what we are most interested in.
What was the most important idea you took away from your experience at the conference?
Sally:
Markese Bryant, the keynote speaker of the Student Summit, gave a passionate and insightful speech on the importance of incorporating a diversity of people into the movements that fight for a better environment. In his speech, he made a parallel between the civil rights movements back in the 1960s and current environment activism. He pointed out the disproportional ratio between the numbers of ethic minority populations who are affected by environmental injustices and those who are actually get involved in environmental activism. He thereby concluded that a more diverse population is needed in this environmental movement in order to achieve a more resilient result. His speech reminded me that creating a sustainable future is a complex process that requires much more than advancing technologies and changing people's perspectives and behaviors. It is also about removing the long existing institutional imbalances and injustices between different social groups.
Jacquelyn:
The single most important thing is to remain hopeful and optimistic that we can create positive change. The most striking idea that I took away from the conference is that we must be trans disciplinary, crossing academic boundaries and integrating all perspectives in order to solve the issues facing the globe. Hyper specialization won't solve all of the unique challenges that we're confronting as a human species. Also, we've all heard the three R's of sustainability, but Cornell University actually believes there are 5 instead—Respect, Rethink, Reduce, Reuse, and Recycle. This paradigm shift includes incorporating values into the equation, which results in much deeper and more meaningful change.
What did you learn about yourself through attending AASHE?
Jacquelyn:
I learned that as an individual, I am most powerful as part of a collective entity. When asked the question, "What is the one thing that I can do for the environment as an individual?" the keynote speaker, Raj Patel, responded that only Americans ask that question, because the truth is that we should come together and overcome obstacles through collaboration, instead of viewing ourselves as
Sally:
Through talking to people from diverse backgrounds in sustainability, I am now more clear about my future academic and career plans, and I am also more informed about the options that I can potentially choose from.
Through participating in the conference, I realized that although we all have the same goal of building a more sustainable society, people have different reasons for supporting sustainability and have different understandings on the concept of adaptation and resilience. Therefore, it is very important to listen to other people and to have a comprehensive understanding of those differences in order to reach a solution which would balance the interest and potential action of each group.
Interns at Prindle also attended the National Conference on Ethics in America at the United States Military Academy at West Point in fall 2012.