ARTS 298CA Handmade and Homegrown: The Relationship Between Ceramics and Food
This studio art course will focus on the relationship between food and ceramics, specifically the various ways that food and objects are produced, consumed and valued in our contemporary culture. We will discuss production methods of food, food shortages and geophagy (eating clay for nourishment), the practice of making ceramic tableware by hand and mealtime culture. Students will use information from films, readings and field trips as a foundation to explore food-related issues through ceramic art projects.
No prerequisites or art experience necessary.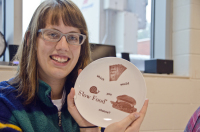 In the Fall 2011 class students "decorated" plates with words and images to make provocative tableware that comments on food related issues. These conversation pieces were then used to set the table for a community meal that included a home-cooked food and discussion about food-related issues.