Our Lecture Series
The Classical Studies department sponsors two lecture series every year (fall and spring). We invite leading scholars in Ancient History, Philosophy, Classical Literature, and Classical Archaeology to present their research on our campus and engage our students in conversations about Classical Studies. Our lectures are generously sponsored by the Kairos and Watkins funds in Classical Studies. Past speakers include Roger Bagnall, Erich Gruen, Dirk Obbink, John Younger, and Sabine Huebner.

Spring 2015 Kairos Lecture
The Department is pleased to announce the upcoming lectures in Spring 2015:
Gojku Barjamovic, Assyriologist (Harvard)
Monday, March 16, 7:00 to 8:30pm, Peeler Art Center Auditorium:
"Life and Death (and Gods and Money): A Walk through the Bronze Age"
Tuesday, March 17, 4:15 to 5:30pm, Peeler Art Center Auditorium:
"The Rise of Globalization: Long-Distance Trade and State Development 3000 - 500 BCE"
Recent Lectures
Fall 2014 Watkins Lecture
The Department was pleased to have the opportunity to welcome Professor Niall Slater, Samuel Candler Dobbs Professor of Latin and Greek at Emory University, who delivered two lectures:
October 13: "The Greatest Anti-War Poem Imaginable: Granville Barker's 'Trojan Women' in America"
October 14: "Speculating in Unreal Estate in Plautus' 'Mostellaria: Locution, Locution, Locution' "
Spring 2014 Watkins Lecture
On February 10, 2014, the department welcomed Prof. Bronwen Wickkiser from Wabash College. Dr. Wickkiser delivered the Watkins Lecture on "Recovery: Music, Architecture, and Medicine in the Cult of Asklepios at Epidauros"
Spring 2014 Kairos Lecture
The speaker for this year's Kairos Lecture Series was Prof. Richard Talbert, William Rand Kenan, Jr. Professor of Ancient History, University of North Carolina at Chapel Hill.
March 11: "The Peutinger Map's Place in Roman Cartography"
March 12: "Roads in Roman Imperial Culture"
Spring 2013 Watkins Lecture
On April 24-26, the department welcomed Prof. Phil Thibodeau from Brooklyn College. Prof. Thibodeau spoke on "Climate Change and the Classical World"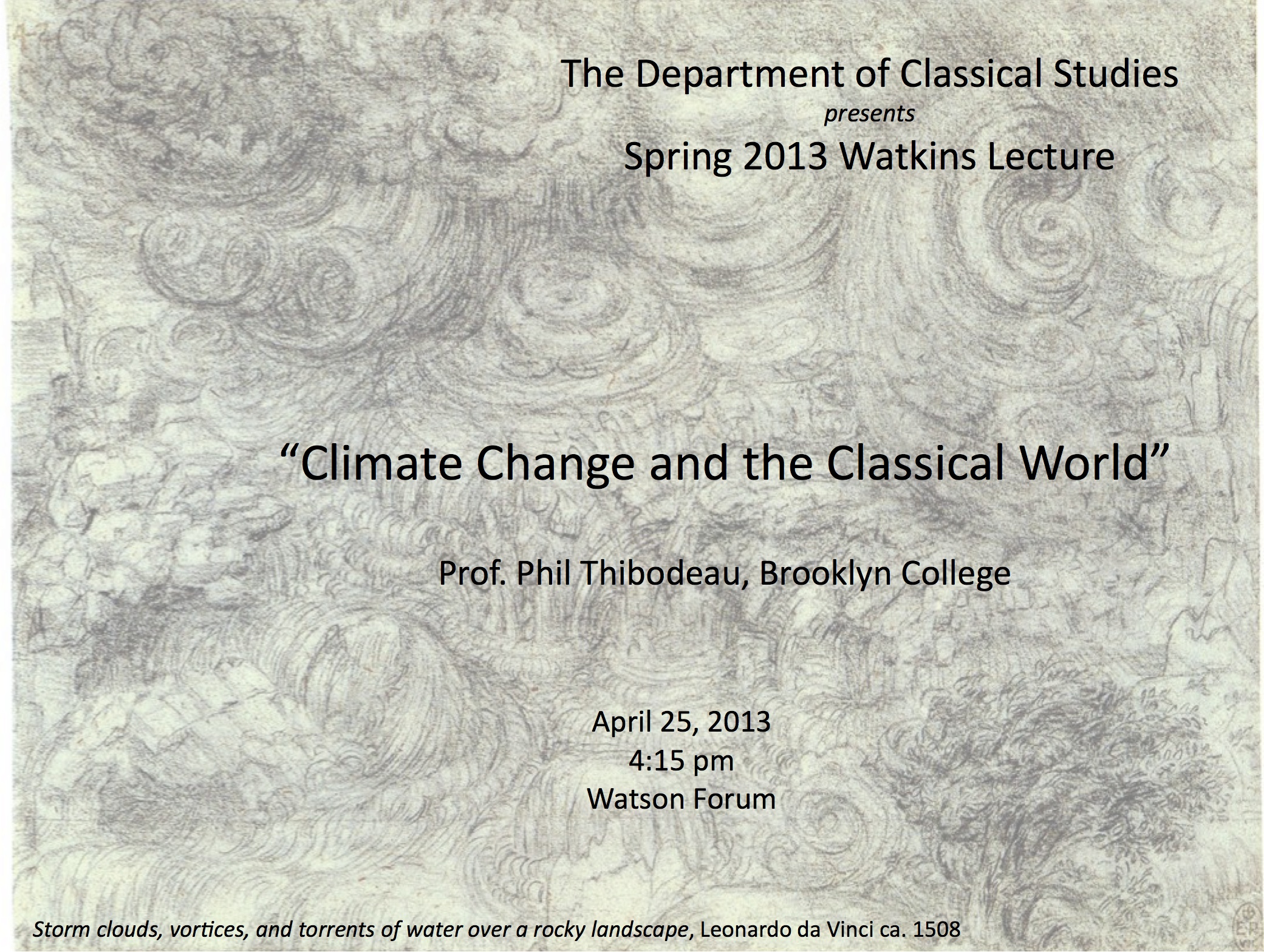 | | | |
| --- | --- | --- |
| | | The Fall 2012 Kairos lecturer was Dr. Kenneth Lapatin, associate curator of antiquities at the Getty Museum in Malibu, CA. Dr. Lapatin spoke about the recent exhibition he curated on the post-antique reception of Pompeii. He offered a second lecture on "archaeological fakes." |
The department welcomed Profs. Paul Zimansky and Elizabeth Stone from Stony Brook University as our Spring 2012 Kairos lecturers in Archaeology.

Prof. Stone spoke about her January 2012 excavations in Iraq; the first American team to dig there since since the early 1990's, and we were first audience to hear about her new project!

Prof. Zimanksy gave an exciting lecture on the little-known Urartian Empire of ancient Anatolia.
Other Watkins Lectures
| | | |
| --- | --- | --- |
| | | Dr. Patrica Curd, professor at Purdue University, presented the Fall, 2011 Watkins lecture, "Divinity and Knowledge in Xenophanes and Heraclitus". |
| | | |
| --- | --- | --- |
| | | The guest lecturer for the 2011 Watkins lectures was Kathryn Gutzwiller, Professor of Classics at the University of Cincinnati, whose research focuses on poetry of the Hellenistic period. The 2011 Watkins lectures were held on Monday, March 14 and Tuesday, March 15 in Peeler Art Center Auditorium. Monday's lecture was "Recovering the Comic Poet Menander: The Intersection of Papyri and Mosaics" and Tuesday's lecture was "Seeing Love: Erotic Vision in the Epigrams of Meleager". |
| | | |
| | | The 2010 Watkins lectures were held on Tuesday and Wednesday, April 13th and 14, and were presented by Verity Platt, Professor of Art History, from the University of Chicago. Tuesday's lecture was entitled "Framing the Dead on Roman Sarcophagi" and Wednesday's was entitled "Art History in the Hellenistic Temple". |