Conflict Studies Student Projects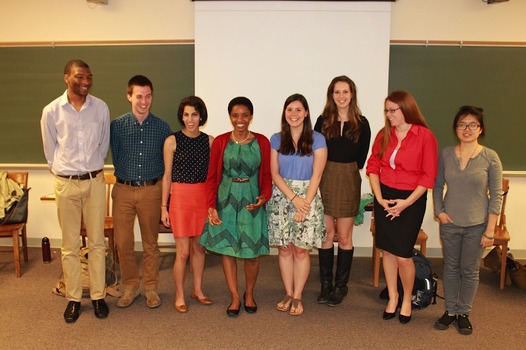 We are celebrating our Conflict Studies majors and their work.
CFT 430
(Un)Civil Conflict in Africa
Friday May 10, 4:15-5:30
Harrison Hall 101
I. Waging Contemporary Armed Conflict
Philip Dovey Gray
The Technological Means of New War & Its Effects on Peace
With the end of the Cold War, Africa has witnessed renewed violence associated with collapsing government institutions and infrastructure. So-­‐called new wars are defined by both their brutality and their complexity. Although a relative peace has been secured in many former conflict arenas it has not often proved stable. Through an analysis of the Sierra Leone conflict, the means by which it was fought, and its reconstruction efforts we can achieve a greater understanding of why a durable peace remains so elusive.
Ashley Isaac
The Problem of Child Soldering in Africa
This paper explores the possible ways in which civil war impacts children in Africa. In this paper I discuss the experiences of children as soldiers, sex slaves, and perpetrators of atrocity. I evaluate the effects of civil war on children's psychological and physical abilities. I also investigate how the physical and psychological trauma experienced during war effect their
long-­‐term-­‐growth.
II. Intervening in Conflict
Henry Dambanemuya
Conflict Minerals: The Complexities of Consumer Boycotts, Supply Chain Approaches, and International Regulatory Regimes.
Focusing on Sierra Leone, Angola, Zimbabwe, and the Democratic Republic of Congo (DRC), I seek to evaluate the effectiveness of consumer boycotts, supply chain approaches, and international regulatory regimes in curbing the international trade in conflict minerals. In order to evaluate the effectiveness of these regulatory mechanisms, I apply the results from existing empirical research on the relationship between the exploitation of natural resources and the onset, duration, and severity of civil war to current initiatives aimed at ending the illicit trade in Zimbabwe's diamonds and Congo's conflict minerals.
Brittni Crofts
From Dilemma to "Both/And": How to Provide Aid without Perpetuating Conflict
In the 1990s, international humanitarian aid organizations realized the possible negative implications of their aid. Since then, the aid community has struggled to negotiate the logistical, political, and ethical dilemmas of providing humanitarian aid. For NGOs and governmental aid agencies around the world the central question is how to provide life-­‐ sustaining aid for millions of people while avoiding common pitfalls such as prolonging conflict. With a focus on three aid organizations (CARE, Oxfam and the Doctors without Borders), this paper explores the degree to which aid organizations have changed practices in line with newly articulated principles and norms and the degree to which changes have been
beneficial.
III. Post-­‐conflict Realities
Abbey Jordan
Refugees, Resettlement, and Oversight:
The Role of Non-Governmental and Governmental Organizations in Refugee Resettlement
Roughly 80,000 refugees resettle in the United States each year. Resettlement is a complex process that can take years. Refugees are led through a maze of organizations- from the United Nations to the U.S. State Department to local resettlement agencies. Faith-based organizations work with secular organizations, and both collaborate with larger governmental and intergovernmental organizations. The cooperation between all of these organizations warrants analysis in order to understand the effect of refugee resettlement programs on the refugee experience. What are the ramifications of so many organizations being involved in refugee resettlement? Essentially, what gets lost in the shuffle?
Ibijoke Oke
Child Soldier Rehabilitation: Beyond traditional individual psychological counseling and towards newer and more effective approaches.
According to UNICEF, there are about 300 000 child soldiers in about 30 countries around the world. Child soldier recruitment is a strategic process in which children undergo an initiation involving intense training and psychological conditioning. Following conflict, therefore, there is a need for rehabilitation and reintegration of these young combatants. This paper argues that unconventional rehabilitation methods are more effective especially in non-­ ‐western countries and need to be given more thought and attention. The paper focuses on Photovoice in Sierra Leone, Football in Liberia, Dance therapy in Sierra Leone and traditional healing practices in Mozambique.
IV. Building Peace?
Kelly Chen

This paper discusses the role and responsibilities of the United Nations (UN) in working with electoral processes in (post) conflict African states. In the past couple of decades, the UN has developed a democratizing program that privileges "free and fair elections." After analyzing the history, capabilities and results of the UN's work with elections, I assert that the UN should re-prioritize how it is currently spending its money and resources in (post) conflict African states. The UN must focus more of its time, research, and resources towards directly aiding the socioeconomic and political development of local populations.
Sadie Powell
The Hegemonic Peace
The current peacebuilding paradigm, the liberal peace, is an international interventionist project aimed at the reduction of conflict and violence via state transformation. Critics contend, however, that the liberal peace has created weaker states and institutions, and civil societies suffering from joblessness and poverty. The aspiration of human flourishing upon which the liberal peace is founded is universally accepted as being achieved through security. Thus the responsibility to intervene is legitimated, engendering a superiority of the peacebuilding community over conflict-­‐ridden populations. Perhaps most importantly, the liberal peace has led to a lack of engagement and discriminatory praxis in which only elite, educated actors from the developed part of the world have the legitimacy to speak of peace and peacebuilding. This paper challenges the liberal peace and its neoliberal capitalist basis.