Chinonye Chukwu '07, Filmmaker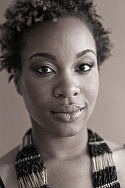 Chinonye Chukwu is a Nigerian-born, Alaskan-raised screenwriter, producer and director. A recipient of the prestigious Princess Grace Award, Chinonye's recent short, THE DANCE LESSON, premiered at the Ritz Theater of Philadelphia and was later acquired by mindTV for regional network distribution. The film was also a Regional Finalist for the 2010 Academy of Motion Picture Arts and Sciences Student Academy Awards and an Honorary Mention at the Los Angeles International Film Festival.
Her feature film debut, ALASKALAND, is currently in the festival circuit and is an Official Selection of the Chicago International Film Festival and Philadelphia International Film Festival, among others. She has just completed the short narrative, BOTTOM, which will premier next year and is in development of her next two feature film projects. Chinonye also serves as Faculty in the Film Division of Rutgers University-New Brunswick.
"Right now, I have just entered a new creative renaissance," Chukwu says. "I have really turned a new chapter in my artistic career. I have just completed a short film, 'BOTTOM', which is different than any other work I've ever created, in style and story. I am currently in development of my next feature project, which will also push my stylistic and narrative boundaries."