Dr. Cheng Lok Chua '60, Professor Emeritus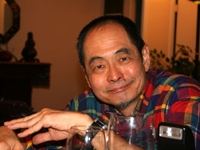 Dr. Cheng Lok Chua earned his bachelor's degree in English and French from DePauw in 1960. He earned his M.A. and Ph.D. from the University of Connecticut and matriculated at the University of Malaya. He attended Université de Strasbourg and was a post-doctoral fellow at Yale University.
Dr. Chua's interests include modern world literature, ethnic American literature, André Malraux, and D. H. Lawrence. He co-edited the anthology Tilting the Continent: Southeast Asian American Writing (New Rivers Press, 2000). He is a co-editor of the Multi-Ethnic Literatures of the Americas (MELA) series of Rutgers University Press.
He is professor emeritus of English at California State University Fresno. His other teaching experience includes: in English departments at the University of Michigan, National University of Singapore, Moorhead State University (Minnesota), and in the Asian American Studies Programs at University of California Santa Barbara and University of California Berkeley.