Micah Ling '03, Poet & Professor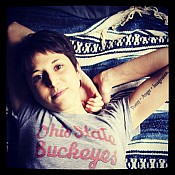 Micah Ling earned her B.A. in English/Creative Writing at DePauw in 2003. She earned her M.F.A. in Creative Writing/Poetry and her M.A. in Twentieth Century American Literature at Indiana University in Bloomington, Indiana. She has taught undergraduate and writing and literature courses at Indiana University, DePauw University, Butler University, and Franklin College. She lived for a short time in the Crazy Mountains of south-central Montana, and for a year in Nashville, Tennessee. During her time in Tennessee, she taught creative writing courses at Belmont University. From 2010 to 2012, she taught in the M.F.A. program at Butler University. In August, 2012, Ling moved to Brooklyn, NY, where she is now, teaching in the English department at Fordham University in Manhattan.
In addition to teaching, Ling has written freelance music reviews for various publications. She currently writes for and manages the book, film, and music review website, Ringside Reviews: www.ringsidereviews.com. In 2010, she was one of three finalists for the Eugene & Marilyn Glick Indiana Emerging Author Award: she then won the award in 2011. Ling has three collections of poetry, all published by Sunnyoutside Press (Buffalo, NY). Three Islands, which brings together three historic figures: Amelia Earhart, Robert Stroud (the Birdman of Alcatraz), and Fletcher Christian to examine the solitude and madness that comprises their slight degrees of separation; Sweetgrass, consisting almost entirely of prose poems: a compilation of moments and scenery in rural Montana; and Settlement (Read Ling's interview with KGB Bar about Settlement), which surveys the oppression of America's indigenous people and the imposition of the United States government upon them, and parallels it with the current Israeli occupation of Palestinian territories and subsequent crimes and inequity.