DEPARTMENT FACILITIES
The department has a wide variety of facilities available for research. Students interested in gaining access to any of the facilities are encouraged to contact the department.
Built in 1884, McKim Observatory is truly the jewel of the department. It houses many of its original instruments, including a 9.53 inch Clark refracting telescope and a meridian transit telescope. McKim is currently used by: students enrolled in astronomy classes, independent student research projects, and the public (at monthly open houses). View the 2011-12 open house calendar here.
McKim Observatory, Autumn 2011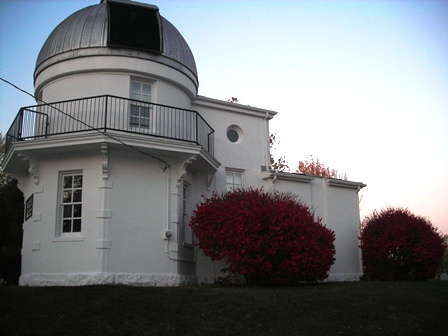 Our latest additions to the department facilities are Dr. Hale's research lab with a 200,000 frames-per-second camera, DROPS (DePauw Rapid Optical Processing Systems), DUNPL (DePauw University Nuclear Physics Laboratories) under the direction of Dr. Komives, DUAMOP (DePauw University Atomic Molecular and Optical Physics) under the direction of Dr. Caraher and BASE (Balloon Assisted Stratospheric Experiments) under the direction of Dr. Brooks. Visit the Research pages to learn more.
The Physics and Astronomy Department manages a computer lab that includes 10 computers. All of the computers run both Windows and Linux Operating Systems and have physics and math-related software installed.
The department has a fully equipped machine shop capable of both metal and wood work. There are lathes, drill presses, a band saw, welding facilities, mill, a table saw, and much more. The machine shop is available to assist faculty and students with their projects.
Among the other facilities around the department is a student lounge for physics majors. Students use the room for group study as well as a social gathering space. The lounge includes a small library, microwave oven, refrigerator, couches, tables, a chalkboard, and individual study cubicles. The department also has two darkrooms capable of B & W developing and printing.