DROPS! (DePauw Rapid Optical Processing Systems) My research page is still under construction, but enjoy the images already in place!
PROFESSOR JACOB HALE
Dr. Jacob Hale studied Physics at Brigham Young University from 1999 to 2004. During his years there he was able to do two and a half years of undergraduate research which consisted of building a combination atomic-force and confocal-optical microscope (AFCOM). On this device he zapped poor, unsuspecting CdSe quantum dots (40nm) with an electric current from the tip of the atomic-force cantilever and then watched them glow with the confocal-optical system. This work led Jacob to love to investigate small things.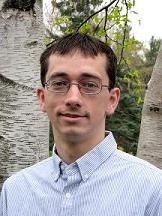 After receiving his BS in Physics from BYU in 2004 Jacob hauled his young family across the plains to the lovely Mid-west, beginning his PhD work at Purdue. There he continued to feed his love of learning and found a new passion for teaching. For the next six years he plowed forward on two parallel paths, one to develop himself into an enthusiastic teacher and the other to continue the exploration of small things. This time the small things Jacob studied were alive! After a year and a half of graduate coursework, Jacob was told the following, "Imagine a single-celled organism no bigger than 50 nanometers across, that has a shear strength rivaling aluminum alloy and the ability to compress DNA with one of the greatest motor forces known to man. And it is all done by proteins!" Talk about awesome. With that introduction to the field of Biophysics, Jacob began applying mechanical and statistical methods to understand molecular motors that (he quickly discovered) are pervasive throughout a living body and essential to life's functions. His thesis research materials began with viruses, then bacteria and culminated with human cancer cells. To study these systems, Jacob used a second semester physics course technique called total-internal-reflection to optically isolate single proteins and then analysed their motion to determine their roles in essential living processes. He concluded his thesis work by introducing a novel application of an uncommon statistical theory (called the theory of runs) to the analysis of molecular motion. Along side his research trek at Purdue, Jacob pursued many teaching opportunities and acquired a list of teaching credentials in the department, college and university including the Akeley-Mandler Award, which is the highest teaching award from Purdue's Physics Department for student teaching.
In the summer of 2010, after completing all his campus requirements at Purdue, Jacob didn't want to just hang around writing his thesis so he applied for a teaching job and landing a great one at Ithaca College in New York. There he put his heart and mind into full-time teaching and loved every minute of it. During his first winter break at Ithaca, he flew back to Indiana and successfully defended his completed thesis and thereby received his PhD in May of 2011.
Now Jacob is at DePauw University, beginning Fall term of 2011 teaching introductory mechanics. Young in his career and young at heart, he is enthusiastically determined to help his students love science as much as he does and to become competent in employing the principles of physics to their careers and lives.
Along with his love of physics and teaching physics, Jacob loves his family. He and his wife Lavinia have 7 wonderful children, Esther (11), Ephraim (9), Hyrum (7), Joseph (5.5), Lenora (3.5), Rebecca (2) and Nathan (9 weeks), all of whom are his greatest pride and joy in life. They love to spend time as a family playing outdoors, especially jumping on a trampoline (as a youth Jacob held the family record of 16 consecutive backflips in a row and his kids show promise to beat that record.) Indoors they love to play with Legos and have a movie party every Friday night. They also love to build things: doing everything from tinkering with broken electronics to remodeling houses. Jacob is partial to woodworking, his greatest work being a Windsor rocking chair for Lavinia. The credentialed craftsman in the family is Lavinia who earned her degree in painting and maintains a studio where she paints landscapes and teaches their children in many different mediums, papermaking being a family favorite. They are devout members of the Church of Jesus Christ of Latter-day Saints and serve in many different areas of their church. Jacob loves people and enjoys helping people fulfill their potentials as individuals and members of a community. In connection with this, he absolutely loves to teach his students, using the wonder of physics to help them gain an exciting and positive perspective about this wonderful world they live in.