Professor Mary Kertzman
Dr. Mary Kertzman has been a member of the physics department at DePauw since 1988. She earned B.S. degrees in both Physics and Astronomy from the University of Minnesota in 1980. She stayed at the University of Minnesota for graduate study, earning a Ph.D. in physics in 1987. Her graduate work involved the measurement of the fragmentation cross sections of relativistic heavy nuclei on light targets, and the application of these cross sections to the problem of cosmic ray propagation. In 1987-1988 she held a post-doctoral research position at Purdue University, where she studied very high energy gamma ray astronomy.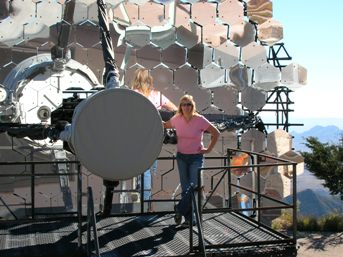 During her time at DePauw, Dr. Kertzman has taught most of the courses offered in the physics curriculum. She has developed several new astronomy courses: "The Solar System" (Phys 103) , "Stellar Astronomy" (Phys 104), and "Introduction to Astrophysics" (Phys 200). She also developed a course, "The Cosmic Abundance of the Elements" for DePauw's First Year Seminar program. She particularly enjoys teaching the astronomy courses, astrophysics, modern physics, and quantum mechanics. She also enjoys having the opportunity to teach a seminar course called "Women of Science".

For many years Dr. Kertzman has been involved with programs to encourage women to study science. In 1992 she helped found and coordinate DePauw's Women in Science Program. The program was established to provide a supportive and encouraging environment for both women science students and women science faculty. The backbone of the WIS program are monthly lunch gatherings. The lunch programs include: student presentations of summer and/or winter term research, talks by and discussion with visiting women scientists, sessions on how to find summer research, and sessions highlighting an individual science discipline. The Women in Science Program also organizes and runs DIGS: the DePauw Institute for Girls in Science. DIGS is a week long summer science camp for girls between 8th and 9th grade.

In recent years, Dr. Kertzman has become more active with national organizations that promote undergraduate science education. As a member of Project Kaleidoscope's "Faculty for the 21st Century", she helped organize a national workshop on encouraging women and minorities in science. The workshop was held at DePauw in Oct. 1998. Dr. Kertzman is strongly committed to the idea that science students should have the opportunity to do research as undergraduates. To help support this idea at the national level, she is currently serving as a physics councilor on the Council on Undergraduate Research.


Dr. Kertzman's postdoctoral work took her from the study of cosmic rays to the study of high energy astronomical gamma rays. Most of her work in the past decade has been using Monte-Carlo simulations of cosmic ray and gamma ray air showers to study the detection capabilities of gamma ray telescopes, all with the goal of designing the ultimate ground based gamma ray telescope. From her postdoctoral time until 1991, she was a member of the Haleakala Gamma Ray Observatory. From 1995 to 2000 she was an associate member of the Whipple Collaboration and in 1997 she became an associate member of the VERITAS Collaboration. Since August 1998 she has served on the VERITAS Executive Committee, representing the associate members. Summer work done with DePauw students resulted in major contributions to the design of VERITAS. She is currently gearing up to begin analysis of data from the Whipple 10m telescope. She is especially interested in looking for gamma rays from supernova remnants, as these energetic objects are considered to be the best candidates for the source of cosmic rays. She is hoping that the study of high energy gamma rays will ultimately shed light on the mysteries of cosmic rays. The burning question she wants to know of the universe is: What is the origin of the cosmic rays?
You can find details about Dr. Kertzman's work on her research page. Her work has been supported by grants from the Research Corporation, NASA's Compton Gamma Ray Observatory, and the National Science Foundation.

Doing astronomy closer to home, Dr. Kertzman is the co-director of DePauw's McKim Observatory. She uses McKim for the astronomy classes and for public Open House observing sessions.

When she is not busy at DePauw, Dr. Kertzman enjoys horseback riding, jewelry making, and gardening. She and her husband, Randy, live "out in the country", a mere 2 miles from campus, in a big, old farmhouse. They have three dogs, three cats, and three horses.