Merhaba!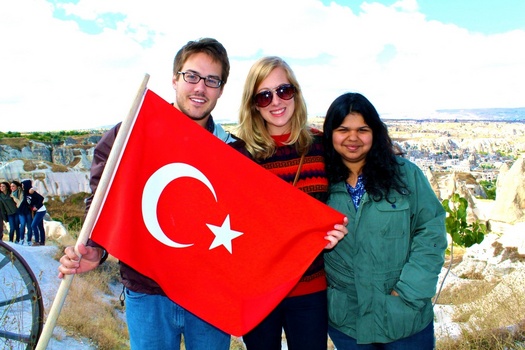 Political Science majors Stewart Burns, Katie Logan, and Kiran Wadia spent the Fall 2011 semester studying at Koç University in Istanbul, Turkey. Here are their reflections on how their time in Turkey has contributed to their academic development.
Stewart Burns
"Going into DePauw I knew that it would be a mistake if I were to pass up an opportunity to study abroad. My academic interests and desire to be immersed in an entirely new culture lead me to study abroad in Istanbul, Turkey. As a result of my studies and experiences abroad it has become clear that the relationship between the United States and Turkey is becoming increasingly more important. Continuing with my studies at DePauw, I hope to build upon my my knew found knowledge and focuse more on US International Relations. Having now lived and studied in the United States and Turkey, two secular, yet majority Christian and Muslim nations, respectively, I haved gained a new perspective that will serve me well for the rest of my academic career. Most importantly, adapting to a new culture and language has given me the confidence to take on the most formidable challenges."
Read more about Stewart's experiences in his articles in The DePauw, Indiana's oldest college newspaper.
http://www.thedepauw.com/opinion/an-exceptional-turkey-day-in-turkey-1.2723249
http://www.thedepauw.com/opinion/protests-at-home-abroad-demand-discovery-over-apathy-1.2679848
Katie Logan
"As a political science major particularly interested in foreign policy, I was very excited to study in Turkey. I knew only a small amount of Turkish history before coming, but I knew that it was a growing regional power and that it has been an important ally of the United States, first during the Cold War as a buffer against the USSR and currently as the best regional example of democracy in a Muslim country. Since I've been here, I've found that Turkey is probably the most dynamic, fascinating country I've ever visited, and this applies to their politics as well. In my Turkish Foreign Policy class, I often find myself thinking back on my American Foreign Policy class at DePauw (one of my favorite classes ever), and it's remarkable how different it is to study foreign policy in a country that is not the most powerful country in the world. Turkey's foreign policy is complex and constantly changing. Turkey borders eight countries, some of which are among the most volatile in the world - Syria, Iran, and Iraq. Beyond simply studying politics in the classroom, I've had the opportunity to talk with other students from around the world about the politics of their countries. I think the study abroad experience is essential for any political science major, because the chance to study the politics of another country while living in that country is an incredible, humbling, and worldview changing experience!"
Read more about Katie's experiences on her Blog http://istanbultalking.blogspot.com/
Kiran Wadia
"Studying aboard in Turkey has allowed me to explore the politics of country of a historically rich country. Studying in Istanbul has allowed me to explore the politics of a country which is geographically and politically situated on the crossroad of Asia and Europe."