Student Research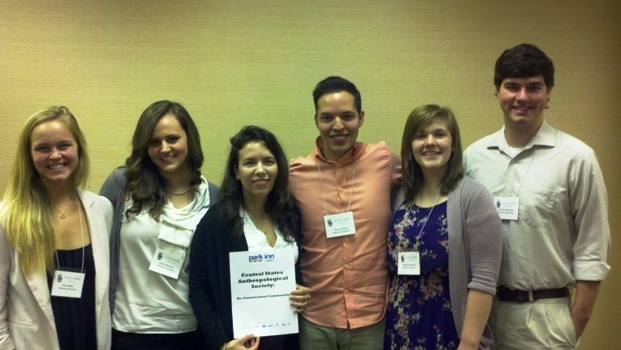 Professor Angela Castañeda organized and chaired a session with five Sociology & Anthropology majors: Nic Flores, Emily Miller, Caitie McKinley, Stephanie Kohlman, and Sam Holley-Kline. Their session, (De)Constructing Community: Identity Formation on a College Campus, provided students with the opportunity to present their independent research.
SESSION ABSTRACT:
Popular discourse on many college campuses includes an emphasis on community. How community is defined, by whom and for who are important questions that are addressed through the processes of crafting identity. This panel highlights the use of ethnographic methods to address the construction of community on a small college campus. Panelists focus on multiple levels of community formation and identity. Some of the specific areas of analysis include religious, ethnic, and cultural affiliations. This panel incorporates a holistic view of community that privileges local voices while highlighting important intersections in the construction of community.
PRESENTATIONS:
1. Sam Holley-Kline, "A Relationship-Driven Place": Administrators' Understandings of Community on a Small, Residential College Campus

2. Emily Miller, Coffee and Community: An Analysis of Town-Gown Relations

3. Stephanie Kohlman, Catholic on Campus

4. Caitlin McKinley, The Meaning of a Minority Sorority

5. Nicholas Flores, The Political Negotiation of Identities: Latinos and LGBTQ Campus Communities
~~~~~~~~~~~~~~~~~~~~~~~~~~~~~~~~~~~~~~~~~~~~~~~~~~~~~~~~~~~~~~~~~~~~~~~~~~~~~~~~~~

Brittni Crofts, a double major in Anthropology and Conflict Studies '13, received a grant to spend one year teaching English in Vietnam from the Fulbright Teaching Assistantship Program. An English Teaching Assistantship (ETA) places a "Fulbrighter" in a classroom abroad to assist teachers of English to non-native English-speakers. English Teaching Assistants help teach English language classes while serving as cultural ambassadors for the US. During her grant, Brittni will meet, work, live with and learn from the people of Vietnam, sharing daily experiences. Fulbright facilitates cultural exchange through direct interaction on an individual basis in the classroom, home, and in routine tasks. Through engagement in the community, she will interact with her hosts on a one-to-one basis in an atmosphere of openness, academic integrity, and intellectual freedom, thereby promoting mutual understanding.
~~~~~~~~~~~~~~~~~~~~~~~~~~~~~~~~~~~~~~~~~~~~

Paramita Sen presented at The Fourth-Annual Human Development Conference at the University of Notre DameFebruary 10-11, 2012, at the Hesburgh Center for International Studies.The title of her talk was:
Paromita Sen (DePauw University; SIT Jordan) – Gendered Legality: Studying Women Within the Legal Frameworks of Urf and Shari'a Law
~~~~~~~~~~~~~~~~~~~~~~~~~~~~~~~~~~~~~~~~~~~~~~~~~~~~~~~~~~~~~~~~~~~~~~~~~~~~~~~~~~
Congratulations to
Sam Holley-Kline
who was awarded a Fulbright Scholarship Award to study in Mexico. The title of his research is "Ancient Pyramids, Modern Populations: Totonac Perspectives on El Tajín."