Elizabeth K. Medlock '11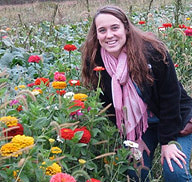 If you took a stroll in DePauw University's Nature Park last fall, you might have passed Elizabeth K. Medlock '11 in her mud-covered rain boots. Throughout the semester, Medlock paddled around the park's quarry pond and collected water samples for a biology research project.
With help from her two DePauw Biology Dept. advisors, Dr. Lynn Bedard a microbiologist and Dr. Dina Leech an aquatic ecologist, Medlock took advantage of her Science Research Fellowship (SRF). During the spring 2010 semester, she combined her biochemistry background and environmental interests as the newest member of the collaborative biology project, Everything is Everywhere: Present-Day Microbial Communities, to determine living microbial communities crucial in cycling nutrients in the quarry pond ecosystem.
However, Medlock will be the first to tell you that she hasn't always been knee-deep in mud. Her Science Research Fellowship experience was different in the beginning and evolved over her time at DePauw. Instead of unrelated projects, Medlock considers her research career a developmental journey of interconnected experiences. As a freshman, her first long-term SRF project began in spring 2008 under Dr. Hilary J. Eppley, titled Metal-Organic Crystal Structures Using Non-traditional Synthetic Methods. Through that spring and subsequent summer, Medlock worked in a small laboratory with a few peers to synthesize new metal-organic crystal structures.
"Our group worked in crystal synthesis only," Medlock says. "However, interest in these crystal structures also lies in the potential chemical reactions that occur inside the naturally occurring porous openings."
While presenting her findings in October 2008 to the DePauw Board of Trustees and Indiana's Local American Chemical Society, she took notice of the public interest in the environmental applications and the potential of the porous crystalline structures to capture carbon dioxide. The moments spent conversing with many other scientists was a turning point in Medlock's academic career. She says she entered DePauw and the SRF program expecting to proceed in a career in biomedical or pharmaceutical research. What she discovered was the vast world of environmental research.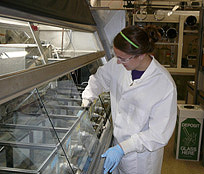 In the spring of 2009, Medlock was selected as an Environmental Protection Agency Greater Research Opportunities (EPA GRO) undergraduate research fellow. The fellowship included both tuition-based financial support and an internship at an EPA research laboratory.
In May 2010 Medlock travelled north to the lakeside city of Duluth, Minnesota to begin a twelve week intensive study, Integrated Toxicological Approaches for Assessing the Ecological Risks of Dexamethasone (DEX) in the Environment, under the direction of Dr. Daniel Villeneuve and Dr. Carlie A. LaLone.
"Many pharmaceuticals have been detected in aquatic environments," Medlock explains, "and my job for the summer was to determine if one of these pharmaceuticals, DEX, a common anti-inflammatory, could adversely affect native freshwater species reproduction."
The results suggest that DEX is not a threat to native species at the level in which it currently exists in the environment. And there was another outcome: the research skills Medlock gained during her time in Duluth.
"I learned so much from my advisors and peers in the lab, but most important was communication," she says.
There, Medlock worked alongside many scientists with different degrees and job specializations. And, with a twelve-week time limitation, all of these specializations were necessary to complete all the lab work and analysis.
"While working in the lab there was always another scientist working right beside me," Medlock describes. "I learned the most in the lab, just talking face to face. I learned more about water chemistry watching a Ph.D. in chemistry sample water that I ever will in a classroom."
The project illuminated the importance of writing in the sciences – a lesson that Medlock carried into her senior year of academics and research. The Bedard/Leech group submitted and successfully obtained grants from two different funding agencies. An internal grant and another from the Indiana Academy of Science supported through the spring semester.
"As a scientist, communication is crucial," Medlock explains. "Without it, we wouldn't have the funding to continue our work."
The culmination of her undergraduate coursework and research led Medlock to her ideal career path: an interdisciplinary graduate program in environmental toxicology.
"Some of the most pervasive problems in our world today involve water," Medlock says. "For example, inadequate access to clean water and overall climate change is a repercussion of human progress altering aquatic ecosystems. Scientific fields surrounding environmental studies are growing, and as the climate continues to deteriorate, there will be great need for scientists in these fields."
With undergraduate experience in chemistry, toxicology, aquatic ecology, microbiology and communication, Medlock is a perfect fit.