Maggie B. Baber '11
Maggie B. Baber '11 entered DePauw as a science student intending to major in biochemistry. She grew up on a small farm in central Illinois, spending much of her time outdoors and always taking interest in her rural surroundings. But to her surprise, by sophomore year, Baber found herself studying something she never dreamed she would become so passionate about.
"During my first-year, I found myself half-heartedly studying plant biology," Baber says.
Unsure about career options, Baber decided to travel with DePauw's geosciences department on a spring break field trip to West Virginia. After the trip she was hooked on geology.
"Before West Virginia, I had never thought about geology. But geology fascinated me because it explains how time, physical sciences, and life sciences are closely connected," she says. "Over the last three years, I have become quite passionate about the interplay of biology and geology and how it relates to climate."
As a part of Science Research Fellows, Baber was able to gain significant scientific research as an undergraduate. During her tenure, she conducted a study to determine how humans perceive baby cries, assembled an interactive geologic database using Google Earth, and built a laser to determine the sizes of very small particles in a solution.
Baber says her most significant research experience was designing her own project as a part of a nationally competitive program called Research and Discover. Along with Dr. Cameron Wake at the University of New Hampshire's Complex Systems Research Center, Baber conducted a project to assess the changing climate of the northeastern United States.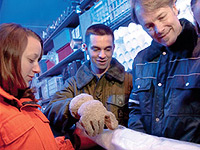 That research inspired her to pursue climate science after graduation and has given her opportunities to continue her passion. She presented the results at the American Geophysical Union's annual meeting in San Francisco, and was hired to finish her Research and Discover Fellowship at NASA's Goddard Space Flight Center. There, Baber (left) is analyzing oxygen and hydrogen isotopes in ice samples collected from east Antarctica in order to reconstruct paleoclimate conditions.
"I am especially interested in climatology because it is crucial to understand how earth processes affect life on our planet," says Baber. "As the world is paying more attention to rectifying negative human impacts on the earth, I am driven to learn more about the complex science that is driving the world's changing climate."
Baber is not only interested in environmental research, but also environmental outreach. In addition to her environmentally focused education, Baber has been very active in DePauw's sustainability program. As a freshman, she co-founded Energy Wars, an energy reduction competition between residence halls. The following year, she conducted research on state-level environmental legislation, wrote policy summaries for legislators, and participated in Indiana State General Assembly study committees as a member of DePauw Environmental Policy Project, an eight-month project intended to provide Indiana political leaders with sound, nonpartisan research on environmental issues.
Baber also helped to write and edit DePauw's Climate Action Plan, a thirty-year plan towards carbon neutrality.
"Earth science relates to society in many ways," Baber says. "Too few people realize the complexities of climate change and how paramount scientific research is to everyday life and to the betterment of communities."
Travel abroad has also shaped Baber's perspective as a scientist. In 2009, Baber studied abroad in Dunedin, New Zealand. For Baber, living in New Zealand for six months was a life-changing experience.
"New Zealand has some of the most remarkable geology in the world with a vast range of geological phenomena in a relatively small area," she says. "It is astoundingly beautiful."
"New Zealanders are more energy-conscious than the United States," Baber adds. "While there, I witnessed people appreciating sustainable values and making huge efforts to conserve."
In January 2011, Baber gained a new perspective about the geology and the environment on her Winter Term trip to China. In addition to seeing one-of-a-kind geology, like the steep limestone mountains of Guilin, Baber notes, "As a researcher of climate change, I witnessed the darker side of China – its overpopulation, pollution and unrelenting economic expansion."
Baber will pursue a master's degree in polar climate research at Dartmouth and plans to continue her environmental advocacy as a graduate student.