Annie Collier '12
Senior biochemistry major Annie Collier entered DePauw in 2008 with the intention of pursuing medical school. Today, however, you'll find her posted in up in various laboratories on the 3rd floor of Julian, tooling around with microscopic organisms and proteins. Since her freshman year, she has worked under 4 different professors and investigators on various projects ranging from frog dissection, to cancer research, to diseases originating in the African jungle.
"I hated research at first. I thought my life's calling was to be a doctor. But then I got into the lab, and really starting digging around. Once I figured out what this career is all about, I realized I could live my entire life without being bored. Research is such a stimulating experience."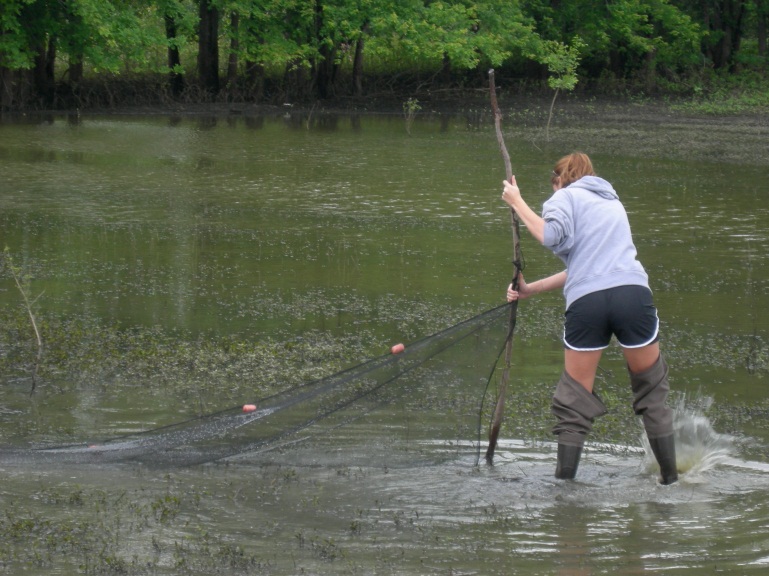 A DePauw Science Research Fellow, Collier has spent the last three summers working full-time in the lab. Her first taste of research came her freshman year; she lived in Greencastle and worked under Dr. Kevin Kinney in the biology department.
"It was a really unique experience. On a daily basis I was handling frogs, iguanas, and fish. We even went out to a swampy area to collect our own fish. I doubt many students get to do that."
After that first summer, Collier was able to obtain an external research internship at the Wells Center for Pediatric Research at Riley Children's Hospital in Indianapolis. Collier was able to spend two consecutive summers there, researching T-ALL, a common form of pediatric cancer. Collier was one of the few students in the program who was asked to continue her work for two summers in a row.
"That experience really helped me narrow down what I want to do with my career. Not only did I decide I love working in the lab, but I realized I could do a lot in the world of medicine with the pediatric cancer field."
To top it all off, Collier joined Dr. Sharon Crary in the biochemistry department her junior year. Together they studied a protein associated with Ebola Virus, a deadly disease originating in Africa. She plans to continue this research into her senior year
Besides living in the lab, Collier participates in various other activities on DePauw's campus. She is a 3-year letter winner for the DePauw volleyball team. Collier represented the Tigers on the 2010 All-SCAC team after the team finished 2nd at the conference championship.
"I can't imagine my college career without being part of a team. My 4 years with the Tigers has shaped not only who I am as a person, but as a leader and a good communicator."
In 2011 Collier traveled to Tena, Ecuador with other students and staff (including Dr. Sharon Crary) to setup clinics in rural populations in the Amazon Basin. The group spent about 2 weeks trekking through the jungle day after day to aid those in need of medical care. Timmy Global Health, a non-profit based out of Indianapolis, coordinated the trip. Collier serves as the treasurer for Timmy on DePauw's campus.
"Timmy [Foundation] is something that is really important to me. As an exec member on campus, I help to organize various fundraising events and to bring speakers to campus to raise awareness about global health and development."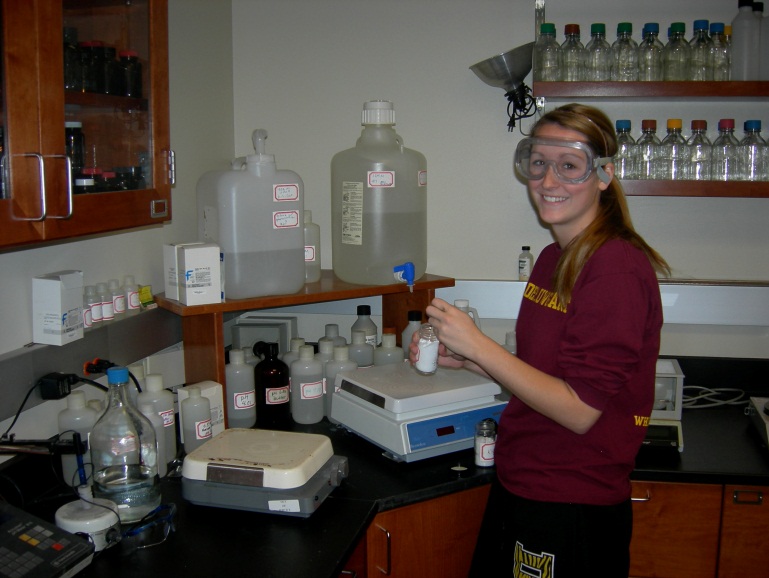 Being able to visit actual recipients of this care in Ecuador, Collier says, was an unforgettable experience. The group treated nearly 900 patients during 10 days in Ecuador. Now that it has established a presence in the Napo province, the Timmy Foundation will send a medical brigade every few months to follow-up with current patients and to treat new ones.
"I feel that the experiences that I have been given by DePauw and SRF have allowed me to become a very well-rounded person. Not only have I experienced variety in research, but in leadership opportunities and in learning."
Collier plans to go to graduate school following her spring 2012 graduation from DePauw. She hopes to get her PhD in biomedical research.
"I'd love to eventually teach at an institution like DePauw. But maybe I'll get to grad school and realize I want to work in industry. That's what actually experiencing things is all about. You don't realize what you love until you're actually there, doing it."