Amy Richmond '13
Amy Richmond came to DePauw University with the intent of pursuing research as a career; but now she's heading to medical school. A research failure story? Not so much.
Arriving at DePauw in 2009, Amy jumped into research and a chemistry major with the Science Research Fellows program. "The best thing about this program is that it gives freshman opportunities to get into research," Amy said. "Most universities only let juniors and seniors do research, but we get to start right away! That's a huge advantage." First semester freshman year, she worked in the Physics and Astronomy department under Professor Mary Kertzman, studying light pollution in Greencastle. And even though it's not something she wants to do long-term, Amy says that the opportunity opened her eyes and helped her appreciate research in other fields.
Science Research Fellows are guaranteed research for their first summer on DePauw's campus, and Amy started a long-term research project with biochemistry professor Dan Gurnon studying the protein Tax. Amy commented that this intrinsically-disordered protein "has been implicated in leukemia and lymphoma, and only one other lab in the country is researching it! That's crazy. This research gave me the opportunity to really contribute to the field, and feel like I can actually make an impact as an undergrad." She continued to work with Professor Gurnon for the following two semesters on this project. "It wasn't all straightforward and successful," Amy noted about the project, "Being intrinsically disordered, Tax is very difficult to work with. But learning how to fail - and more importantly, how to move on after failure - has helped me to truly understand the research process."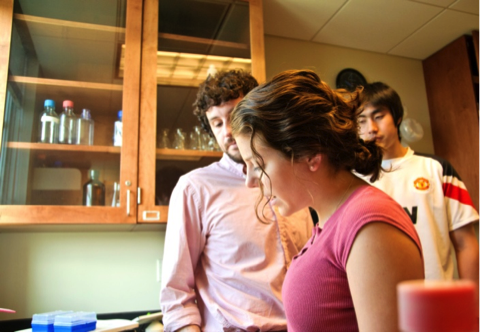 After working with a cancer protein, it wasn't a big step for Amy to find her next research project working with another life-threatening condition, Chronic Kidney Disease (CKD). Drs. Sharon Moe and Neal Chen, through the Indiana University O'Brien Center for Biological Microscopy have been studying the vascular calcification that follows CKD for twenty years. Amy worked closely with rat and bovine cell cultures as well as confocal microscopy to help these researchers discover what causes vascular calcification through CKD, and how it can be stopped. "The lab actually worked with CKD patients for some experiments, and I loved that our research was so close to clinical implementation! I remember one day when we needed control (non-CKD) samples for an experiment, we all offered up our arms and gave blood so we didn't have to wait for volunteers to come in!" Amy presented her research to IU and DePauw faculty at the conclusion of the summer.
"Working in medically-related research for two summers piqued my interest in the medical field, but it was actually my science classes at DePauw that helped me decide to go to medical school." Amy commented. "I found myself interested in the applicable parts of chemistry and biology more than anything else. I have a hard time caring about the chirality of a molecule, but if you explain to me how this chirality is crucial for affecting the body in a certain way, I'm suddenly more interested."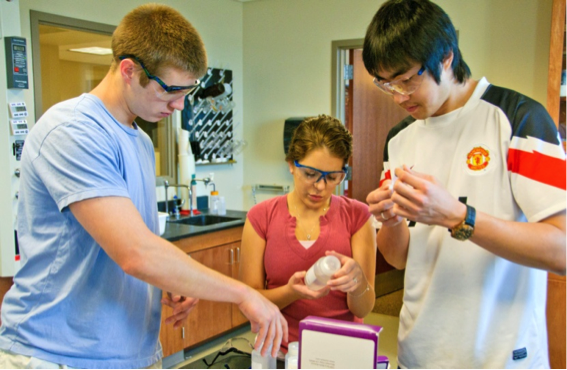 Even though medical school is in her future, Amy's not planning to give up on research anytime soon. "I have seen firsthand the benefits of research on the medical field. And even though I want to be the one actually implementing research in the hospital or clinic, you'll still find me back in the lab, making sure that I'm as up-to-date as possible."
Through DePauw's winter term program, Amy interned with the Anesthesiology Department at Wishard Hospital in 2010. Her experiences in the OR at Wishard have also led to her interest in helping underserved populations. "There were so many families that came in who we knew couldn't pay their hospital bills," Amy commented. "But you can't refuse those people care. How horrible would it be to have a curable disease or injury, but not the means to fix it?"
Amy also works with Greencastle Middle School students doing science outreach. She brings interactive labs and projects to the classroom, in an attempt to excite students about science. "It's really unfortunate how little collaboration there is between DePauw students and the Greencastle community in the field of educational outreach. We have so many resources to help these kids, and for the most part, we're not doing it. But I think that's starting to change." She also helps out with community-wide outreach projects such as Science Halloween at the Putnam County Library. "We make so much liquid nitrogen ice cream," Amy says. "If you're looking for a way to really excite kids about science, it's a great place to start!"
Amy is also involved in music programs at DePauw, and has taken full advantage of her liberal arts education with a history minor as well. She has loved taking classes that have nothing to do with her major, such as history, voice, guitar, and ballet, and realizes that even a dedicated scientist needs to branch out a little. "DePauw has made me a scientist, but also an all-around educated, self-aware person. I'm very much looking forward to what comes next."