Catie Baker '12
Catie Baker did not know she wanted to study computer science when she was applying to colleges, but after her visit to DePauw it seemed like a strong possibility. During her visit, she had the chance to sit in on a computer science class and found that she liked what she saw. The rest they say is history. That one class inspired her to sign up for computer science one and eventually declare her major in it.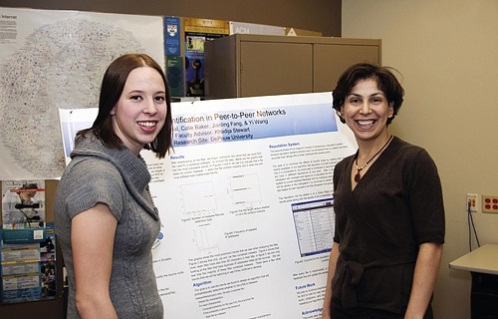 Once Baker decided that computer science was her love, she became as involved as possible. Baker entered the Science Research Fellows (SRF) program as a lateral entry student. Through the program, she worked with Khadija Stewart on a project to help make LimeWire, a popular peer-to-peer network, safer. Baker says, "This project was my first experience doing research in computer science and it really embodied what I love about research. My goal in doing research is to help make someone's life better and this project had the possibility of helping the average LimeWire users. While LimeWire is no longer available [because of legal reasons], the project was one that could be modified to be used on any peer-to-peer network."
Most recently, Baker had a research internship at the National Institute of Standards and Technology. There she worked with Dr. Rene Peralta on circuit optimization for cryptography. "I really enjoyed this internship, as I was exploring a new field within computer science that I hadn't studied before. It was also neat that there were over 100 other students there this summer, and we were all staying at the same place. It was a great chance to get to know other students who intended to pursue research degrees and hear about their experiences and research projects," she said. The other benefit of this internship was that it was located in our nation's capital, giving Baker a chance to spend the weekends exploring Washington, DC and the surrounding areas.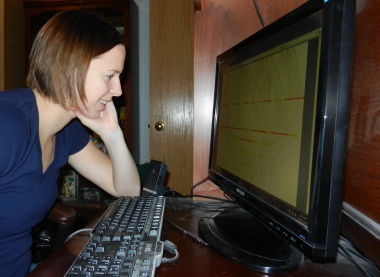 Beyond research, Baker is also the head tutor for computer science one and has been a teacher's assistant. "I love the feeling I get when I am able to help someone understand a concept that they have been struggling with. It really makes you feel like you have made a difference in someone's day. And it helps me as well. Through my experiences as a tutor I have learned how to communicate ideas and concepts more clearly," she says. Her experiences as a tutor and a teacher's assistant have sparked her interest in teaching as a potential career.
Because of the experiences that Baker was able to have from the Science Research Fellows program, she decided to apply for the nationally competitive Barry M. Goldwater scholarship. "I felt that the research experiences I had through SRF would give me a good chance," explains Baker. She was right. Baker was of the 2011 Barry M. Goldwater recipients. "It was a great honor to receive the award, especially since it was such a competitive award. Only five computer science majors received the scholarship," says Baker.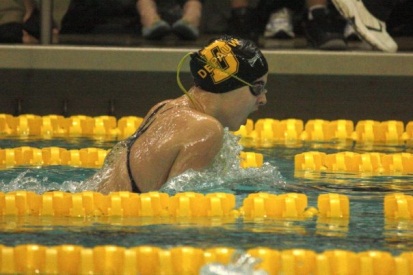 Beyond academics, Baker has been heavily involved with extracurricular activities on campus. As a member of the women's swimming team, Baker has had just as much success as she has had in academics. She is a three-time Honorable Mention and two-time All-American swimmer. In 2010 and 2011, Baker was named the Southern Collegiate Athletic Conference Swimmer of the Year and she was also named to the CoSIDA Academic All-American, in 2011 as a first team member and in 2010 as a second team member.
As a member of Delta Gamma, Baker is currently finishing her term as president and was previously vice-president of finance. As a sophomore and junior, Baker was a First-Year mentor as well. She explains that she is so involved on campus because: "I like being busy as I feel it helps keep me focused and on task and allows me to push myself to grow as a person, but I am also aware of my limits. I've had to choose between different leadership positions as I knew that I couldn't do both."
With all that Baker has been involved with on campus, she has decided that the next step is graduate school. She says, "Graduate school will give me the opportunity to continue what I started here at DePauw, do research that can make a difference in the lives of others and one day teach to pass on the experiences that I had at DePauw."