Courtney Brimmer '12
If you asked Courtney Brimmer '12 why she chose DePauw University, she will tell you that it wasn't just a beautiful campus and a good reputation in the sciences that lured her here. Her admission into the Science Research Fellows (SRF) Program as a first-year student played a big part in her decision.
"I actually learned about the SRF Program from a friend in high school who was also applying to DePauw. She found the application information online, and I wrote up an essay the night before the deadline, but at that point, I never thought I would get in."
But she did indeed, and Courtney would go on to do research throughout her undergraduate career. Beginning her first semester, Courtney jumped right into a math research experience looking into tree traversals. While the experience didn't involve any time in the lab, it was a valuable research experience nonetheless.
"Coming to DePauw, when I thought of science research, doing math research wasn't what I pictured. But, in truth, the experience was a valuable lesson in both patience and critical thinking."
The following semester during her next project, Courtney got the lab time that she had envisioned. Under the direction of Drs. Bryan Hanson and Dana Dudle, she would spend the spring semester '09 and that summer researching the impact of climate change on Portulaca oleracea, more commonly known as purslane. She spent most of her summer in the Manning Environmental Field Station in DePauw University's Nature Park, taking care of the hundreds of plants that she had nurtured from seedlings.
"I had a blast that summer. I learned a ton of new biochemistry techniques. I was had the opportunity to work both in nature and in a lab environment. And it didn't hurt that there were days when I literally got paid to play in the dirt."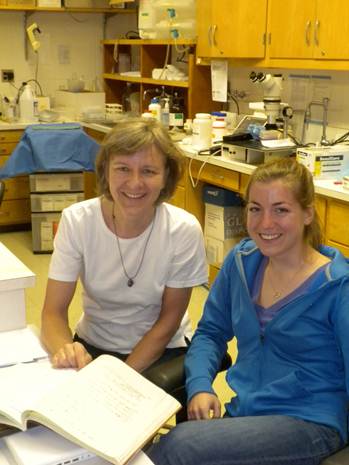 Having prior research experience and being a part of the SRF Program opened up a wide range of opportunities for Courtney. Capitalizing on the relationships that she had developed with DePauw faculty through her prior research experiences, she learned of a biomedical research opportunity at Duke University Medical Center (DUMC) in the lab of Dr. Phyllis Leppert, M.D., Ph.D. '60.
"Finding this research experience at Duke taught me the power of the DePauw alumni network. And I was so excited to have learned about this internship. I had always wanted to do medical research, and this seemed like an amazing opportunity to do that!"
Courtney would spend Winter Term '11 and the summer of 2011 in Durham, North Carolina doing research at DUMC. During her time in Durham, she worked on two separate biomedical research projects.
"During my Winter Term at Duke, I was researching the genetic aspect of incompetent cervix. Working on this project, I learned so many new things. Not only did I learn all about the disease that I was researching, but I also learned about all new techniques that I wouldn't otherwise have been exposed to."
After the spring semester of 2011, Courtney returned to Durham for the summer to work on another project. That summer, she would work on a project aimed at developing a 3-D cell culture model of uterine fibroids. In addition to learning a whole new set of laboratory techniques, she learned a great deal about planning and designing her own experiments that summer.
"The principal investigator, Dr. Friederike Jayes, Ph.D., DVM, really challenged me to take charge of my own project at the beginning of the summer. Because of this, I learned a so much about effectively planning and executing experiments. I really felt like I was involved in every aspect of this project."
During her time in Durham, not only did she get to explore what it is like to do medical research, but Courtney also was able to explore a new part of the country. She described Durham as being both southern and very international at the same time.
"No one in Durham would deny that it is a southern city, filled with fried chicken, southern accents, and biscuits and gravy. But having so many universities around also makes it a very international city. I worked with people who were German, South Korean, and Chinese. Duke is a very diverse place."
The SRF Program provided her with a number of wonderful opportunities to explore her interest in science research. These experiences have taught Courtney what it means to do science research and to have a career as a researcher.