Kelly Harms '13
Kelly Harms '13 was originally attracted to DePauw University for its small class sizes, beautiful campus, and academic and athletic opportunities. She had aspirations to become a doctor, and knew that DePauw would provide the ideal learning environment for this purpose. A self-proclaimed nerd, Kelly has always enjoyed anything and everything pertaining to science. Therefore, the Science Research Fellows program was an additional perk of coming to DePauw.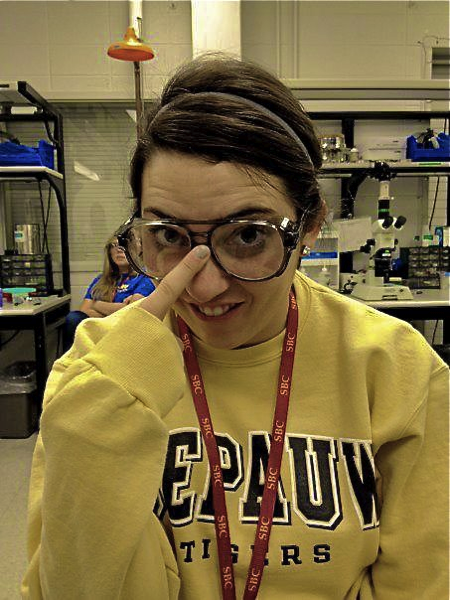 "Research has always intrigued me. I love the idea of trial and error infused with figuring out how things work. Through SRF, I have had the opportunity to participate in research in a variety of disciplines that I would have never experienced without the program," Kelly explained.
During each student's first year in the program, he or she is placed into a research group for the fall semester. So, in the fall of 2009 Kelly researched muscle inhibition in Dr. Pat Babington's Kinesiology lab, a field certainly outside of her comfort zone.
"To me, SRF is entirely about pushing your boundaries," Kelly described. "You might be placed into a field of research that is completely foreign to you. It is terrifying and challenging. It is also incredibly rewarding."
The following semester and summer, Kelly joined Dr. Pam Propsom to research pluralistic ignorance and social norming in the Psychology Department. Kelly is a Biochemistry major and a Psychology minor. Therefore, this research was slightly more familiar to her.
Regarding her Psychology research, Kelly said, "That summer I learned some very valuable lessons about the importance of communication and creativity in research."
For the summer after her sophomore year, Kelly participated in research at the Vanderbilt University Medical Center Clinical Pharmacology Department. She assisted in Dr. Nancy Brown's lab on a research project pertaining to mitochondrial DNA copy number and acute kidney injury in cardiac surgery patients. She was also able to observe many cardiothoracic procedures.
"The path I took to my off-campus internship was perfect. I went from an unfamiliar project to research related to my minor. This finally culminated in research entirely related to my future career. It all came full circle," Kelly mused. "The added bonus was that I was able to spend some time shadowing an Anesthesiologist (the PI of the project I was assisting in), Dr. Josh Billings, which was a phenomenal learning experience."
While these experiences fulfilled the necessary SRF research obligations, Kelly was not done. She decided to join Drs. Jackie and Dave Roberts' lab in the Biochemistry department to study the structure of a metal-binding transcription factor in a methanogenic archaeal organism, Methanosarcina acetivorans, through the use of x-ray crystallography.
In addition to research, Kelly has maintained a high level of commitment in other activities. As a student-athlete, she has devoted a significant amount of time d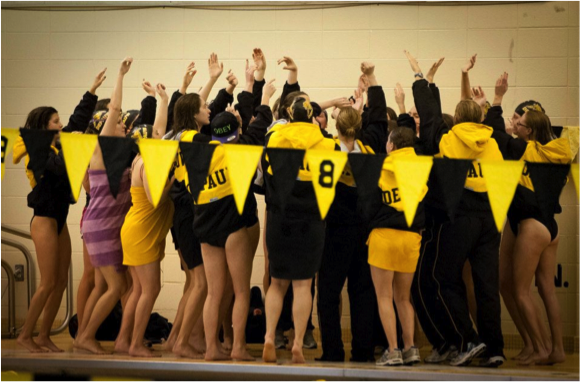 uring her years at DePauw to swimming for the Women's Swim and Dive team. She also became a member of the Women's Lacrosse team, which began her senior year at DePauw. Kelly was a First-Year Mentor in the First-Year Experience program during her junior year, and became the Program Specialist for this program the following year. In her sorority, Alpha Chi Omega, she held positions as Vice President and Class Representative, and was a student representative in the National College Health Improvement Project. Kelly is a member of the national college senior honor society, Mortar Board, athlete honor society, Chi Alpha Sigma, and a Rector Scholar.
"I think the greatest thing about SRF is that is doesn't hinder you from pursuing other activities that interest you," Kelly offered. "It isn't a 'this or that' type of thing. While research has the ability to consume a large amount of time, the format of the SRF program caters to the DePauw experience. In other words, I found time to do everything that I wanted to do at DePauw, and realized that SRF perfectly complimented my other activities."
Kelly has stuck with her original aspirations, and plans to attend medical school after she graduates. Although her plans didn't originally include post-graduate research, as well, she now thinks of that a possibility.
"Coming into the program, I thought it would just be a nice experience to have under my belt," she stated. "After being involved in SRF, however, I have realized the importance of research in medicine and would like to continue it. I now know I want to incorporate research into my future career. "