Liz Anichini '12
"My research experience in biology was really helpful in designing my independent research project in Public Health. Even though social science research is very different in methodology, the experience I gained in SRF designing a project, organizing results in a meaningful way and writing a clear and concise report were invaluable when I had to execute a project completely on my own. I hadn't realized how much I had learned about research itself until I had to apply my skills to a completely different subject."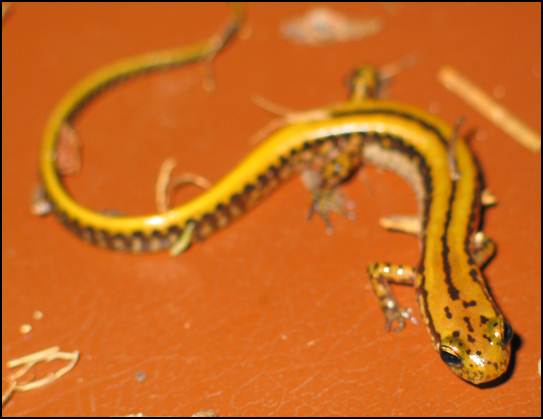 Liz Anichini is a senior from Chicago, IL, majoring in Biochemistry while pursing a minor in Latin American and Caribbean Studies. She entered the Science Research Fellows Program (SRF) as an incoming freshman.
"During the college application process many of the schools I applied to offered similar profiles, but DePauw University's Science Research Fellows program (SRF) caught my eye. "The program's application required a research proposal, a daunting task at the time, so I designed a proposal about something I knew well—popcorn. Someone at DePauw must have liked popcorn as much as I did, because I began research within my first weeks of entering DePauw University in Fall 2008"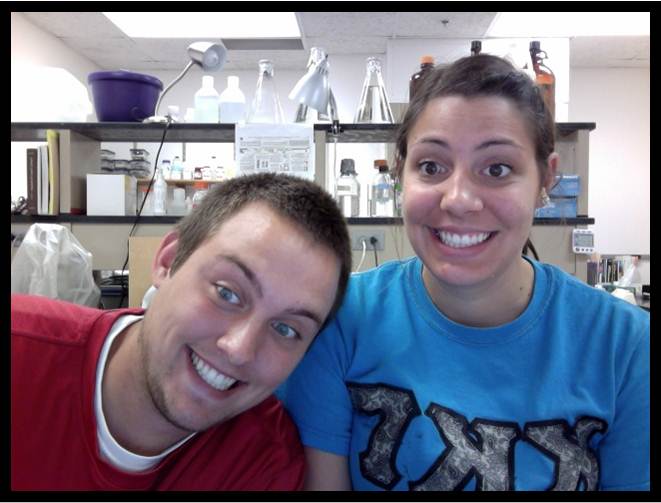 As part of the SRF program, students begin research in their very first semester of college. In Liz's first semester she worked with Daniel Gurnon, Ph.D. on a biochemistry project. "The first SRF research experience is mostly focused on learning how to do research, but in order to understand the research Dr. Gurnon had to teach us a lot of background material that I wouldn't otherwise have been introduced to until sophomore or junior year. Working on that project got me really excited about biochemistry and helped me decide my major early on."
In SRF students' second semester, they begin working with the professor that they will work on a 10-week research internship over the summer. Liz worked with three other students under Dr.Wade Hazel, studying the effects of climate change on Swallowtail butterflies. Dr. Hazel's project spanned several summers, collecting data across seasons and then comparing it to historical temperature data. "We were able to match the changes we observed in the butterflies' life cycles to the irregularities across the seasons, like a late start of spring, or an early freeze in the fall," said Anichini. Liz explained that Dr. Hazel's research was unique in that "A lot of research has looked at the long-term effects of climate change on evolution, but fewer have researched the effect short term climate change, from season to season, exerts on species that have short life cycles, like butterflies."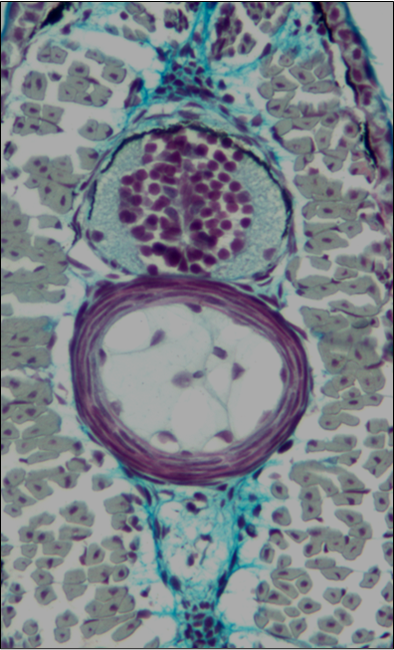 In Liz's second research internship she returned to DePauw's Biology Department to work on the first part of Dr. Janet Vaglia's three-year NIH (National Institute of Health) grant exploring the development and regeneration of salamander tails. "Our goal for the summer was to determine the morphology of the salamander's tail tip development across different lifestages," said Anichini. Ultimately the data compiled will be compared with the morphology of regenerated tail tips to see if initial development occurs by the same mechanisms of regeneration. "We used a really cool program called Biovis3d that allowed us to reconstruct a 3D depiction of the morphology of the Salamander's tail. So basically we cut the tail tip into hundreds of 10 micron slices, created and imaged histological slides, and then used BioVis3D to realign each slice and reconstruct a 3d image of the tail tip"
Although Dr. Vaglia's research was much more lab focused than the field research Liz did the summer before, the research students were still able to work in the field. "Since we collected all of the specimens we studied ourselves, the summer involved a nice mix of lab and fieldwork. There's nothing like a day in the woods catching salamanders to break up a very lab-intensive week!"
After a salamander filled summer, Liz took off for a semester abroad in Chile in the fall of 2010. She studied in SIT's Public Health, Traditional Medicine and Community Empowerment program. All SIT programs conclude the semester with each student carrying out a month long independent research project. Our entire program had an excursion to the south of Chile to learn about traditional medicine practices. I had originally planned to return to Arica to do my research project, but I fell in love with the south and the Mapuche culture and decided to stay and do my project there."
Liz's project examined elderly members of the Mapuche community who were dependent on family members for care either due to physical ailments or dementia. "Traditionally several generations of a family would live together and all share the burden of supporting an elderly family member, said Anichini, but today, many young people are migrating to cities for school or work, so all of the care of elderly falls on one or two family members and can cause a large emotional and physical drain." Liz did her research in conjunction with Hospital Intercultural Makewe, which was in the process of gaining insight into the problem and considering ways to support caregivers.