Rachel Rominger '13
For Rachel Rominger, admission into DePauw University's Scientific Research Fellows (SRF) program made her college choice become much simpler.
"When I got in, I knew that was it," said Rominger. "Even as a prospective student, I could tell that this was a special program. I didn't know much about research, but I loved science and wanted to see how I could start applying it and making it practical. The SRF program seemed like an incredible opportunity; I couldn't believe that they were giving students in their first semester the opportunity to get involved in research."
Rominger quickly found herself involved in research projects that allowed her to explore her passion for learning with professors and other students. The summer after her first year at DePauw was spent working with two biology professors, Lynn Bedard and Dina Leech, along with fellow first-year SRF students Megan May and Alessandra Pistoia. Together, the group investigated and compared bacterial communities living in ponds found in DePauw's Nature Park.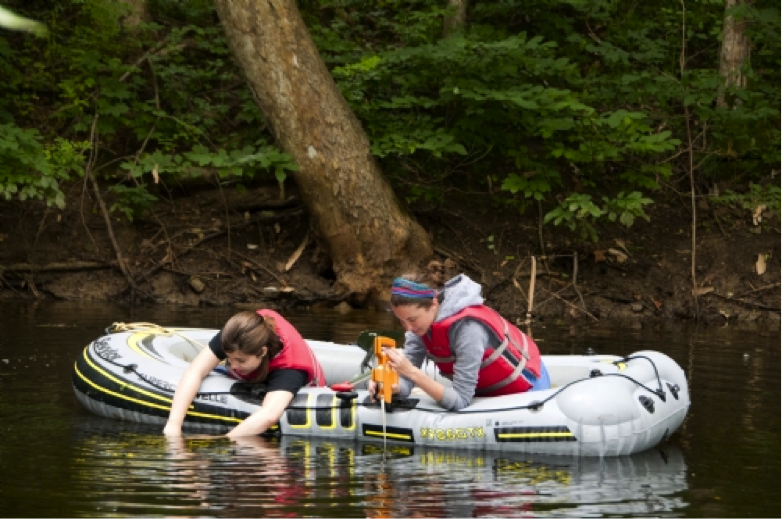 This experience gave Rominger a strong background in a variety of common laboratory tests and techniques, as well as experience with research both in the field and in a laboratory setting.
"One of the best aspects of my research experience with Professors Leech and Bedard was the exposure and experience that I gained in the process. I can honestly say that those skills were instrumental in my ability to find research in the following summers," said Rominger.
Her first semester of research, along with a part-time job in Petsmart as a high school student, helped Rominger find an internship at the pharmaceutical company Eli Lilly & Company, where she has spent the last two summers.
During her two summers at Eli Lilly, Rominger has worked with mice used in oncology testing, where she has been able to explore the industrial side of scientific research.
Says Rominger, "I have thoroughly enjoyed my time working in the pharmaceutical industry. For the past two summers, I have been able to combine two of my great loves: science and medicine. It has been fascinating for me to be able to see all of the behind-the-scenes work that goes into bringing new drugs to market, and I'm proud to say that in some tiny way, I was able to participate in advancing that process. I was thrilled at how well my experiences at DePauw had prepared me to jump into research in a completely different environment."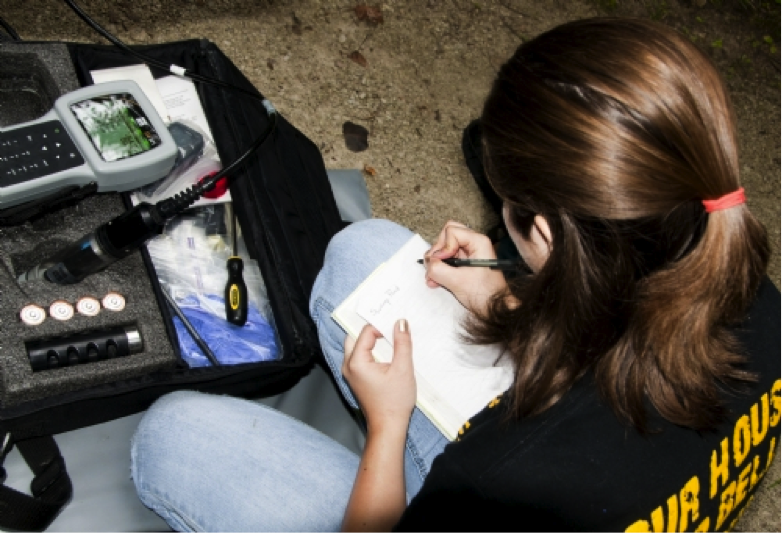 Aside from her SRF experiences, Rominger has enjoyed the opportunities that DePauw presents to explore science in non-traditional ways. Her Winter Term courses have provided an opportunity for her to study her passions of science and medicine in a less traditional context. Her first year on campus, Rominger took a Winter Term course called Sweet and Savory Science, in which she explored the chemistry of cooking with her class. The next year, she was able to participate in a Winter Term abroad course, where her class investigated the historical and religious implications of scientific discovery. Finally, last year, she participated in the EMT training course, which helped her earn her state certification as an EMT-Basic.
"At DePauw, I feel like so many doors are open, and it's really up to the student to take advantage of the opportunities that excite them," said Rominger. "I knew that I loved learning about and participating in science, and I have been so happy with where my experiences have taken me."
After she graduates in the spring, Rominger hopes to attend medical school and continue pursuing her love of science.
"My experiences have helped me put into perspective how much I enjoy the challenges and rewards that scientific research provides," said Rominger. "My internships in the pharmaceutical industry particularly have helped me see that even as a physician, I can remain involved in the research process, and I am very excited to see where these roads may lead."