Stephen Hesterberg '13
When senior biology major Stephen Hesterberg arrived at DePauw University in fall of 2009, medical school was the only thing on his mind. "Frankly, I never really considered anything besides medicine before coming to DePauw; it was the only science career I could think of at the time."
After his first year, Hesterberg entered the Science Research Fellows program and quickly began to realize that other possibilities existed. "The SRF program showed me that my career and passions did not have to be mutually exclusive, I could and should follow what I love."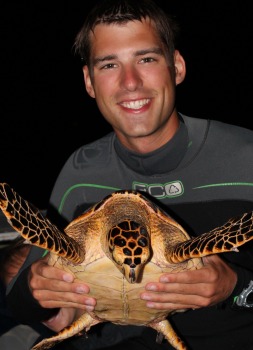 That passion for Hesterberg was the ocean, specifically tropical marine ecosystems. "I think I owe my obsession with the ocean to fishing. I love to fish, but the more I got into the sport, the more I realized that there are serious problems facing our world's oceans such as overfishing, pollution, habitat loss, and climate change." This urgency pushed Hesterberg away from medicine and instead to a career in marine ecology. "There's so much we don't understand about the ocean, how can we effectively protect what we don't understand?"
With thanks to the SRF program, Hesterberg has thus spent the last several years conducting research in diverse areas of biology in preparation for graduate study. Hesterberg's sophomore summer consisted staying in Greencastle, IN and conducting a behavioral ecology research project under the supervision of Dr. James H. Benedix Jr. "Even though I wasn't by the ocean, I learned how science is conducted and this gave me a firm base for future research; it was a great experience."
After the summer, Hesterberg obtained a winter term internship at Woods Hole Oceanographic Institution, in Woods Hole, MA. He spent the month helping a post-doctorate analyze data while simultaneously experiencing being at a large research environment.
"It was a unique experience for me, especially since WHOI is one of the top oceanographic institutes in the country. Plus, it was great to be in an atmosphere other than a small liberal arts college; the SRF program pushes its students to take advantage of off-campus opportunities like this."
Hesterberg has also studied abroad in the Turks & Caicos Islands where he gained experience in marine ecology and resource management. While there, he investigated the effects of a tourist development on a tropical seagrass bed, specifically dredging on seagrass and detrital biomass. Being able to conduct research in such a setting as an undergraduate, Hesterberg says, is a unique aspect of DePauw University and the SRF program.
Just last summer, Hesterberg participated in a National Science Foundation Research Experience for Undergraduates internship in Charleston, South Carolina. Being paid to do research has its perks, says Hesterberg, especially when your lab has a waterfront view. Hesterberg worked in the South Carolina Department of Natural Resources Population Genetics lab investigating the hybridization and genetic verification of weakfish, an importa
nt commercial and recreation fish species along the U.S. Atlantic. "Although I didn't know much about genetics before, it was great to conduct applied science and experience work at a government agency." His work will help fisheries managers create a more accurate stock assessment of weakfish and hopefully lead to easy field identifications for their hybrids.
When Hesterberg is not working with the ocean, he is more than likely playing in it. "I can honestly say that the majority of my day is spent thinking about something to do with the ocean; I just love it." Fishing and diving are his two favorite activities, however, kayaking is a close third. In total, Hesterberg has completed close to 50 dives with over two days experience underwater. He has been diving in various places in North America, including Monterey Bay, the Florida Keys, and of course, the Turks & Caicos Islands.
"I find it ironic that with so many of my favorite activities involving the ocean I am from Cincinnati, OH and attend school at a Midwestern liberal arts college; oh, and I hate lakes!"
Hesterberg plans on continuing his education after DePauw University with graduate study in marine ecology. "A Ph.D. is eventually the main goal, but I'm not in a rush," says Hesterberg, "I might take a year off and work in something related to the ocean before going back to school."
No matter what Hesterberg ends up doing after DePauw, he attributes much of his future success to his liberal arts foundation, "DePauw University, and especially the SRF program, has shaped me into the person I am today; I feel more worldly and a better scientist for being a part of this experience."