Tanner M. Miller '11
"Pura vida mae (pure life friend), aloha, and welcome to the vineyard."
That's was Tanner M. Miller's one sentence synopsis of his undergraduate research career. No matter where Miller ventured to pursue his scientific interests, the settings couldn't have been more perfect. During his four years at DePauw University, he spent his time in the rain forests of Costa Rica, frequented Martha's Vineyard on sunny June afternoons, and took in the view on Hawaii's north shore.
It may come as no surprise that Miller is quite a proponent of his DePauw experience, primarily his time in the Science Research Fellows Program. Originally an Oklahoma native, Miller was drawn to Indiana by the unique Midwestern liberal arts university that seemed to be the perfect fit.
He had no idea what opportunities lie ahead.
As a lateral entry applicant to the Science Research Fellow Program (SRF) at DePauw, Miller may have had a delayed start, but he was quick to capitalize on all of the opportunities the program had to offer. He knew that he had always wanted to pursue science in college, but was unsure as to what field and where to start.
"Then I discovered a program that offered diverse science oriented internships and an introduction to research," he says.
For Miller, the match was perfect. After his first SRF research internship in the biochemical department with Dr. Daniel Gurnon, he knew that he had found his passion. Starting in Dr. Gurnon's lab, Miller utilized his DePauw science background to earn positions on research projects carried out at DePauw University, La Universidad EARTH in Costa Rica, and Woods Hole Oceanographic Institute in Massachusetts.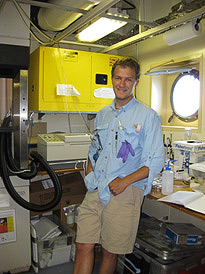 From stepping into his freshman dorm in Bishop Roberts, to where he stands as a DePauw alumnus, Miller did not foresee how central the SRF program and research would be to his time in Greencastle.
"If someone had told me that, as a pre-med college freshman, I would be deploying deep water ocean research tools off the coast of Hawaii and getting paid for it, I would have not believed my ears," he says.
Yet, the exotic locations and unique internships were all secondary to his principal purpose for performing research. Miller wanted to contribute something real.
"I really wanted to combat the belief that pre-med students were only in the sciences for the GPA, and I wanted to extend my classroom knowledge into the real world," Miller says.
The SRF program became a means to leave his mark on DePauw and to push the boundaries of his education.
Although, the liberal arts approach to science research was what Miller most appreciated about both DePauw and the SRF program. In fact, he goes as far as to summarize his undergraduate research experience in one word: Diverse.
Tackling projects concerning oncoproteins, soil microbes, plant stresses, and the ocean carbon cycle Miller learned to appreciate the big picture.
"I always feared that, at a larger research university, I would have been 'doing dishes' in a lab for two years before someone would let me touch a pipette," he says.
Instead, his DePauw experience facilitated intimate relationships with his research instructors and primary roles on every project.
Miller argues, "It was these relationships with the DePauw staff that gave me the competitive edge over my peers at other schools."
The advice Miller gives to any current or future Science Research Fellows at DePauw is that the SRF experience will define their collegiate career.
"It is not enough to be a passive sponge collecting information," he says. "To be an active participant is better, but to create knowledge through research and to contribute novel ideas is the most beneficial use of one's time."
Whether a person's future career goals include graduate school, medicine or entrepreneurial endeavors, Miller argues that research is a powerful tool to ensure his/her success. The "light bulb moment" that gave his research meaning came in a medical school interview. When asked by the panel what he was most proud of in his undergraduate career, his response was his research.
Staying true to his initial collegiate aspirations, Miller will attend medical school at the College of Medicine at the University of Oklahoma. He is confident that his experience at DePauw and in the SRF program will have prepared him for the road ahead.