Becca Maddrell '11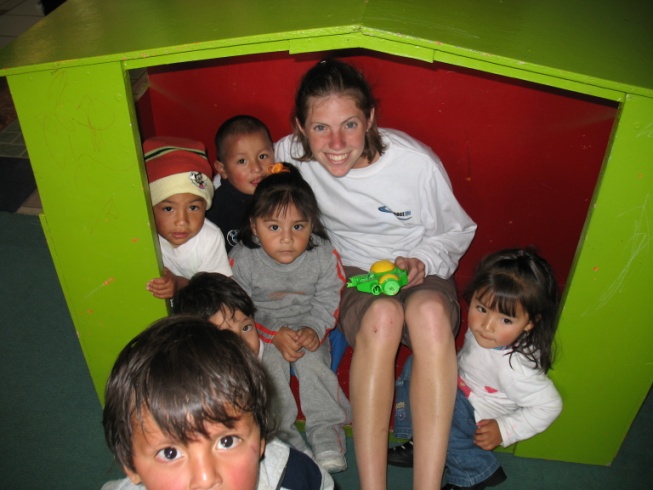 From Quito, Ecuador, to Greencastle, Indiana and from Segovia, Spain, to Northwestern University in Chicago, Illinois, "DePauw has offered me such wonderful opportunities and opened my eyes to things that previously I never knew existed and am now deeply passionate about." Becca Maddrell's passions have kept her moving across the nation and the globe and have provided her with opportunities to develop and learn. A Biochemistry and Spanish double major, Maddrell has experienced a variety of opportunities both inside and out of DePauw University classrooms.
Maddrell came to college with an open mind and let her interests direct her. As an incoming freshman, she was selected to be a part of the DePauw in Ecuador Program. The Program provides incoming freshmen with the opportunity to partake in an intensive three week on-campus Spanish immersion program and then spend two weeks in Quito, Ecuador. Students in the program are involved in community service activities, such as constructing a home, working with children in an orphanage, and teaching English in the slums of Quito. This experience encouraged her to continue her Spanish language education, and she developed a passion to help people in developing nations and at home. In the future, she hopes to return to Ecuador as a doctor to provide medical service for the less fortunate.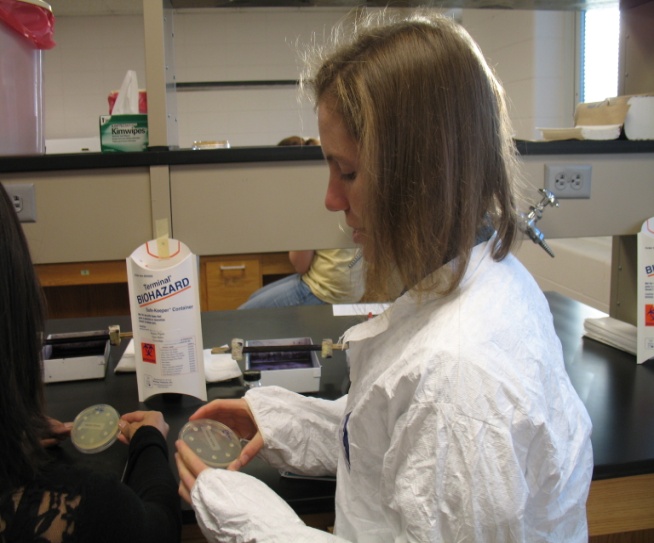 The DePauw Science Research Fellowship Program has aided in her pursuit. This honors program provides science students the opportunity to perform undergraduate research in addition to the major requirements. Maddrell says these opportunities enhanced her experiences at DePauw by teaching both how to diagnose problems and the technical skills to solve them." As part of this program, she worked alongside professors in diverse research activities, such as researching the Grey code (a binary numbering system) and studying the immune response of invertebrates.
Through these opportunities, she acquired the training she needed to successfully pursue opportunities outside of DePauw. In the summer of 2009, Maddrell was a research intern performing cancer research at the Lurie Cancer Center at Northwestern University. At Northwestern, she worked beside renowned scientists in the field of leukemia research and studied the link between leukemia and people born with Down syndrome. She also spent a Winter Term at Naples Community Hospital, shadowing doctors and nurses and learning how a hospital operates . Maddrell ained more hands on experience when she went to Segovia, Spain, and worked in La Clinica Goya. At the clinic, she assisted with basic checkups and learned how Spain's public healthcare system functions. This global learning enhanced her understanding of other cultures, global healthcare, and the differences that exist between the many countries of the world.
Becca returned to DePauw with a better understanding of the world and a
strengthened desire to serve it. She became president of DePauw's chapter of the Timmy Foundation whose mission is "building healthy futures by expanding access to healthcare and education, while empowering students and volunteers to engage directly in global development." Through the Timmy Foundation, Rebecca and the other members have raised over $2,000 during the semester to purchase medical supplies for a medical brigade that will go to Tena, Ecuador this January.
"DePauw has opened my eyes to a world of knowledge and learning that I never knew was out there. A world in which I can make an impact and help others,"
Upon graduation, Becca Madrell plans to use a year to explore opportunities such as Teach for America or AmeriCorps where she can serve her community. Her ultimate goal is to enroll in medical school. One day she would like to take a trip back to Quito, Ecuador and give back to the place that inspired her with a passion that fuels her daily pursuits.