Battey National Educator Award
This Award has had a wonderful effect on Senior Honor Scholars, prompting them to reflect on their intellectual roots and on the road they have traveled from high school to where they are today.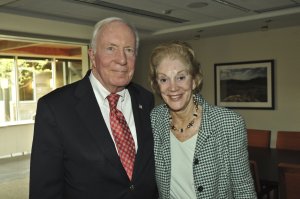 The Charles and Joan Westmen Battey National Educator of the Year Award is administered by the Honor Scholar Program thanks to the generosity of Mr. and Mrs. Charles Battey. Joan Westmen Battey, a graduate of the DePauw Class of 1954, and her husband Chuck, established the Award in 2008 as a way to acknowledge, recognize and thank educators who have made a difference in the lives of DePauw's students. During the fall semester, Senior Honor Scholars are invited tosubmit brief essays nominating a high school teacher who inspired them profoundly during their high school years and continues to have an impact on their intellectual curiosity. The Award entails a cash prize for the winner, as well as monies for the high school, to be spent on the winner's recommendations. The Honor Scholar Program also prepares a plaque for the winner and for the principal so that the Award recipient may be recognized within his or her high school.
2015 Charles and Joan Westmen Battey National Educator:
Logan Kuhne, Greencastle Central High School, Greencastle, IN
An excerpt from Dakota Watson's (Class of 2015) nominating essay:
"Mr. Kuhne deserves this award because he never let us lose the determination to succeed, the Ganas! Senior year at Greencastle High School I was second in my class, captain of three varsity sports, a Lilly Scholarship Finalist, and overall life was on cruise control as I waited for college to start. Needless to say I did not find myself challenged my senior year, well except for Mr. Kuhne's Calculus AP course. I knew I wanted an A, and like other math courses I figured that this course would not cause too much trouble. However, after only a few weeks into the semester, I quickly changed my mine. I realized that doing well in this course and on the exam would only come at the extent of hard work."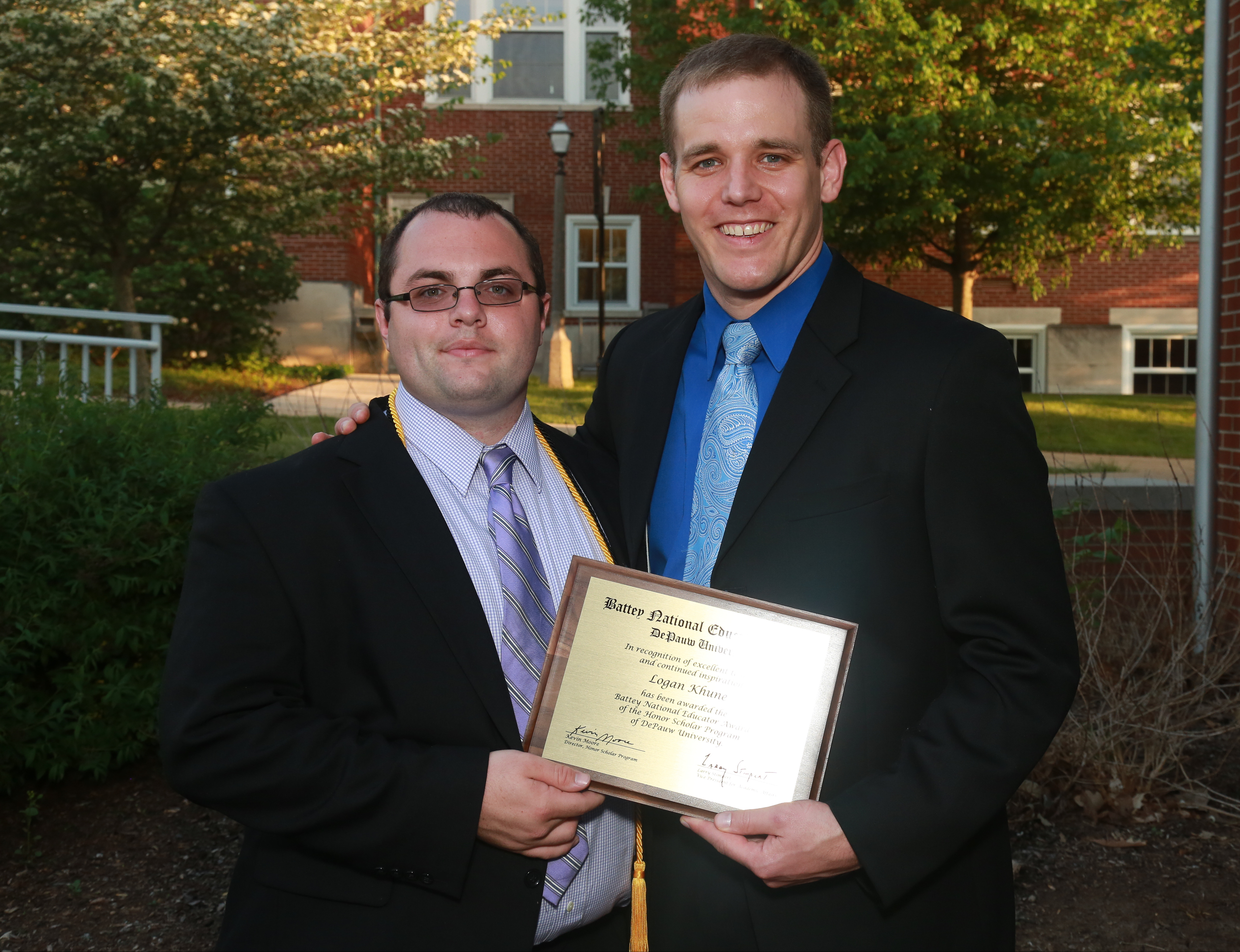 "Mr. Kuhne has been a tremendous influence when it comes to my academic success here at DePauw. He has taught me to be compassionate and focused as I work for my goals. Furthermore, Mr. Kuhne knows my goals and holds me to a standard of accomplishing them. He has stayed current on my progress here at school, and when we talk he makes sure to ask the challenging questions that my other high school teachers seem to avoid."


Pictured above right: Charles and Joan 'Westmen' Battey
Pictured above left: Cody Watson ('15) and Logan Kuhne