Other Co-curricular Activities
Earth Week 2013
Earth Week 2013 involved many diverse events, with multiple films, discussions and even dance performances. One of the week's biggest events was Dr. Jane Goodall's April 17 visit to DePauw for an Ubben Lecture. Earlier in the day, Dr. Goodall had a Q&A Session with a small number of students, including the Environmental Fellows.
The Environmental Fellows Program contributed to the week's activities by showing the film Carbon Nation in the Watson Forum on April 22nd. Directed by Peter Byck, Carbon Nation is described as "a climate change solutions movie [that doesn't even care if you believe in climate change]." The movie was followed with a discussion of the various climate change solutions that it presented.
Dinner at the Elms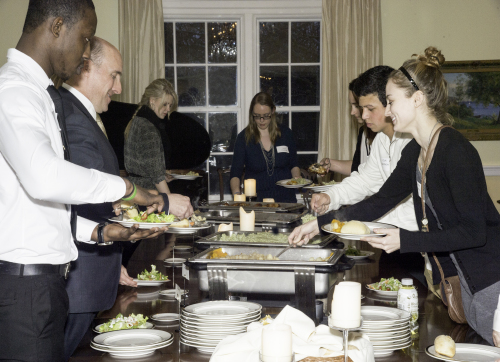 On Feb. 18, 2013, the Environmental Fellows were invited to dinner with President Casey at The Elms. Fellows and faculty mingled and posed for program pictures prior to the meal.
Following dinner, President Casey posed questions to the group while noting that the majority of the Fellows were female. This led to a lively discussion of the links between environmentalism and feminism.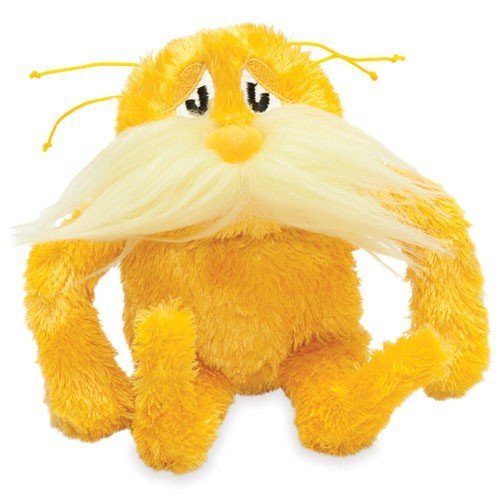 Before departing, the Environmental Fellows thanked President Casey for his work to add trees to DePauw's campus and gave him their "I speak for the Trees" award, a plush Dr. Suess' Lorax.
Keystone XL Pipeline Protest in Washington, D.C.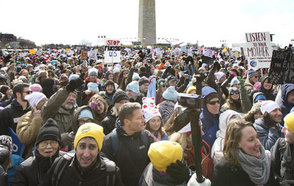 Thanks to DePauw's Environmental Fellows Program and Professor Jen Everett, a group of DePauw students had the opportunity to attend the largest Climate Change rally in U.S. history. Professor Everett, Carlie Vaughn, Maggie Repko, Lauren Krumwiede, and Lauren Van Fleet joined 50,000 like-minded individuals in Washington D.C. on February 18, 2013 to protest the Keystone XL Pipeline. They are standing up against this issue because the pipeline is a huge threat to thousands of Americans. It will traverse the middle of the country, starting in Montana, traveling through states like Nebraska and Oklahoma, and ending in Houston and Port Arthur, Texas. This pipeline will further degrade habitats, wreck ingenious peoples' homes, and increase the risk of detrimental oil spills. On the issue, Lauren Van Fleet says,
"Our future and our children's futures are at stake here. If we want them to live healthier, happier lives than us, we cannot let big oil companies win. This is what has happened in the past, and where has it brought us? It's time for a change and a hope for a brighter, cleaner tomorrow."
Article and picture from Office of Sustainability Newsletter