Speakers & Events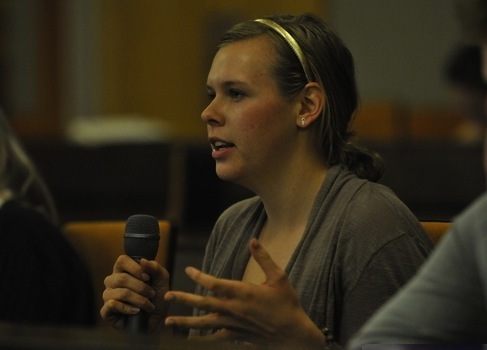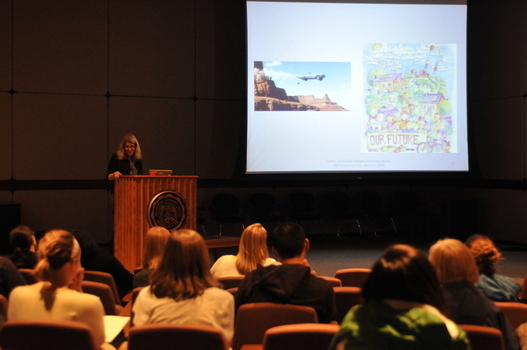 Recent Speakers & events
Speakers: Sandra Steingraber Richard Louv Dr. Jane Goodall Dr. Steven Amstrup Events: Cool Talk About a Hot Topic
---
Sandra Steingraber
April 23, 2014- Author/ecologist Sandra Steingraber will visit DePauw as part of a symposium on environmental toxins entitled Indecent Exposure. Hailed by some as her generation's Rachel Carson, Steingraber uses an expert scientist's eye to interpret complex biological information and a lyrical writer's voice to effectively share it with others. In books such Living Downstream, Having Faith, and Raising Elijah, she illuminates the threats represented by the toxins around us, but also gives us hope that there is a way to move forward to a safer future.
"Just as abolitionist writing played a role in ending slavery, I believe environmental writing can play a role in ending unsustainable economic practices."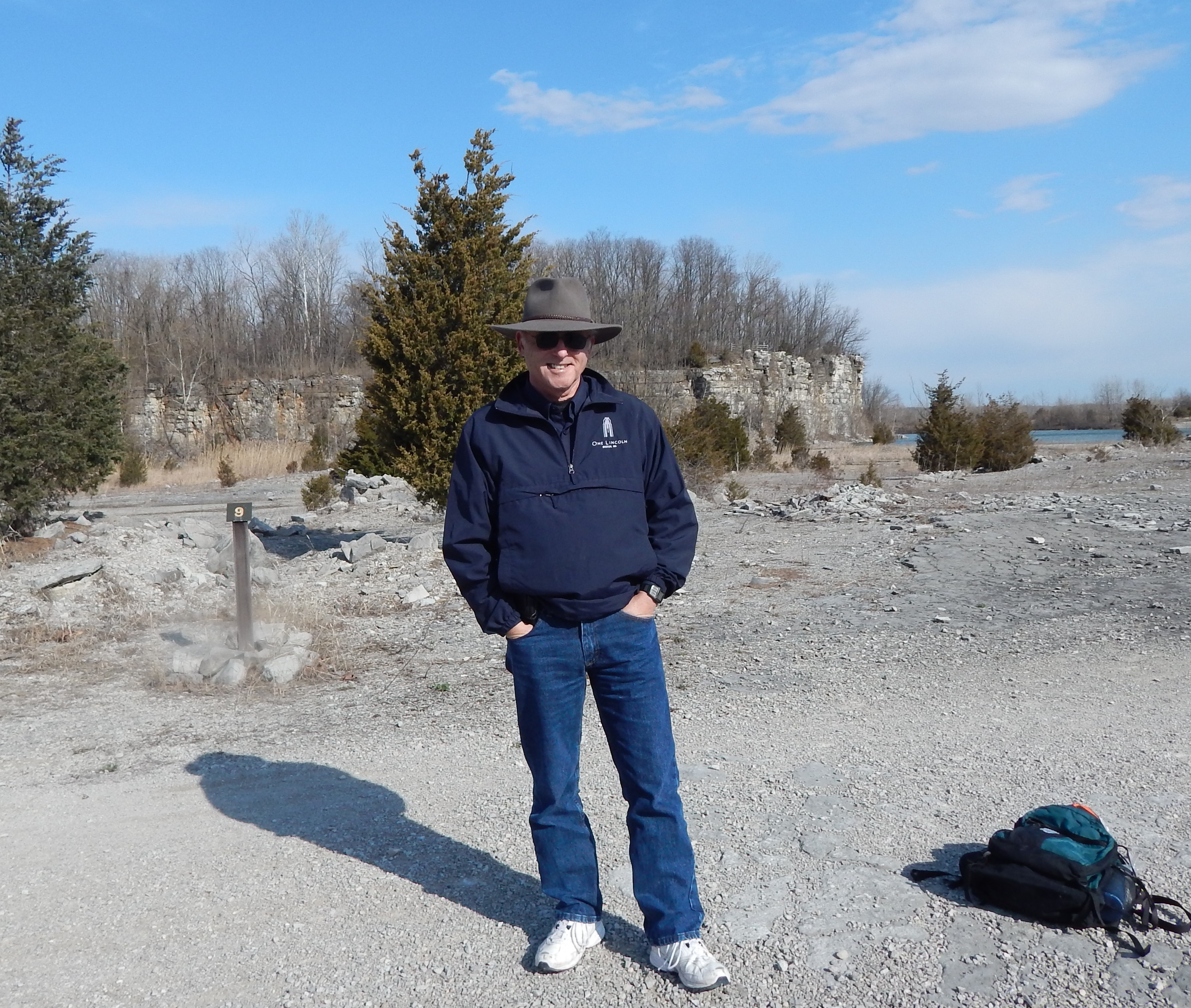 April 9, 2014- Author Richard Louv is a leading voice in the movement to reconnect children, and in fact all people, with nature. In an age when people spend progressively more time in the "virtual" world, and parents seem to be perhaps over-concerned with protect their children from dangers of all types, he argues that many are suffering from "nature deficit disorder", and that children need to experience nature and to learn about the natural world in order to lead healthy, fulfilling lives.
Louv's talk, entitled The Nature Principle, was covered by WYFI Indianapolis. To read the article and listen to a recording of Louv's talk, click here.
"The future will belong to the nature-smart—those individuals, families, businesses, and political leaders who develop a deeper understanding of the transformative power of the natural world and who balance the virtual with the real. The more high-tech we become, the more nature we need."
Dr. Jane Goodall
April 17, 2013- Environmental Fellows had the opportunity to meet world-renowned conservationist Jane Goodall when she visited DePauw to present an Ubben Lecture.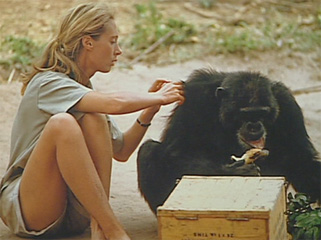 Dr. Goodall first gained international fame for her studies of chimpanzee behavior at the Gombe Stream Chimpanzee Reserve, which began in 1960. In 1977, she established the Jane Goodall Institute for Wildlife Research, Education and Conservation (JGI), which today works globally to advance individual conservation efforts through education programs.
In addition to the lecture presentation, Dr. Goodall participated in a Q&A forum for selected students, including the Environmental Fellows.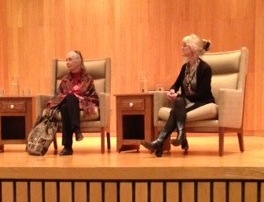 The forum was moderated by professors Jen Everett and Kevin Moore. Among the questions asked was one from Environmental Fellow Sam Leist ('14), who asked Dr. Goodall what her thoughts were on trying to close the gap between climate data and policy action.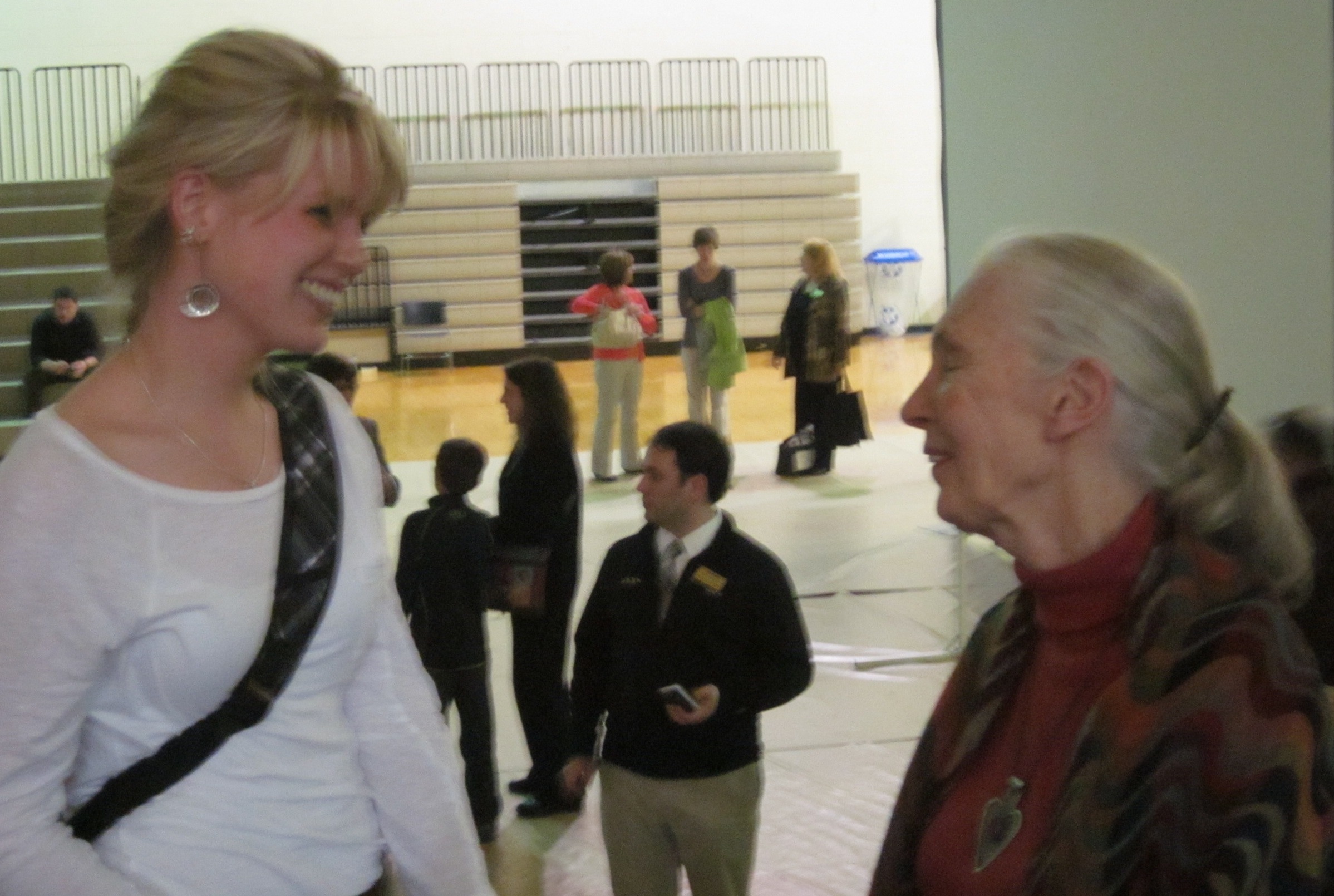 Following the conclusion of the evening Ubben Lecture, audience members were given the opportunity to sign up for membership in JGI's "Roots & Shoots" program (see below), or to have a book signed. Students took the opportunity during their turn to snap a picture and exchange a few words with Dr. Goodall.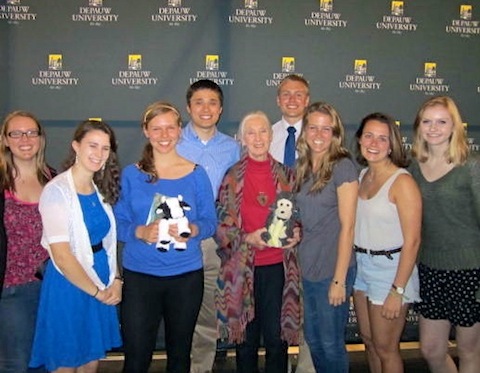 Roots & Shoots is an educational program created by JGI in 1991. Today, Roots & Shoots is established in over 100 countries around the world. A number of Environmental Fellows volunteered to help register new members after the lecture, and afterwards had the opportunity to speak with Dr. Goodall (photo at right).
Cool Talk About A Hot Topic
The Ethics of Communicating about Climate Change
April 8-11, 2013- The Prindle Institute for Ethics and the Environmental Fellows Program collaborated in Spring 2013 to bring scholars from across the country to DePauw in an intense four-day exploration of ethical issues related to discourse about climate change. Students and faculty members also participated in a semester long seminar-style course on the same topic, focusing on readings from the work of the symposium speakers. Environmental Fellows, Prindle Interns, DePauw faculty, and symposium speakers mingled and debated more informally at dinner between scheduled presentations.
Featured speakers included Anthony Leiserowitz, Barry B. Bickmore, Chris Cuomu, Kari Norgaard, Stephen M. Gardiner, and Sarah Pralle.
Symposium Lectures
Dr. Leiserowitz' presentation described recent trends in public opinion on climate change and the psychological, cultural and political factors that influence public responses. It also included a discussion of Global Warming's Six Americas - six different audiences within the public that respond to the issue in unique ways and required tailored education and communication strategies.
Dr. Bickmore suggested that rather than trying to convince the most entrenched anti-environmental ideologues on climate change, a better strategy for getting a mojority would be to focus on two groups--1) those who are capable of being persuaded by evidence, and 2) those who may be intellectually lazy, but want to appear reasonable and "open-minded." He drew upon his experiences as both a climate change contrarian and later an advocate of climate action to explain how people in the second group convince themselves that willful ignorance is the same thing as open-mindedness. He presented some ideas about how to crack the unconquerably "open mind."
"Consciousness and Moral Action: Considering Climate Change"
Chris Cuomu
Dr. Cuomo suggested that the primary agenda of climate change awareness advocates should be not to convince, but rather to cultivate emotional intelligence about the realities of our embeddedness in various systems of energy, exploitation, and innovation. He recommended a tentative re-reading of concepts such as virtue, affection and sacrifice to frame discussions of collective responsibilities and the pressing need for decisive action on the part of powerful corporate actors.
Dr. Norgaard discussed that despite the fact that global warming is the most significant environmental issue of our time, public response in Western nations has been meager. Her presentation dealt with the question of why have so few people have taken any action on the issue.
"Jane Austen vs. Climate Economics"
Stephen M. Gardiner
Dr. Gardiner described climate change is a "perfect moral storm", an intersection of three prominent challenges to ethical action (global, intergenerational and theoretical) that are difficult to overcome. As a result we are likely to be attracted to weak or deceptive arguments that appear on the surface to license such behavior, and so to give such arguments less scrutiny than we ought. A particularly deep way of doing this is through the corruption of the very terms of the debate, moral and otherwise. Hence, we must beware of arguments that work to subvert our understanding of what is at stake.
"Talking Trade-Offs in the Climate Change Debate"
Sarah Pralle
Dr. Pralle argued that if governments intend to tackle the problem of climate change, they—and their citizens—will need to make hard choices. The public and political discussions around climate change, though, often obscure these choices and thereby weaken our ability to embrace solutions to climate change. Moreover, the U.S. political system exacerbates the problem by failing to present citizens with meaningful choices, by presenting them with false choices, and by denying citizens the power (and responsibility) to voice and vote for alternatives. If our politics and policies encouraged communications and decision-making structures that emphasized trade-offs, we would be in a better position to tackle the most serious environmental issue of our time
Dr. Steven Amstrup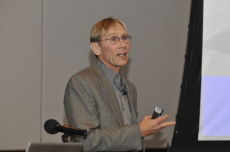 September 30, 2012- Indianapolis Prize winner Dr. Steven Amstrup presented a lecture on his polar bear research at DePauw University. Often called "the most influential person working on polar bear conservation today," Dr. Amstrup, along with his research team, were responsible for polar bears being listed as a threatened species in 2008, making them the first species to be listed as a direct result of global climate change.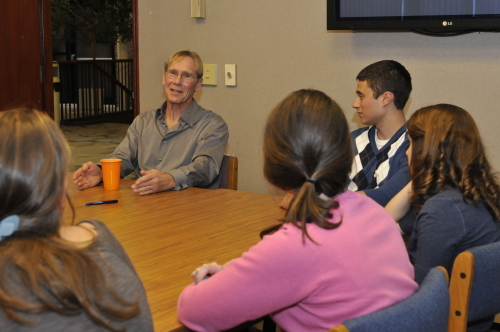 The Environmental Fellows had the opportunity to have a private Q&A session with Dr. Amstrup immediately following the presentation. The session was moderated by Environmental Fellow Sam Leist ('14), who has worked with Dr. Amstrup's organization, Polar Bears International, in the past. It was a great experience for the Fellows to converse with someone whose work has made such an impact on modern conservation.
If you would like to learn more about Dr. Amstrup's work and his organization, Polar Bears International, follow the links below:
Polar Bear Champion Steven Amstrup Awarded 2012 Indianapolis Prize
Polar Bear Champion Steven Amstrup Awarded 2012 Indianapolis Prize
Interview With Indianapolis Prize Winner and Polar Bear Researcher Steven Amstrup