Program Directors
Jonathan Nichols-Pethick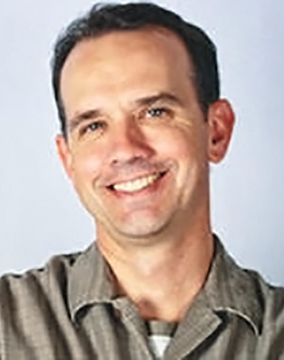 Dr. Jonathan Nichols-Pethick is director of the Eugene S. Pulliam Center for Contemporary Media at DePauw University. He oversees operation of the Center, including the student newspaper, The DePauw; WGRE-FM, the student-operated radio station; D3TV student television and video production facilities.
He also directs the Media Fellows Program, an honors program designed for students who plan a career in, or related to media and communications-related areas. Media Fellows students learn about various aspects of the business, technology and ethics of mass media from academic and professional faculty and speakers. The program also includes a semester-long internship and capstone seminar, which includes a substantial media project.
Dr. Nichols-Pethick earned a Ph.D. in communication and culture from Indiana University and joined the DePauw faculty in 2002. He has taught courses in film and media - ranging from media history and criticism to television production and directed the film studies program at DePauw for six years. He has taught Media Fellows courses, and has been a member of the program's steering committee for the past eight years. He has also served on the advisory committee for the Janet Prindle Institute for Ethics.
Nichols-Pethick authored the book TV Cops: The American Television Police Drama (Routledge 2012). The professor has also written essays which have been published in Cinema Journal, The Velvet Light Trap, FLOW-TV, and the anthology Beyond Prime Time (Routledge 2009). He also produced and edited a short film, Mud Lotus (which was written and directed by DePauw English Professor Chris White) in 2013.
Prior to embarking on an academic career, Jonathan worked as a musician and as an associate producer of the morning news program at WCSH-TV, the NBC affiliate in Portland, Maine.
Marilyn E. Culler
Marilyn Culler is the assistant director of the Media Fellows program at DePauw University.
Culler received her BA in English from Millersville University in 1979, and her MA in Journalism in 1986 from Ball State University. She has worked as a professional photographer with the Indiana Department of Natural Resources, an Information Specialist with the Indiana Law Enforcement Academy, Academic Coordinator for the DePauw School of Music and DePauw University Photographer.
Through her work at the PCCM, Culler is involved in all aspects of the administration of the Media Fellows program. She continues to work as a freelance photographer, and is a member of the National Press Photographers Association.