For Jack Campbell '68, 20 years of active involvement with the Denver Regional Alumni Chapter has sustained his connections to old DePauw friends and created new ones.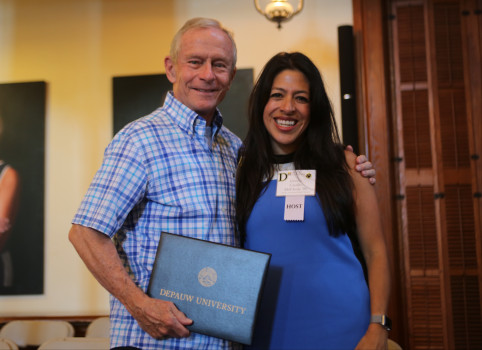 For Jack Campbell, the 2017-18 school year marks the 50th year since his graduation from DePauw in 1968 and the first year as a DePauw student for his daughter Kaelyn, Class of 2021. "We worked with the Office of Alumni Engagement to host a summer send-off party in July for the first-year students and families in the Denver area," Jack said. "The regional send-off parties are a great way for students to meet each other so they know a few people when they arrive on campus for this new experience."

A loyal annual donor to The Fund for DePauw, Jack has stayed connected over the years through his two terms of service on the Alumni Association Board of Directors and his many trips to campus when his daughter Jennifer (Class of 2000) was a student. He looks forward to being engaged again as a DePauw parent now that Kaelyn has enrolled. Largely, though, it has been Jack's 20 years of active involvement with the Denver Regional Alumni Chapter that has sustained his connections to old DePauw friends and created new ones.

The Denver Alumni Chapter won the award for "Best Monon Bell Telecast Party 2016-17," and Jack said plans are in the works for this year's festivities. "On Friday night we get a team of DePauw alumni bowling against Wabash alumni. Saturday morning we play flag football against Wabash. Then we watch the game with 45-60 people from each school. We even have a traveling trophy that goes to the alumni chapter whose school wins two of the three contests," Jack said. "More and more younger folks have come to the Denver area and want to get together. People bring their babies and children. My daughter has probably seen more Monon Bell games than most of the new students on campus because she's been attending the telecast parties since she was about two years old."

"President McCoy has also made presentations for our group in Colorado a couple of times, and we host picnics, hikes, happy hours, ski days, Rockies games and other events," Jack said of the Denver Regional Alumni Chapter.

As a member of the Class of 1968's 50th Reunion Planning Committee, Jack attended the 2017 Alumni Reunion Weekend on campus for inspiration from the Class of 1967. "I'm looking forward to people visiting campus to see the changes and appreciate the evolution in activities, buildings and programs," he said. "We will be able to relive the old days, and hear from classmates about their lives and families and their plans for the future."

"The Greek system was important for me," Jack, a member of Lambda Chi Alpha, said of his DePauw years. "I learned how to manage and lead through my fraternity, serving as rush chairman and president of the house. I also was able to work and live with a group, keeping the house in good repair and enjoying ourselves along the way."

After graduating from DePauw, Jack had enrolled in the MBA program at the University of Michigan when his name came up for the U.S. military draft. "I chose to enlist in the Air Force and that experience changed my education and career paths," he said. "I eventually graduated with a master's degree in hospital administration from University of Colorado and have made my living in healthcare."

"It doesn't seem possible that it's been 50 years. We were DePauw students at a time when there was a lot of unrest and change, and we had to cope with that. You have to be able to adapt and change, and the liberal arts education prepares you to be flexible enough to do that."
@DePauw_Alumni on Twitter
---
#TigerPride is the key! "D" decal available with #Monon swag items for alumni at game day & telecast events. https://t.co/fs02TAKUWr https://t.co/Ua3tA0MJ7f
2 days ago
generations of DePauw women. You not only gained access to opportunity, but seized it to perform at the very highest level in claiming national honor for yourselves and for your university.
9 days ago
the admittance of women to DePauw. Although those first women, Alice Allen, Laura Beswick, Bettie Locke, and Mary Simmons likely could not have imagined the competitiveness of modern day NCAA Division III basketball, you are the fulfillment of their hopes
9 days ago
47 years ago
47 years ago
47 years ago
47 years ago
47 years ago
47 years ago
47 years ago
47 years ago
47 years ago