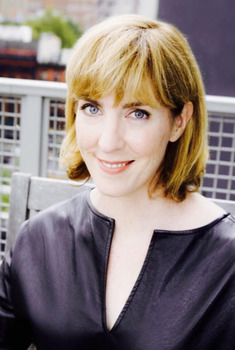 Sarah C. Gormley '94 believes she owes much of her happiness and success in life to her DePauw experience.
"While DePauw was not my first choice," she admits, "how very lucky I am that I ended up in Greencastle my freshman year!"
Sarah was an Honor Scholar and loved the academic rigor of DePauw's small classes and the professors who she says genuinely cared about her and took an interest in her coursework and happiness at the University. She has built an impressive career in nonprofit and corporate marketing and communications with organizations including Girl Scouts of the USA, IMAX and now Adobe Systems Inc. She is thrilled to be working with Adobe, which she says is a phenomenal company on so many levels and also provides matching support for her gifts to DePauw.
"English Professor Wayne Glausser was my advisor and definitely helped me not only gain self-confidence but learn how to articulate and present a clear point of view. I can't think of a more important skill in the corporate world," she says, "and I believe any graduate of DePauw has a significant advantage when it comes to critical thinking and communication."
Having recently relocated from New York City to the San Francisco Bay area for her position as Adobe's Vice President of Brand Marketing, Sarah enjoys exploring her new city, its food and especially the area's excellent wines. She and her DePauw friends and Pi Phi sorority sisters have cultivated lifelong friendships often revolving around their shared love of travel, good food and unique neighborhoods.
"I consider myself enormously lucky in many ways, but the friends I made from my experience at DePauw have been the most profound and meaningful gift," she says. "We travel together every year, stay in constant contact and always make time to laugh, cry and yes, drink wine together. More than the sorority, I think it was DePauw and the type of student DePauw attracts that brought us all together, and I hope that my gifts to DePauw make something similar possible for more students for years to come."
Sarah has been a loyal supporter of The Fund for DePauw through unrestricted gifts, but she said it was her 20 year class reunion in 2014 that inspired her to become more fully involved with the campus again. It was then she said she decided "to do everything I can to be a more active contributor to DePauw."
"I realized I owe so much of the goodness in my life to the foundation DePauw provided. It's crazy that it didn't truly hit me until I was in my 40's but it did, and I'm committed to giving back to ensure more students will be able to have a similar experience. From speaking on campus, joining the alumni board, networking with students and yes, giving money, I'm committed to doing what I can for this extraordinary institution."
@depauw_alumni on Twitter
---
#TigerPride is the key! "D" decal available with #Monon swag items for alumni at game day & telecast events. https://t.co/fs02TAKUWr https://t.co/Ua3tA0MJ7f
7 days ago
generations of DePauw women. You not only gained access to opportunity, but seized it to perform at the very highest level in claiming national honor for yourselves and for your university.
14 days ago
the admittance of women to DePauw. Although those first women, Alice Allen, Laura Beswick, Bettie Locke, and Mary Simmons likely could not have imagined the competitiveness of modern day NCAA Division III basketball, you are the fulfillment of their hopes
14 days ago
47 years ago
47 years ago
47 years ago
47 years ago
47 years ago
47 years ago
47 years ago
47 years ago
47 years ago