James A. '93 and Stacy Rechtin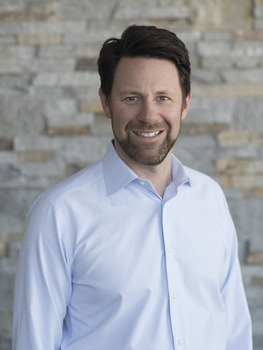 Jim Rechtin says he knows there are many great universities where students can get an excellent education, but DePauw exposed him to ideas and experiences he doubts he would have had elsewhere. He is passionate about supporting the University with annual gifts to The Fund for DePauw to help provide more young people with the kind of life-changing education and leadership opportunities he enjoyed.
As a sophomore, he and a group of classmates organized an independent Winter Term trip to Appalachia. The venture provided leadership development; opened his eyes to social, cultural and economic differences; and whetted his appetite for travel and service. He spent January of his junior and senior years as a construction volunteer in Honduras and the Dominican Republic through Winter Term in Mission (now called Winter Term in Service). The experiences sparked his decision to join the Peace Corps after graduating as a Walker Cup winner with a political science degree and a biology minor.
In the Peace Corps, Jim spent two years directing a public health and water sanitation project in West Africa's Republic of Congo. Returning to Indianapolis, he worked as operations manager for Horizon House, a not-for-profit providing health care and other services to the homeless. His work with the Peace Corps and Horizon House revealed his management skills and led him to pursue his MBA, which he earned from Harvard University in 2000.
Now President of HeathCare Partners' California market and Senior Vice President for Strategy at parent company DaVita HealthCare Partners, Jim was honored with DePauw's Young Alumni Award in 2010. Today he says, "I love my job. I work for an organization that delivers high quality healthcare that is accessible and affordable. It's something I'm passionate about, and I have DePauw to thank for leading me here."
Jim and his wife Stacy met through mutual friends in Indianapolis and have been married for 15 years. They live in Colorado where they enjoy skiing and hiking in the mountains with their three children, who will possibly be among the next generation of DePauw graduates. In the meantime, Jim and Stacy will continue to support DePauw with unrestricted annual gifts. Jim says he doesn't feel the need to designate his contributions to a specific program at the University.
"I trust DePauw's leadership and their wise stewardship of resources," he says, noting his pride in the continued development of Winter Term in Service and the international experience requirement. "I'm happy to contribute to DePauw's mission."
@depauw_alumni on Twitter
---
#TigerPride is the key! "D" decal available with #Monon swag items for alumni at game day & telecast events. https://t.co/fs02TAKUWr https://t.co/Ua3tA0MJ7f
3 days ago
generations of DePauw women. You not only gained access to opportunity, but seized it to perform at the very highest level in claiming national honor for yourselves and for your university.
10 days ago
the admittance of women to DePauw. Although those first women, Alice Allen, Laura Beswick, Bettie Locke, and Mary Simmons likely could not have imagined the competitiveness of modern day NCAA Division III basketball, you are the fulfillment of their hopes
10 days ago
47 years ago
47 years ago
47 years ago
47 years ago
47 years ago
47 years ago
47 years ago
47 years ago
47 years ago