DePauw Annual Giving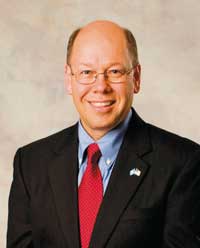 "Your participation in DePauw's Annual Giving effort is essential for our continued ability to attract the most talented and deserving students. All of us benefited during our own DePauw years from the generosity of committed alumni who came before us. Each year, through Annual Giving, we have an opportunity to help the next generation of DePauw students to achieve uncommon success. High alumni participation in annual giving programs is a hallmark of truly distinctive institutions. Your participation – at any level – makes a tremendous difference. Thank you!"

— Blair "Andy" Anderson Rieth Jr. '80
national Annual Fund chair
DePauw recognizes annual gifts to the University through the following giving circles.
2012-13 Annual Giving Circles
Trustee Associates Circle........... $40,000 or more
East College Circle........... $25,000–$39,999
President's Circle........... $12,500–$24,999
Old Gold Circle........... $5,000–$12,499
Charter Circle........... $1,500–$4,999
Founders Circle........... $500–$1,499
Patrons Circle........... $250–$499
Builders Circle........... $100–$249
Contributors Circle........... $1–$99
Annual Membership
The Washington C. DePauw Society offers an annual membership to alumni, parents and friends who make an Annual Fund gift to DePauw of $1,500 or more. Alumni who graduated within the past 14 years qualify for annual membership at separate giving levels. Annual membership and recognition is based on an individual's or couple's personal gifts and matching gifts received in a single fiscal year. The University depends on leadership-level gifts to the DePauw Annual Fund, which provides critical support of the current-year operating budget to underwrite the University's intellectual and creative life.
The annual membership levels of The Washington C. DePauw Society are:
$1,500 or more from alumni who are 15 or more years post graduation (Class of 1998 or prior).
$1,000 or more from alumni who are 10–14 years post graduation (Class of 1999 through Class of 2003).
$500 or more from Graduates of the Last Decade, alumni who are 1-9 years post graduation (Class of 2004 through Class of 2013).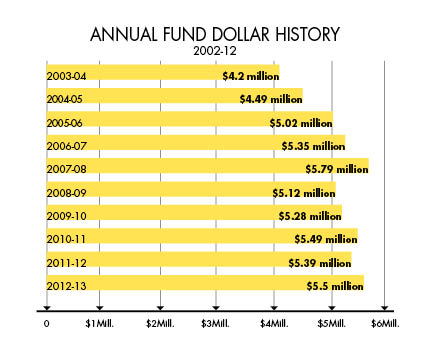 The GOLD program leads alumni participation thanks to The Allen Challenge
A new tradition was established at DePauw in May 2011 with the first event of its kind, The Meeker Challenge. That year, all Annual Fund gifts made during a 24‑hour period by DePauw's Graduates of the Last Decade (GOLD) were matched one‑to‑one by a generous gift from Lis Meeker '78. The challenge resonated well with young alumni and was repeated on Leap Day, Feb. 29, 2012. The second iteration of The Meeker Challenge earned DePauw a Gold Award for Best Annual Giving Program from the Council for Advancement and Support of Education District V.
The third annual challenge on Nov. 15, 2012 featured a new sponsor and a new moniker. The Allen Challenge was made possible by Betty Pfeffer Allen '56 and her husband, Bob, who offered to match all Annual Fund gifts made by GOLD alumni up to $50,000. The challenge officially began at 12 a.m. and concluded at 11:59 p.m., and the results were impressive. During that time, 541 GOLD alumni gave a total of $30,490.
"The Allen Challenge has become a mainstay of our Annual Giving programs at DePauw," Lindsay Carter, director of annual giving, says. "The Allen Challenge is so successful because while GOLD alumni often mention that they cannot contribute large sums of money, they clearly understand the importance of participation, and they appreciate the opportunity to double their impact on DePauw through matching funds made available by Betty and Bob Allen." The Allen Challenge has inspired GOLD alumni to lead the way in terms of alumni participation. In 2012-13, GOLD alumni participation reached 33.7 percent compared to 30.3 percent participation from alumni at large.
The Allen Challenge was repeated on Oct. 17, 2013. On that date in 1882, Washington C. DePauw announced his own gift that forever changed the name and identity of the school previously known as Indiana Asbury University. "The 2013 Allen Challenge drew in enough GOLD alumni donors to boost our overall alumni participation rate by 1.5 percent in just one day. Those results are impressive. We can't wait to see what the Allen Challenge will bring in the future," Carter says.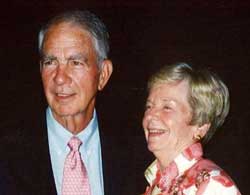 "It makes me feel good to contribute something to this great institution so that it will always be able to continue the outstanding work that it does. It seems important to me that the alumni get in the habit of contributing something … even if it can only be a small amount at this time."
– Elizabeth "Betty" Pfeffer Allen '56
Report of gifts received and pledges made July 1, 2012, through June 30, 2013. Names in italics indicate donors who were deceased before July 1, 2013.

DePauw University has made every effort to maintain accuracy in the preparation of the Donor Annual Report and Honor Roll of Donors. Unfortunately, mistakes and omissions can and do occur. If you should find an error in these reports, please notify the University so that our records can be corrected. Write: DePauw University, Stewardship Office, Attn: Donor Annual Report, Greencastle, IN 46135-0037 or email: annualreport@depauw.edu