Frequently Asked Questions
REGISTRATION
When will I start hearing about the reunion?
A "SAVE the DATE" postcard was sent in the Fall of 2014 along with a request for updated information from the Office of Alumni Engagement. In addition, a brochure providing weekend highlights will be sent in the Spring of 2015. Detailed information will be available online, as it becomes available.
It is not my class reunion year. May I still attend?
Of course! While we celebrate specific milestones, everyone is invited back to campus for the event. While we do not send materials to non-reunion years to save time and money, you can access this information and other valuable information online as it becomes available.
When will I receive my registration materials?
Registration for Alumni Reunion Weekend will begin in March, 2015. Alumni can register online, over the phone, or by completing and mailing in a paper registration form.
Can I get a paper copy of the registration form to fill out and mail in?
Download the class of 1965 50th reunion registration form here. The form for all other alumni is available here.
What is the online registration deadline?
The online registration deadline will be in May, 2015. The official registration dates will be announced in the Spring of 2015.
M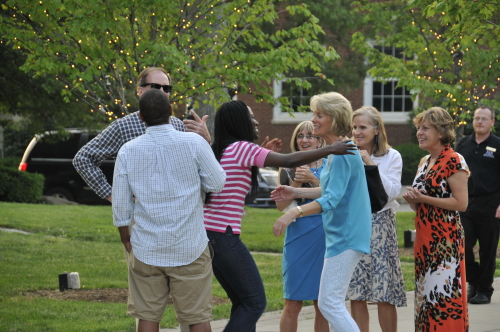 ay I register to attend the reunion after the registration deadline?
DePauw's Alumni Reunion Weekend is well-attended every year and space may be limited based on the anticipated size of the class for specific functions, individual tickets to meal events may not be available after the registration deadline. In addition, we must provide final meal expectations to our onsite caterer at least three weeks prior to reunion weekend to ensure that the quality of the service meets desired expectations. Meal tickets may be available on an individual event basis upon registration on campus. However, availability is given on a first-come, first-serve basis and quantities are limited. We cannot guarantee meal tickets or accommodations will be available for alumni who register after the registration deadline or who arrive on campus without a reservation.
Can I change my registration?
Once submitted online or received in the Alumni Engagement Office, if a paper form, the registration is considered complete and final. Changes are possible; however, a $5 administrative fee will be assessed to make any modifications. Please contact the Alumni Engagement Office at (877) 658-2586 to make any modifications to your registration
May I cancel my registration and obtain a refund?
Refund requests will be handled by the Alumni Engagement Office at (877) 658-2586. All registration cancellations made prior to May 31, 2015, will be refunded in full except for the per person registration fee. Unfortunately, refund requests made after May 31, 2015, will not be granted due to any circumstance.
Is there a registration fee?
Yes. A registration fee helps to cover various expenses (table and chair rentals, printing and postage, additional security, custodial and other labor overtime and general entertainment) of the weekend. There are also several general events for which there is no additional charge. The registration fee is waived for children 12 years of age and younger.
A $20 registration fee will be charged for all registrants (over 12 years of age) if completed online by April 30 or if you prefer to mail a paper form, postmarked by April 30, 2015. For those reservations received on or after May 1 the fee will be $25.
LODGING
Can I stay in my fraternity/sorority?
Individual House Corporations/Boards determine who can stay in the Greek living units during Reunion Weekend. Please check with your fraternity or sorority for additional information.


What is the cost of lodging in student living units?
Rooms are $28 per person, per night, based on double occupancy. Single occupancy is $56 per person, per night. This price includes innkeepers and Indiana sales tax. Children 12 years of age and under with sleeping bags are not charged. Children under the age of 18 must be accompanied by an adult in order to stay in University housing.
What class years have been assigned to what student living units?
Reunion classes will be housed together in residence halls as space permits. Complete your Alumni Reunion Weekend Registration Form as soon as available to ensure that you are housed with classmates.
I am bringing my family with me to the reunion. Is there an alternative to the residence hall offering?
Limited family housing is available for alumni bringing their children. If interested, please note this in the lodging requests field on the online form or check the box on the paper form. Please be sure to include in the lodging requests section the number of children attending and their ages.
To whom do I direct specific rooming requests?
Please include any special room requests on your registration form. Most rooms have two single beds. In most cases you will have a roommate. If you want to room with a particular person, please indicate the name of that person in the space provided on the Alumni Reunion Weekend Registration Form. All special rooming requests must be submitted by May 1 and all interested parties must be registered at that time.

I am staying in a student living unit. What items will be provided and what should I bring?
Please click here to view this information.
What lodging is available off campus?
For a list of local lodging in and around Greencastle, visit our Local Lodging page. There is a waiting list for The Inn at DePauw. To be placed on this list, please contact the Alumni Engagement Office at (877) 658-2586.
CHIL

DREN
Can children attend with me?
Alumni Reunion Weekend is family friendly, so we hope you'll bring everyone to campus with you. Your children will love seeing the place they've heard so much about, and there will be activities for all ages.

What is Camp DPYou?
Detailed information about Camp DPYou can be found by clicking here.
FOOD

& BEVERAGE
I have special dietary requirements. Will food options be available at all of the events?
When we plan the menus, we make every effort to provide great tasting food that offers a good variety. Vegetarian or vegan items may be served at meals, if requested in advance. However, please keep in mind that many of our event venues do not have kitchens; therefore, special dietary restrictions not communicated in advance cannot be accommodated. In addition, we are unable to accommodate meal preferences such as low-carb, low-sodium, etc. If you have a serious food allergy or a physician-mandated dietary requirement, please contact the Alumni Engagement Office at (877) 658-2586 for notification.
If I want to eat off campus, what options are available?
Whether you are seeking fast food, a home-cooked meal, or a favorite item from one of the old haunts, there are many options available. Please click here for a list of options.
ARRIVAL
I am flying into Indianapolis International Airport. Will there be shuttle service available?
We are proud to partner with Aadvanced Limousines, owned by Kristie Carter '09 to offer transportation between DePauw and Indianapolis International Airport at the rate of $30 per person each way. If you are interested in learning more, please contact the Alumni Engagement Office at (877) 658-2586.

Where do I go when I arrive on campus?
Make your first stop on campus the Registration area located in the Emison Building and Museum to receive your residence hall room assignment, room keys and all reunion weekend registration materials. Follow the signage upon arrival to campus.

When can I arrive on campus?
Activities for the 50th Reunion begin on Wednesday, June 3, 2015 with the opening of registration and the 50th Reunion Hospitality Suite in Humbert Hall. There are no activities planned before registration opens in the afternoon and you will be unable to register prior to the opening of the registration table. For the Classes of 1960, 1955, 1950, 1945 and prior class years, Thursday registration is available beginning at 9 a.m. For all other class years, general registration begins at 9 a.m. on Friday, June 5, 2015.
GENERAL
What should I wear?
Although dress is fairly casual for the weekend, class reunion dinners may vary. If you have a question about appropriate dress for these events, please contact one of your class reunion volunteers. A list of all class pages can be found by clicking here.

Where should I park while on campus? Will I need a parking permit?
Alumni and guests may park in any legal parking space on campus. Click here for a campus map. No parking permits are needed during Alumni Reunion Weekend. Cars parked illegally (i.e. in a fire lane, in a handicapped parking space without a pass, etc.) may be ticketed, however, by campus security. Please note the city ordinances are in effect for street parking.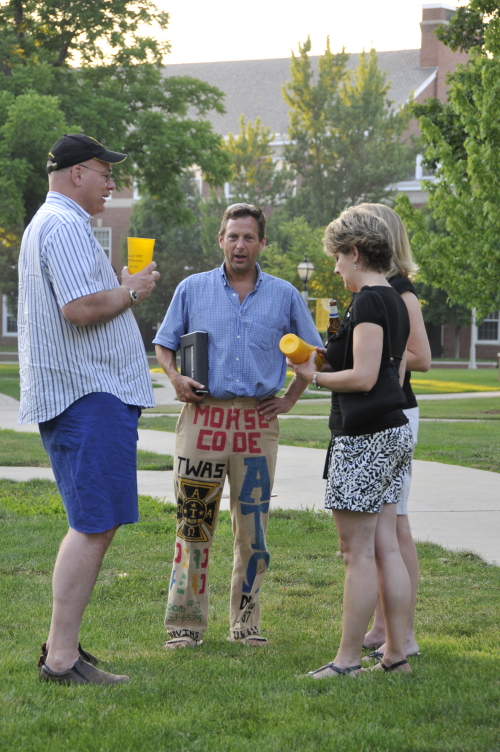 What if I have additional questions? Who do I contact?
lf you have any further questions about Alumni Reunion Weekend, please write, call, fax or email:

DePauw University Office of Alumni Engagement
411 East Seminary Street
Greencastle, IN 46135-0031
Toll free: (877) 658-2586
Fax: (765) 658-4041
E-mail: alumnioffice@depauw.edu