Regional Alumni Recognition Awards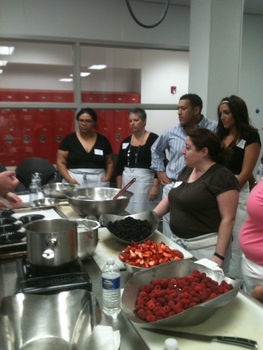 The DePauw University Regional Alumni Recognition Awards have been established to celebrate Alumni Chapters or members who have shown exceptional dedication to regional alumni activities which conferred a clear, positive effect on the regional alumni community. 
Qualifications – Chapter Awards
Regional Chapters can be nominated for activities which showed a significant change or improvement in regional programming and events. Examples include, but are not limited to:
The establishment of new alumni events or groups
The establishment of a new creative, non-traditional event
Renewed programming activity or significant improvement in past programming
Unique or innovative ways of bringing DePauw back to local alumni
Any other events or activities that show a stepwise change from prior programming which resulted in significant alumni engagement or interest
Qualifications – Individual Chapter Leader or Member Awards
Regional volunteers give their time in many ways to keep the DePauw spirit alive in alumni around the world. This award seeks to recognize alumni who have improved or continued the regional alumni experience through their individual commitment of time and/or innovative thinking. Examples include, but are not limited to:
Excellence in leading the re-establishment of an existing chapter or starting a new chapter
Outstanding commitment to the chapter either through day-to-day involvement or significant participation in a specific event
Long-term participation in the chapter and encouraging DePauw connections in the region
Nomination and Selection
Nominees for the Regional Leader Awards can be submitted throughout the year by any friend or alumni of DePauw University who has knowledge of high performance regional events and/or leaders. Members of the DePauw University Alumni Board of Directors and DePauw University Alumni Staff Members can also submit nominations based on their experience with regional chapters and leaders.
Nominations should include a statement of who should be nominated and a brief overview of why this group or person should be given the award. Nominations should be sent by email or text to:

Office of Alumni Relations
Attention: Jamie Grivas, Assistant Director
Bartlett Alumni House
411 E. Seminary Street
Greencastle, IN 46135-0037

jamiegrivas@depauw.edu

Nominees will be presented in their original form to the DePauw Alumni Board of Directors Regional Programming Committee at their Summer Meeting. The Programming Committee will recommend a winner to the Alumni Board for approval.
Award Overview
Winners of the Regional Chapter Award will be given a DePauw memento to recognize their work.

Winners of the Individual Regional Leader Award will be given a DePauw memento to recognize their hard work and to help them continue to inspire regional alumni.

Awards can be given as often as each year at the discretion of the Alumni Board of Directors.