Admissions Recruitment
This page provides opportunities for alumni interested in assisting the Office of Admission with a variety of programs. Descriptions of each are listed below. Alumni volunteers are essential to the recruitment process and all efforts are appreciated!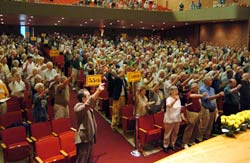 Become an Admission Volunteer: Interested in hosting a Summer Send Off Party, a Winter Reception, or representing DePauw at a college fair in your area? Log into the Alumni Gateway and complete the Alumni Connection questionnaire to let us know how you'd like to get involved. You can also contact Holly Enneking '08 at hollyenneking@depauw.edu or 765-658-0498.
Recommend a Student: This is a form for you to recommend a student whom you believe to be a good match for DePauw.
Summer Send Off Parties: Summer Sendoff Parties are hosted for incoming students and parents in late July or early August. Current students and alumni in the area are invited to attend to welcome our new students to the "DePauw family".
Winter Receptions: Winter Receptions are informal gatherings which provide opportunities for prospective juniors and seniors and their parents to learn more about DePauw. Current students who may be in town for Winter Term and area alumni are also invited to attend.
Admission Staff: Find out who represents the area in which you live and send them an email to see how you can help!