Career Counseling/Interviewing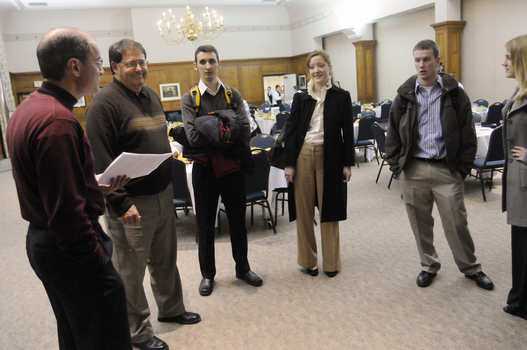 Through career counseling and interviewing alumni can help students discover and refine their career interests and prepare students for the job search process by helping them develop proper interview skills.
Alumni Luncheons/Receptions and General Assistance
Casual and informal opportunities for students to connect with alumni and talk about the career path they have chosen, the part of the country they live in, and the experiences they've had since graduation.
Available and advertised to all students. Provides valuable network opportunities.
Pre-Professional Development and Shadowing Experiences
Students connect with alumni during fall, winter, or spring breaks for single-day job shadowing and professional advising. Students arrange existing travel plans for the break. For example, a student from Chicago may connect with contacts in the area upon their return home for winter break.
On-Campus Interviews- We invite you to come to campus to interview students. Interviews normally take place from 8:30 a.m. - 4:30 p.m., Monday through Friday, during the fall and spring semesters.
Informal Walk-ins at our Advising Bar- Share information about your organization or profession by taking a turn sitting at our walk-in bar in the lobby of the Union Building. Between 11:00 a.m. and 1:00 p.m. this is THE place to see students. Informal walk-ins provides you with the opportunity to connect with students within the flow of their normal patterns.
For more information on how you can help a current student, please visit the Civic, Global and Professional Opportunities page, or call (765) 658-4622.